| TableScapes |
Two-Tone majesty | February 14, 2023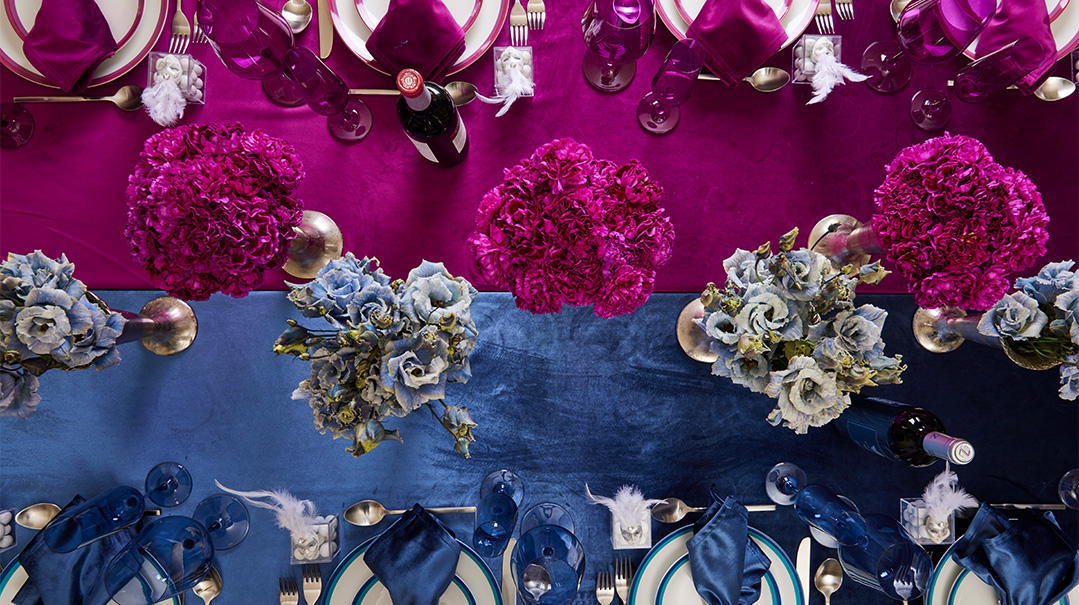 Text and styling by Esther Ottensoser
Photography by Felicia Perretti
It's Your Choice
It was 10 p.m. the night before this photo shoot and I was at a close friend's child's wedding. It had been a busy day, and I hadn't had the time to set the table. The dishes, cutlery, and stemware were all still in boxes, the flowers were in buckets…
I mentioned to a friend that I had to head home to prepare for the next day. This friend doesn't have a personal passion for party setups, so she asked me, "Do people really do it?"
I explained that what gives us the most joy is not necessarily hearing that our tablescape was copied to the T, but rather that readers adapted it to their own style, their own budget, and their own time limitations. In a case like this, to one person that might mean buying two different colored plastic tablecloths and paper goods at the dollar store; another person might like the way the carnations are set inside the vase; a third person might choose to buy a new fun set of stemware; and of course to many this is just what we call eye candy.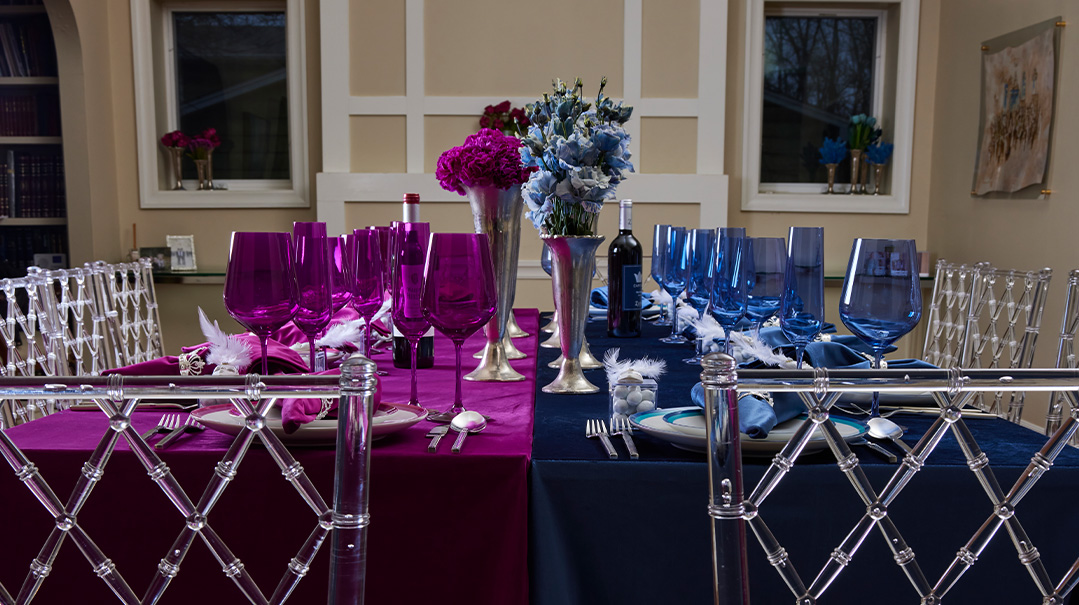 Getting Started
To replicate this look, I would suggest picking dishes and stemware first. I chose the dishes and stemware from Godinger's new Sheer collection. The stemware is available in a few colors. The cutlery is from Godinger as well.
Dress My Table
I used two two-foot wide tables covered with velvet tablecloths from Stitch n' Sew. I chose fuchsia and blue velvet to match the deep colors of the stemware.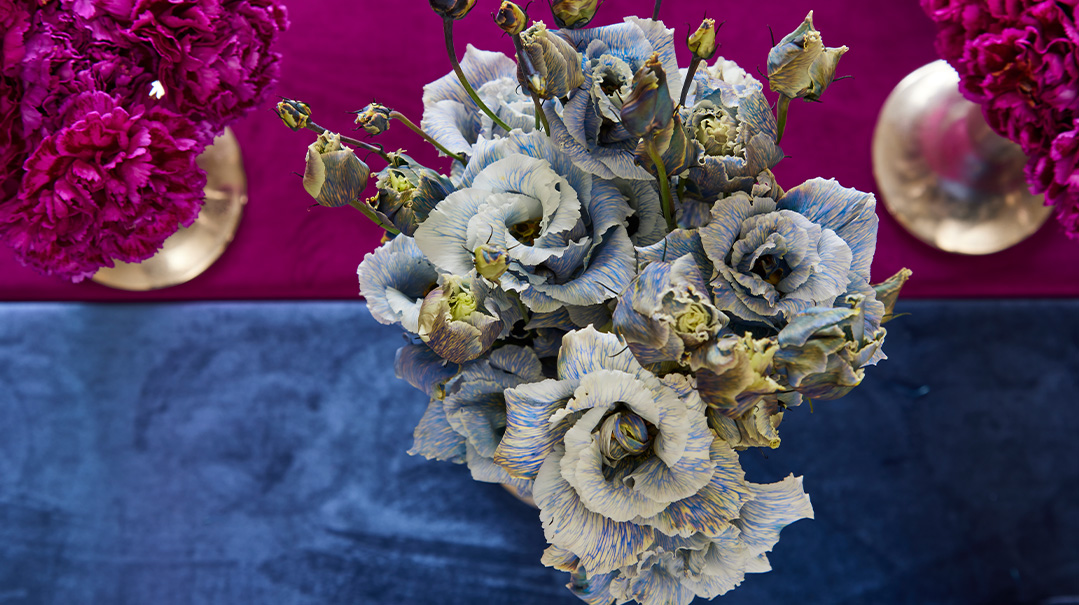 Bold and Bright
The bold and bright flowers here are from Tali's Global Flowers. Blue lisianthus and fuchsia carnations are set in silver vases, matching the tablecloths perfectly.
Royal Ring
These silver crown-shaped napkin rings are from Amazon, adding a touch of royalty to the table. There are many paper crown napkin rings available on Amazon.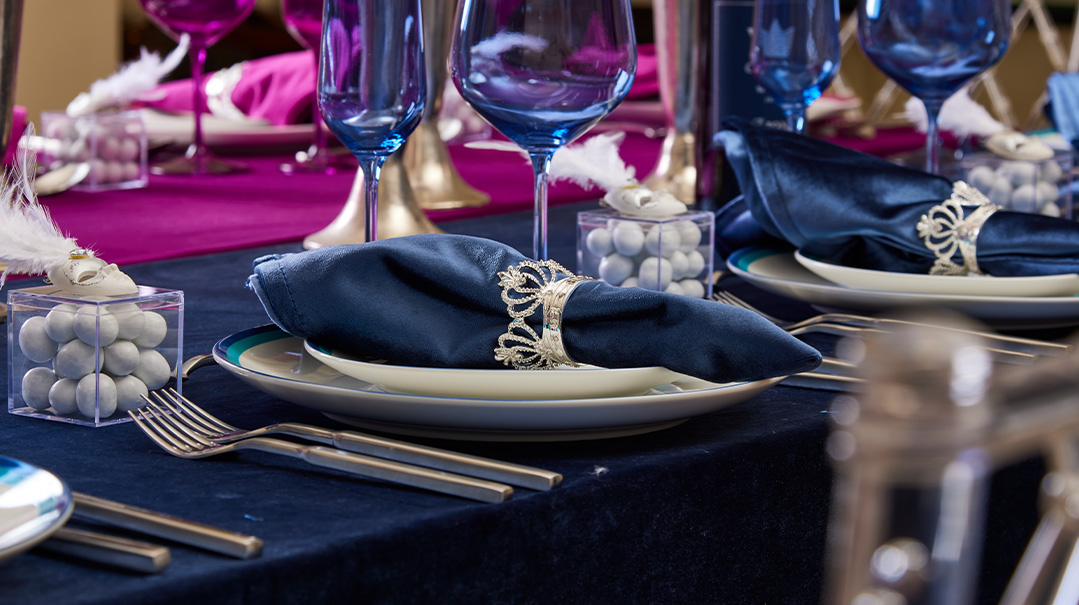 Extra Touches
For party favors, I used clear boxes filled with white cookie pops. The feathered mini mask is from B&B Party Goods, attached to the candy boxes with glue dots. The white of the cookie pops and the mask lightens up the heavier colors.
Credits
Dishes, cutlery, and stemware by Godinger (available at tabletop stores near you, and online)
Table from B&B Tent and Party Rental, 732-886-5510
Tablecloths from Stitch n' Sew Fabric Centre, info@stitchnsew.com, 732-363-2220
Flowers from Tali's Global Flowers, located in Howell (6520 US Highway 9), Monsey (249 Route 59, Airmont, NY), and Lakewood (1797 Avenue of the States)
(Originally featured in Family Table, Issue 831)
Oops! We could not locate your form.
>