| Recipes |
Rum and Fudge Ice Cream | March 10, 2021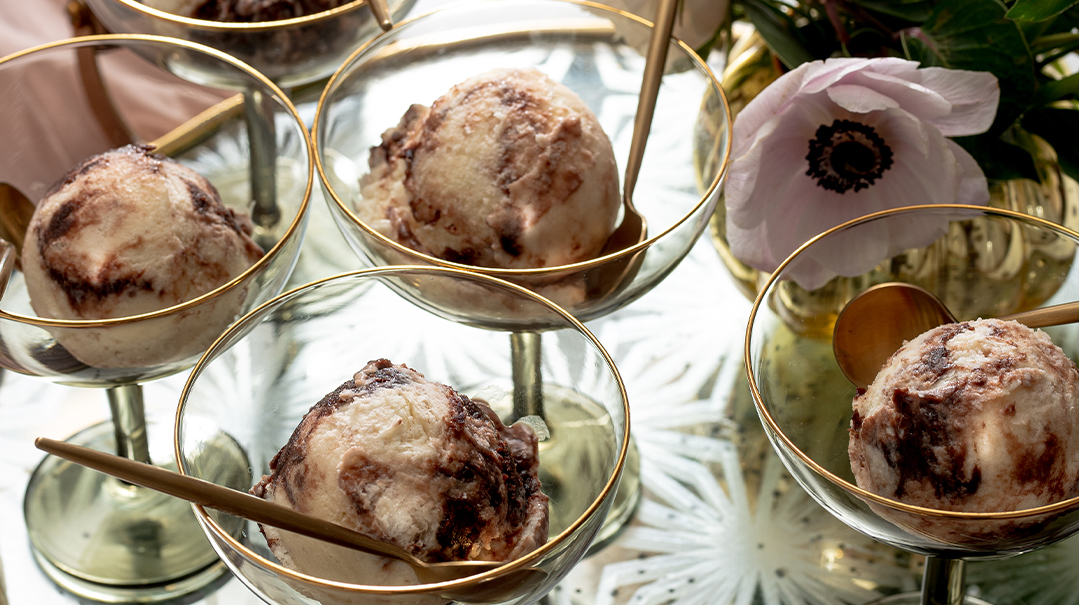 Food and Prop Styling Renee Muller
Photography Hudi Greenberger
When Chanie asked me to write a recipe for Pesach (the week after Chanukah), I asked my daughters what their favorite Pesach dessert is. One said ice cream and another said fudgy chocolate brownies. So wanting to please all, I decided to try mixing both. Well, all I can say is that everyone was happy with the experiment! This is a really good nut-free alternative for those who are allergic.
SERVES 18 ICE CREAM
10 eggs, separated

½ cup confectioners' sugar

½ cup oil

¼ cup sugar

1 tsp rum extract (or more, if desired)

1 tsp vanilla extract
FUDGY BROWNIE
10 oz (280 g) baking chocolate

⅔ cup oil

1¾ cups sugar

5 eggs

6 Tbsp cocoa powder

½ tsp salt

⅔ cup potato starch
To make the ice cream: Beat the egg whites until soft peaks form. Slowly add confectioners' sugar and continue beating until stiff.

In a second bowl, beat yolks with oil and sugar until pale yellow. Add extract and beat. Fold in whites.

Divide into two 9x13-inch (20x30-cm) baking pans and freeze.

To make the brownie: Preheat oven to 350°F (175°C).

In a medium pot, melt chocolate and oil. Stir to combine and remove from heat. Quickly add sugar and whisk into mixture. Moving quickly, add eggs one at a time and whisk vigorously until combined. Add cocoa powder, salt,and potato starch and mix until combined.

Pour batter into a 9x13-inch (20x30-cm) baking pan. Do not spread. Bake For 15 minutes, then let cool.

Remove any hard edges (you only need the half-baked soft inside).

Drop brownie by the teaspoonful onto the two pans of frozen ice cream. Cover a good amount of the ice cream and then flatten it out a bit. Try to press into the ice cream, then return to the freezer.

Either combine both pans into one and freeze, or just leave as two pans.
Tips: To make your own confectioner's sugar, place 1 cup sugar in the food processor with 1 tsp potato starch and pulse until it becomes a fine powder.
For easy serving, you can pre-scoop the ice cream ahead of time, and freeze the balls on a fully covered baking sheet.
(Originally featured in Family Table, Issue 734)
Oops! We could not locate your form.
>