| Sound Bites |
Roee Mordechai and Sharona Furman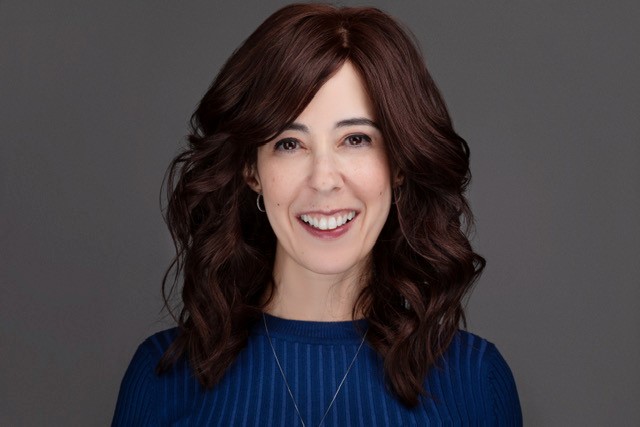 | April 7, 2021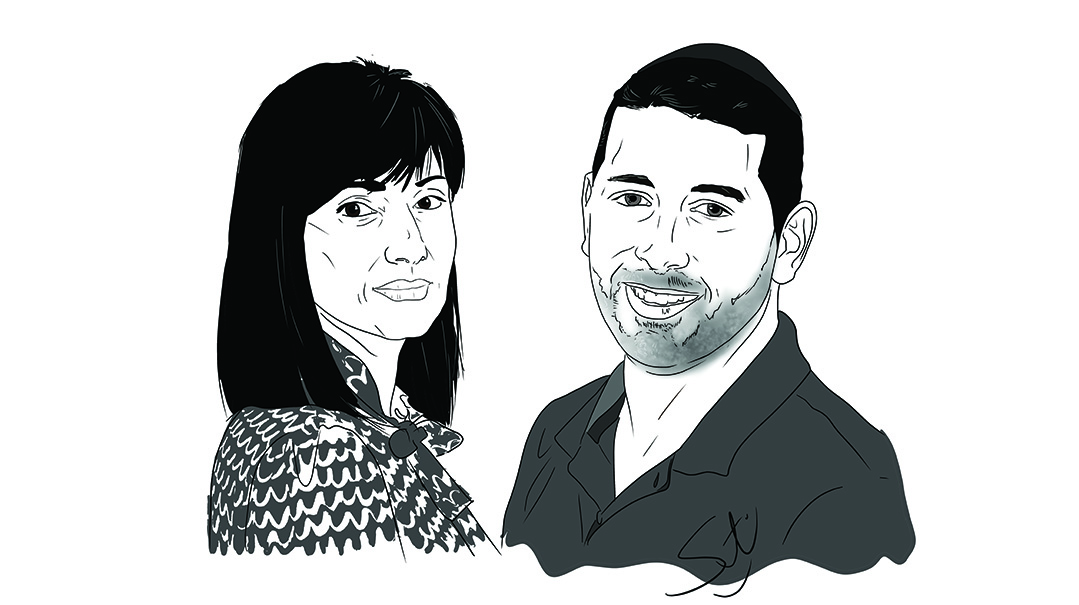 Illustrations by Esti Friedman
How do you feed your love of food and hospitality while avoiding the headache of managing a restaurant or a catering business? You do what Roee Mordechai and Sharona Furman did. Apron Masters Kitchen empowers the regular man (or woman, or child) to have fun experimenting in a kitchen without borders. The pair brought in a new food-related activity to the kosher consumer, proving you can make your food and eat it too.
Where do your food origins begin?
Roee: I've always been known as the food lover in my family. When I was 14 years old, when my mother told me to run over to Ruthie's, a quaint pastry shop in Cedarhurst. Ruthie was my mother's friend from years back and needed help, so she gave me my first employment opportunity. I'd always wanted to work, and a job at Ruthie's was something I was up to even though I was so young and had zero experience. In the beginning I was working the counters. In under a year, I was training other workers and managing the place.
Sharona: As a child, my house was always bustling with friends and cousins coming over to visit, and there was always tons of food on the table. We had Bukharian delicacies like bachsh, which is green rice with cilantro, and mantu, meat dumplings. I was around ten when I joined my mom in the kitchen.
Where did you come up with the concept of Apron Masters?
Roee: I always had it in the back of my mind to create something like this because it exists in the secular world, but there are no options that are kosher. It took a lot of planning. We collaborated with a designer, Leni Calas, who took our ideas and made sure everything would work out like we envisioned it would. The most important thing to us was that it should be warm and inviting, a real kitchen feel.
I've always loved the food industry, but I never wanted to enter the catering or restaurant business. From the time I worked in Ruthie's, I saw that it brings a level of stress that I wasn't ready to include in my life. Yet people love homemade food and are always excited to learn new skills. Our business really helps the customer create their own culinary experience. It's not about becoming a professional chef; it's about tapping into your culinary soul.
Sharona: Let's say you want to host all your kids and grandkids for a meal. You wouldn't dream of getting it catered because you want the food to have the taste of home. Instead, you come to Apron Masters. Our kitchen is kosher (we are under the Vaad HaKashrus of Five Towns), familiar (we use regular appliances, not restaurant-level ovens and burners, to give an example), and welcoming. We have a beautiful dining area. You can invite your family to be part of the meal. An added bonus is when you have an instructor teach you how to cook the items you want to serve on the menu you created on your own. Everyone participates. Everyone eats. We get left with the cleanup!
Sounds exhausting. How do you have time, and where did you get the experience to teach all that?
Sharona: (laughs) I'm a pharmacist by trade and have been for over 20 years. We had the vision of what Apron Masters would look like, but since we don't have as much professional experience, we hired the best of the best. Our culinary director is Naomi Ross, who teaches a majority of the classes.
In the summer we had a program called the "Teen Apprenticeship." It was a month long, and every day the kids came from ten to three to learn something new, from cutting skills to sushi making. Victorinox sponsored a set of knives to give each kid at the end of the course.
Roee: Naomi is an expert in all things food, but when we want to teach our students a special skill, during any class for any age, we bring in guest chefs who teach things like food decorating, bread making, and more. It was so appreciated by the community because camps closed last minute, and this saved the summer for a lot of kids. Everything was COVID safety-regulated too.
Any famous visitors?
Sharona: We've had Chef Daniela Soto-Innes — it was so much fun for the kids to work with a real restaurant chef. The menu that day was Latin cuisine. We also had Naomi Nachman for Asian cuisine and Italian cuisine, Gitti Allman for cake decorating, and Brent Delman, aka "the Cheese Guy," for a cheese-making day. Naomi Ross is a celebrity in her own right. The students loved her.
How did COVID affect your business?
Sharona: We opened in November, and COVID appeared a few months later. Of course, it was hard to take such a hit at such a crucial time. But now we see that our place is busy with people who don't want to go out into the public. We've had dates — and marriage proposals — here, family dinners, and even business-team-building events. They have use of the entire property, so social distancing is easy enough, and who doesn't enjoy an event that ends with food?
Is it hard to keep things kosher and organized with so many people in and out of the kitchen?
Sharona: We opted to make our kitchen strictly dairy, and of course we can cook pareve food here too. We have a really good system to keep track of all the tools and where they belong. It's very similar to a home kitchen — even the decor is warm cabinetry and homey kitchen counters. We aren't dealing with massive Hobarts or 20-quart pots. So just like you can keep your kitchen neat, so can we!
Who's your typical guest?
Roee: There's no such thing as typical. But I will say that all of our guests share the traits of curiosity and creativity. They all want to learn how to make something new, and they leave with confidence.
Kids of all ages can come for lessons; we have a set schedule for registration. When COVID restrictions recede, we'll also have walk-in classes that you don't need to sign up for. So there are students. There are people who want to host but don't want to deal with ordering and cleaning up. There are those who don't want to eat in restaurants, so they make a date here.
Sharona: There are also some small food business entrepreneurs who don't have space but want to try their hand at selling a new product. They can rent out our kitchen, and we have all their ingredients approved by the Vaad HaKashrus of Five Towns, which supervises everything from that end. They can then create a run of fruit leather, or cookies, or whatever they want to sell without the risk of investing in too much equipment or opening a store.
Also, our venue is really beautiful, so many food stylists and photographers use our place.
Any special occasions that stick out?
Sharona: We host amazing events. Since February is American Heart Month, we put together a panel on preventative medicine with a health coach. They taught classes on heart health and nutrition healthy habits. We just had the Kosher Food and Wine Experience film their Zoom event in our kitchen, which was a real treat.
In terms of memorable events, we've had some sweet dates that ended in proposals, and eventually we've hosted the couple's sheva brachos. We've had lots of meaningful and fun holiday parties. But the most special event we ever held was a Holocaust survivor's celebration of her 95th birthday, together with her children, grandchildren, and great-grandchildren. That was truly priceless.
Sharona in 60 Seconds
Origins: I was born in Israel and moved to Queens when I was five. I now live in Plainview with my husband and three kids. Nicole is 18, Eliana is 16, and Jordan is 11.
A tool I can't live without: My global knife.
A memory you would prefer to forget: We came in to work with parties scheduled, and the water was turned off due to pipes maintenance in the township.
Side hobby: Is multitasking considered a talent?
Roee in 60 Seconds
Raised in: Cedarhurst.
Currently live in: Plainview.
Snack attack go-to: Pickles.
Life skills aka superpowers: I'm detail obsessed and tend to be very creative/imaginative. I'm also a really good problem-solver.
My days are always happy when I have my grill.
(Originally featured in Family Table, Issue 737)
Oops! We could not locate your form.
>