| Recipes |
Roasted Carrot Zucchini Soup | March 21, 2023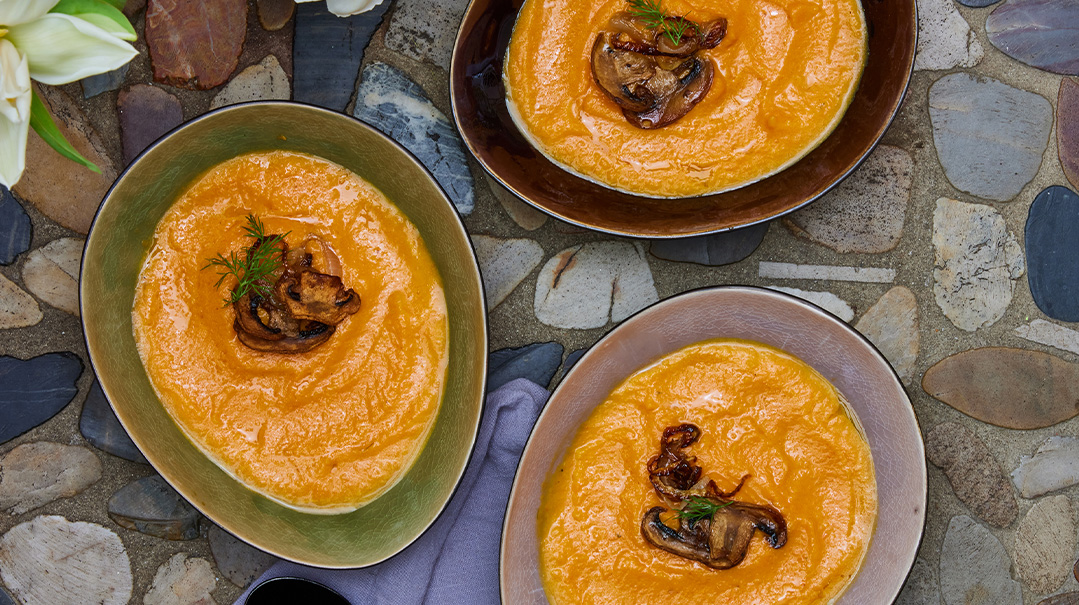 Food and Prop Styling by Shiri Feldman
Food Prep and Styling by Chef Suzie Gornish
Photography by Felicia Perretti
Roasting the vegetables adds incredible flavor to this humble, healthful soup. Adding the coconut or walnut oil after it's all done gives the soup a velvety texture that makes it irresistible.
SERVES 8
1½ lbs (680 g, about 12 small/medium) carrots, peeled and coarsely diced
3 small/medium zucchini, peeled and sliced in half lengthwise
1 medium onion, cut in quarters
1–2 tsp olive oil, plus more for drizzling
3 cloves garlic, chopped
6 cups water
salt and pepper, to taste
2 tsp fresh lemon juice, or to taste
pinch cayenne pepper
1 Tbsp coconut or walnut oil
Mushroom Garnish
2 Tbsp olive oil
1 medium onion, diced
1 8-oz (225-g) container mushrooms, sliced
salt and pepper, to taste
Preheat oven to 400°F (200°C).
Line a large rimmed baking sheet with parchment paper. Place carrots, zucchini, and onion on the baking sheet in a single layer, keeping each vegetable separate. Drizzle generously with olive oil. Roast for 30 minutes. Toss and roast another 10 minutes.
Meanwhile, heat 1–2 tsp olive oil in a large (5–6-liter) pot. Add garlic and sauté for 2 minutes, or until fragrant. As soon as the veggies are finished roasting, add them to the pot. Add water and bring to a boil. Reduce heat to a simmer and cook for about 15 minutes. Remove pot from heat and let cool for a few minutes. Blend with an immersion blender. Add salt and pepper, lemon juice, and cayenne pepper. Add the coconut or walnut oil and stir together well.
For the garnish: Heat 2 Tbsp olive oil in a frying pan. Add onions and sauté over medium/high heat for 5 minutes or until golden. Add mushrooms and continue sautéing until soft, approximately 5–7 minutes, stirring occasionally. Season with salt and pepper.
To serve: Ladle soup into a bowl. Place a heaping tablespoon of the onion/mushroom mixture in the center of each bowl.
Variation: If you prefer a sweeter soup, omit lemon juice and use orange juice instead — at least 2 Tbsp or to taste. Add cinnamon and/or freshly grated ginger to taste. Omit garnish above, and top each bowl with some chopped roasted walnuts instead.
Note: Both the soup and the garnish freeze well. Freeze the garnish in small containers and make sure to mark them.
(Originally featured in Family Table, Issue 835)
Oops! We could not locate your form.
>