| Side-by-Side |
Roast Chicken
| August 12, 2020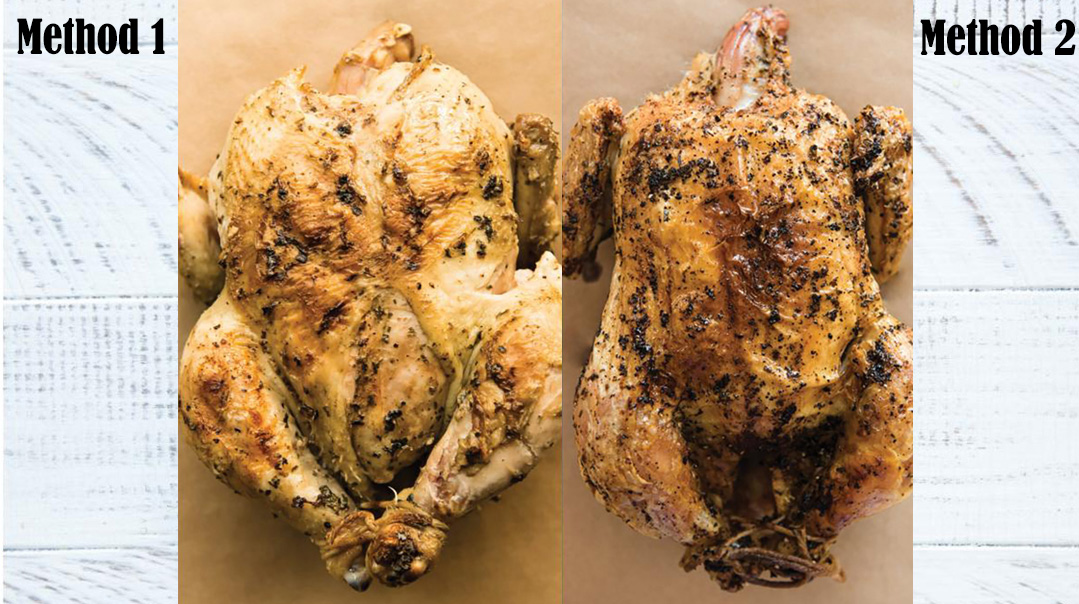 This might be my favorite topic tackled in this column so far. Roasting a whole bird lends a crackly, crispy skin that's practically a crust covering juicy, tender meat. The utter simplicity in prep and technique doesn't correlate with the results; that deeply bronzed bird is gloriously delicious. I've explored different techniques in the quest to find one that is simple yet effective. Get your instant-read thermometer ready!
1 2–3-lb (1–11⁄2-kg) whole chicken
1 Tbsp dried parsley
2 tsp sea salt
1 tsp cracked black pepper
6–7 cloves garlic, minced
3 Tbsp olive oil
1 lemon, cut in half
Season chicken with dried parsley, salt, pepper, and minced garlic. Drizzle with olive oil. Squeeze half the lemon juice over the chicken and stuff the rest into the cavity. Tie with kitchen twine.
Method 1:
Outdoor Grill We won't get into the charcoal versus gas grill debate, but let's be real: charcoal's flavor is unrivaled. But this method works on any grill, as long as you can create a two-zone heat. Prepare your charcoal on one side of the grill, leaving the opposite side without direct heat. Once it's hot, sear the chicken, breast side up, over the direct heat source for at least 7–9 minutes per side.
Transfer to the indirect heat, placing an oven thermometer on the grates if you have one, to reach 400°F (200°C). Shut the grill door and cook until the skin is crispy and well bronzed, about 1–2 hours.
Chicken should register at 165°F (75°C) on a meat thermometer inserted into the thickest part of the thigh, away from the bone (not optional!). If it's still not ready, leave inside the grill until it reaches the desired doneness.
Remove from the grill and allow to rest. Carve and serve hot.
Method 2:
Oven Roasted Heat oven to 425°F (220°C). Place chicken over a roaster or put a grate over a baking sheet and place the bird on top. Roast for 1 hour and 20 minutes or until the skin is deeply golden. Turn on the broiler and broil for 2 minutes to get a slight char. Remove from the oven, baste, and allow to rest. Carve and serve hot.
Note: If using spatchcocked chicken, reduce roasting time (using either method) to 45–50 minutes, but keep a close eye on it.
My Verdict
Well, you might have predicted this. The charcoal's earthy smokiness permeates into the meat so deeply, you taste it in every bite. And it's whoa! Nothing compares to charcoal. But the temperature isn't easy to control, and you need to leave your grill on for hours.
The oven roast is more straightforward and yields a clean-tasting, juicy meat with the signature crackly crust. It isn't as flavorful as the grill method, but it has plenty of flavor. It's a forever favorite. Hybrid option: Roast a chicken in the oven until mostly cooked through and finish on the grill for those grill marks and some of that flavor. The best of both worlds.
(Originally featured in Family Table, Issue 705)
Oops! We could not locate your form.
>