| Global View |
Rising to the Moment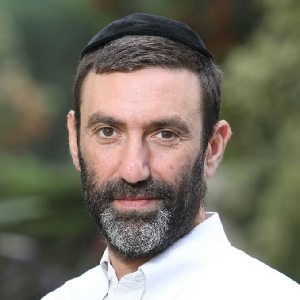 | May 8, 2019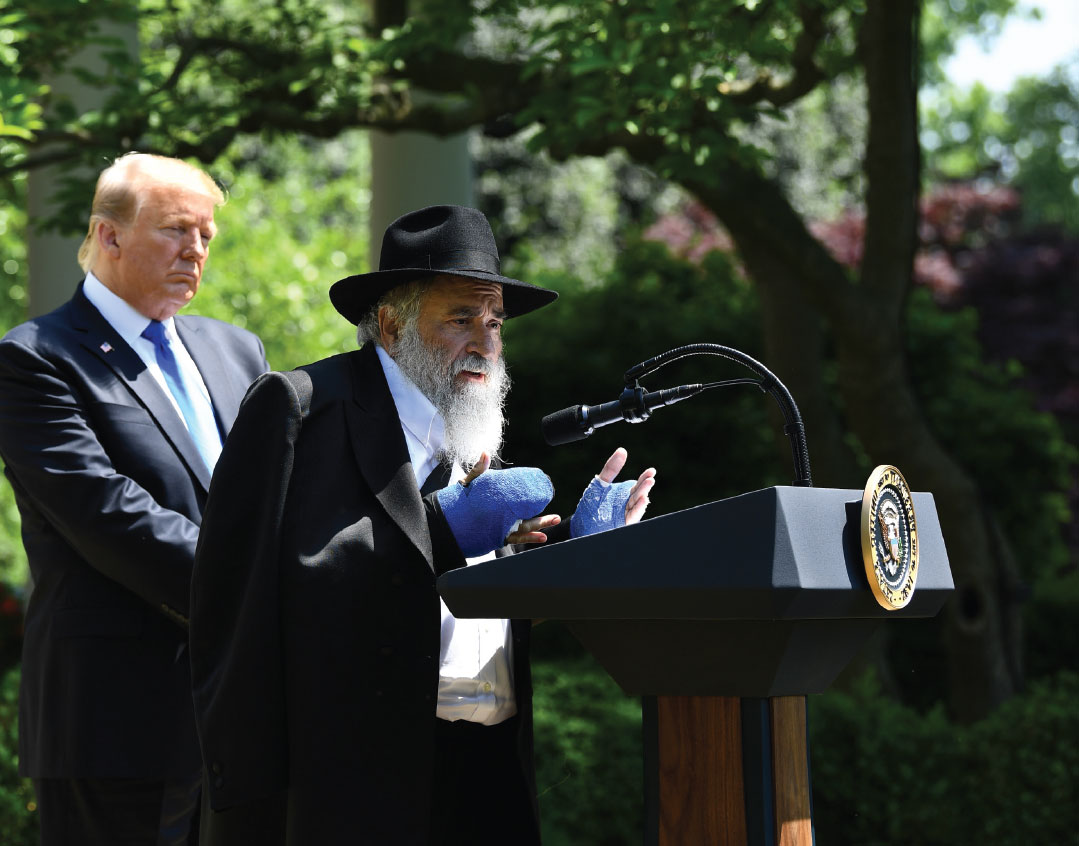 W
hat an incredible sight was Rabbi Yisroel Goldstein, both hands bandaged in blue casts, black hat firmly on his head, his chin high, speaking in the Rose Garden about his rebbe and the power of transforming darkness into light.
And how incredibly bizarre was his journey to that moment. Only five days before he had briefly stepped out of his sanctuary in Poway, California, to wash his hands and ready himself to read that day's haftarah. And just at that moment, after answering a question about Yizkor from longtime member Lori Kaye, did a deranged gunman walk into the shul and take aim. First he shot Mrs. Kaye. Then he came for the rabbi. Hands up to protect himself, the bullets hit Rabbi Goldstein's fingers. Then the gun jammed. Then Rabbi Goldstein shooed the children out of the shul. Then a congregant, army veteran Oscar Stewart, who had only started to attend the shul in August, rushed the shooter and chased him out of the building.
Five days later, Rabbi Goldstein was standing at a podium in the Rose Garden, thanking President Trump for his kind words in a difficult time.
Just five days ago, Saturday morning, I faced evil and the worst darkness of all time, right in our own house of worship, right at Chabad of Poway. I faced him and I had to make a decision: Do I run and hide? Or do I stand tall and fight, and protect all those that are there?  We cannot control what others do, but we can control how we react.
My dear Rebbe, Rabbi Menachem Mendel Schneerson, taught me the way we react to darkness is with light. It was that moment that I made a decision: No matter what happens to me, I'm going to save as many people as possible…. The Rebbe taught me, as a Jew, you are a soldier of G-d, you need to stand tall and stand fast, and do whatever it takes to change the world.
How fitting that two days later, in shuls across the world, the opening line of the parshah commands "Kedoshim tiheyu — be holy." Rabbi Goldstein was absolutely correct: We are all defined by our actions. And his actions, in the most critical moment of his life, were holy.
As is well known, Rabbi Goldstein refused to immediately be evacuated to the hospital, insisting on delivering a message to his congregation. "Am Yisrael Chai!" he said. "Nothing is going to take us down. This is what the Rebbe has taught us…. We are going to stand tall. We are going to stand proud of who we are."
Rabbi Goldstein was not invited to the Rose Garden because President Trump felt sorry for him. He was invited to the White House because he had impressed the president and others with his fortitude and character. Rabbi Goldstein did not shrink from the moment; he rose to the moment. Be holy. Rabbi Goldstein embraced his kedushah and he acted.
(Excerpted from Mishpacha, Issue 759)
Oops! We could not locate your form.
>