| 2.0 Feature |
Real Men Wear Scrubs
| August 14, 2019
Male nurses are breaking stereotypes one shift at a time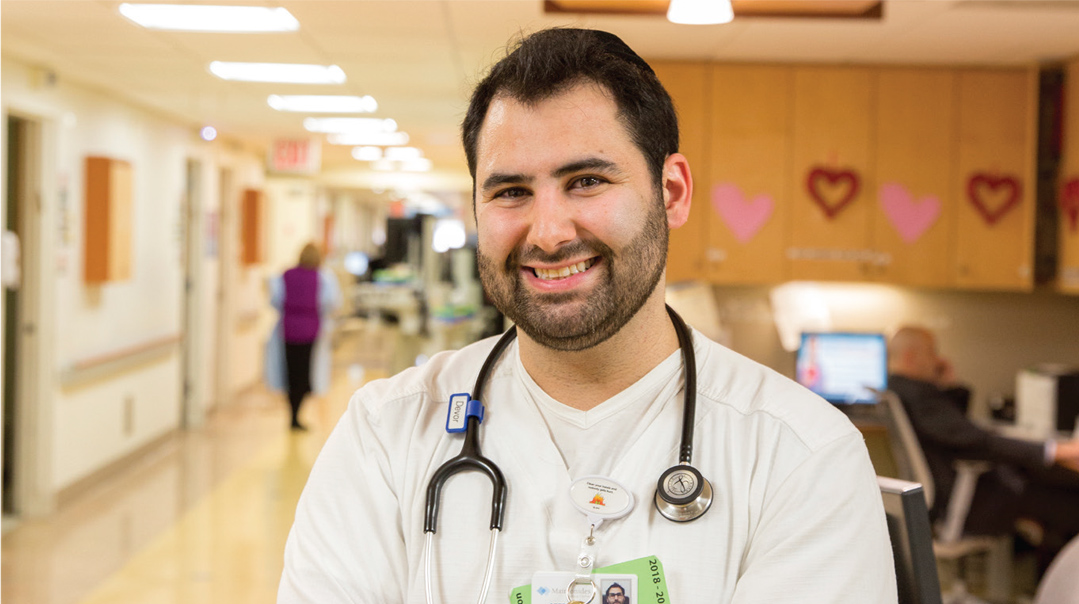 Men are doctors, women are nurses. It's a stereotype that's been in effect since the days of Florence Nightingale, heavily reinforced by children's books, costumes, and, in reality, visits to the doctor's office. While female doctors have successfully defied the pigeonholing (in 2017, women's enrollment inmedical schools outnumbered men's), when it comes to nursing, male nurses still find themselves the minority in an overwhelmingly female- dominated industry. Fortunately, the stigma is steadily dissipating.
MEN IN DEMAND
Today, there's an enormous — and constantly growing — demand for qualified male nurses in every  healthcare field. As acceptance and tolerance become increasingly emphasized by a rapidly diversifying population, society recognizes the need for a more representative workforce. That diversity is especially important in healthcare, where patients are often at their most vulnerable, and the ultimate goal is patient comfort. Nursing is a caring career, and caring is far from an exclusively feminine trait; men can — and do — excel in the field. Furthermore, nursing is a nuanced, skill-based profession that goes beyond the conventional "mothering" role some people may typify it as. Specific  specialties — especially the more stimulating, technical, and adrenalin- inducing ones, like emergency room and flight or transport positions — tend to attract more men; data shows that approximately 41% of nurse anesthetists, one of the most lucrative specialties, are male. "The trend is changing, and it's  more pronounced every year," observes cardiology nurse Hillel Devor, who graduated from Touro's nursing school in 2017. "I've seen classes and cohorts of nurses with a large percentage of frum men; in some groups, the female- to-male ratio is as close as 60:40."
ON A MISSION
To promote the growing ac- ceptance of men in the nursing profession (and thereby broaden the diversification), the American Assembly for Men in Nursing recently launched a large-scale, widespread campaign to recruit male nurses. Their goal: a 20% increase in the male nurse population by the year 2020. (Currently, 88.6% of RNs are female.) They operate under the slogan "Are You Man Enough to Be a Nurse?" and illustrate their campaign with images of manly men dressed for (stereotypically) masculine hobbies: football, rock climbing, karate, golf, fishing, surfing, and the like. They're designed to break the stigma (ironically, while enforcing other biases), but anyone who is familiar with nursing will recognize that it's an ideal career choice — for men and women — for many reasons. Many men are drawn to the caregiving aspect and others to the adrenaline of the work.

The men who attend the nursing program at Touro College often have a background in health sciences and may be trained as EMTs or phlebotomists (people who draw blood for medical testing, donations, and the like). The students make a conscious choice to become nurses over doctors or PAs; they don't settle for it simply because they "couldn't hack it in med school," but because they appreciate the importance and the advantages of the profession. The schooling, for one, gives nursing a significant advantage over other healthcare careers. It's one of the highest-paying jobs for those who enter the workforce with a four-year degree. Touro's nursing track is a "2+2 program" that consists of two years of undergraduate studies (which may be completed elsewhere) toward a  Bachelor of Science and two years of clinical nursing school, an RN-to-BSN program that comprehensively prepares students for licensing exams and a seamless entry into the workforce. "Our students can enter the program straight out of high school and exit as full-fledged nurses," says Dr. Sandra Russo, chair of Touro's College of Health Sciences's Department of Nursing. "When they complete their undergrad courses with us, they never have to worry about missing prerequisites.
We provide an extremely well-rounded, highly academic curriculum with a built-in clinical component, and our students graduate as true generalists who are prepared for virtually every specialty." "It's a fulfilling career," Devor says. "We are trained to take on and manage   a huge variety of responsibilities and situations, and we're constantly making decisions that can make a real difference in our patients' lives." General nursing can be applied to a vast array of settings and roles. Registered nurses work in hospitals, doctors' offices, home healthcare, nursing homes, outpatient clinics, schools, and even the military.
While nurses enjoy the opportunities awarded to them with a bachelor's degree, they may also choose to advance their education and become nurse practitioners (NP) or directors of nursing. To become a NP, nurses can earn their master's degree while working. They must also complete 600 hours of clinical training in various settings to prepare them for practicing in a wide range of populations.
FAMILY MAN
"Nursing is an excellent option for the frum man," asserts Dr. Rivka Molinsky, the associate dean of students and innovation at Touro College. "While most new graduates wind up with the less desirable shifts at first, there are boundless opportunities for advancement.
Even the 12-hour graveyard shifts allow a husband and father to be home in the mornings or evenings with his children; plus, those shifts are only three times weekly, so he can take advantage of the remaining days to learn or spend time with his family." For the driven, future-focused nurse, the career path is rich with opportunity and benefits. In addition to the upward mobility and relative flexibility, the salary is excellent, especially when compared with other jobs with a bachelor's-level entry point.
According to the 2018  Bureau of Labor Statistics, the median pay for registered nurses in 2018 was $71,730 across the United States and $88,000 in New York. The average nurse practitioner's salary in New York ranges from $119,627 to $140,050. The employment rate for registered nurses is estimated to grow 15% from 2016 to 2026, significantly faster than that of most other occupations, due to several factors, including increased average lifespan, the aging baby boomer population, growing rates of chronic illnesses, and an emphasis on preventative care.
There will always be a need for nurses; outsourcing and automation cannot — and will not — replace the human touch, whether female or male. So go ahead — break that stereotype.
(Originally featured in 2.0, Issue 5)
>