| TableScapes |
Raise the Bar | December 17, 2019
Chanukah is the bright light in the middle of the winter tunnel. As the cold settles in and night falls so early, we tend to draw into ourselves and our cozy homes. Chanukah can be a welcome oasis from the pressures of day-to-day life, a time to relax and celebrate the triumph of light over darkness, together with family and friends
BAR NONE
For young and old, Chanukah parties are the highlight of the season. If you're lucky enough to have the opportunity to host, you know that it can be daunting to create a menu that will please all your guests. Creating a variety of bars means that each person can have things just the way they like them!
After figuring out the various toppings I was using and the sizes of the plates and bowls, I had the graphics team at Mishpacha create these sleek and modern printouts that I placed on top of a simple white tablecloth, which you can download below.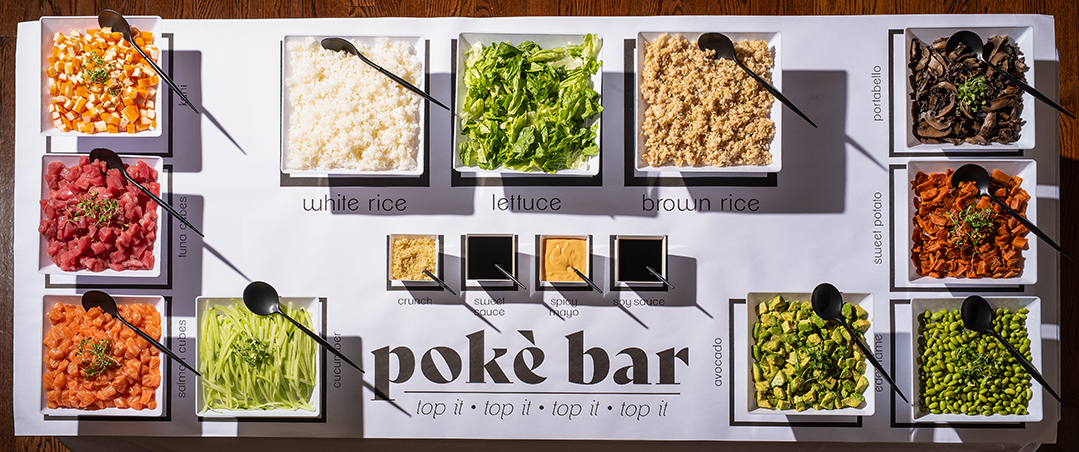 I prepared this poke bar to balance out the oil in the latkes and churros. If you're looking for healthy foods to serve at your party, a poké bar is a great option. They're fresh, tasty, and healthy; they're high in lean protein and healthy fats; and they provide a good dose of veggies and whole grains.
Poké bowls can be as simple or as adventurous as you want. The only rule you must adhere to is to use the freshest ingredients when you're dealing with raw fish. You can prepare the bar on your own or order the supplies from your local sushi store.
I ordered all the components from That Sushi Spot of Lakewood, which is known for its super-fresh and delicious sushi. Choose a base, a protein, and a dressing. Add the fun stuff and enjoy!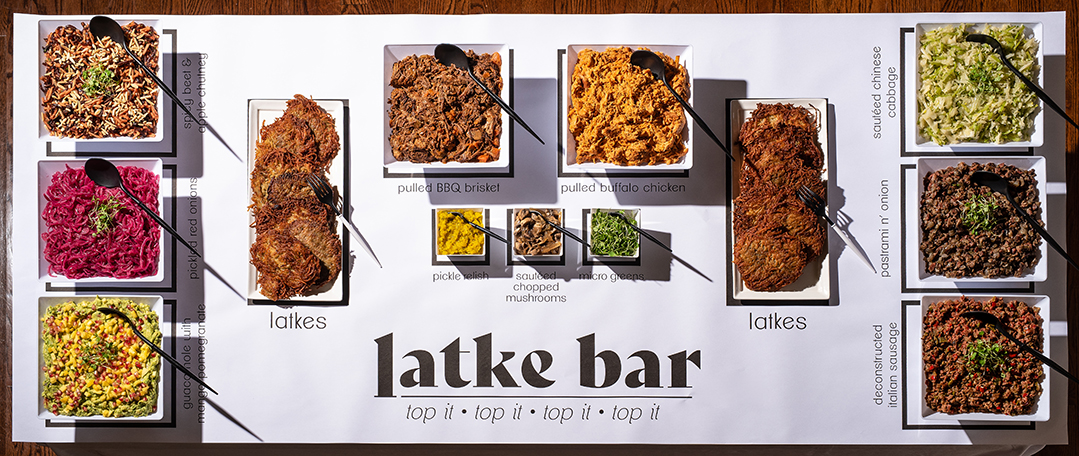 When I conferenced Chanie and Michal to discuss the toppings for this latke bar, I had in mind some different flavors of applesauce. I mean, what else do you put on a latke? Maybe some sour cream?
"No, that's not what we meant," they told me. "We're in 2019, and we need pulled beef and spicy beef and apple chutney and microgreens!"
Once I realized where I needed to be heading, I immediately contacted Snaps of Lakewood. I knew I could count on them to help me come up with these unique and delicious latke toppings!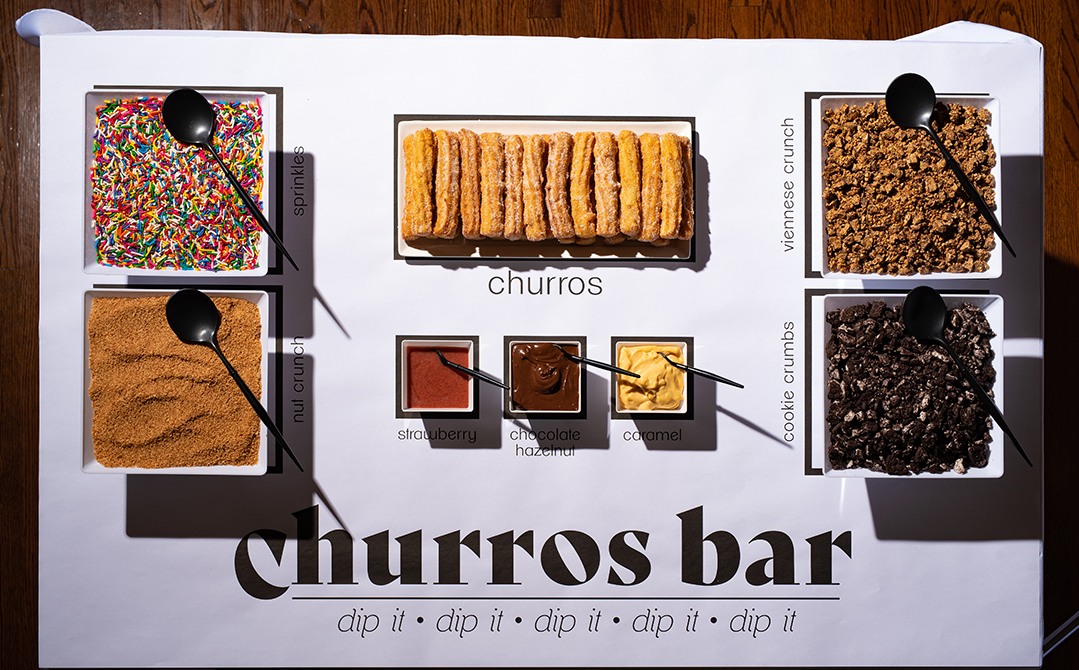 If you're looking for a new Chanukah tradition, this may be the one for you! These Mexican fritters are crispy on the outside, soft and tender on the inside, with a flavor no one can resist. When it comes to churros, everyone knows that The Cookie Corner of Lakewood does it just right!
Black-and-White Table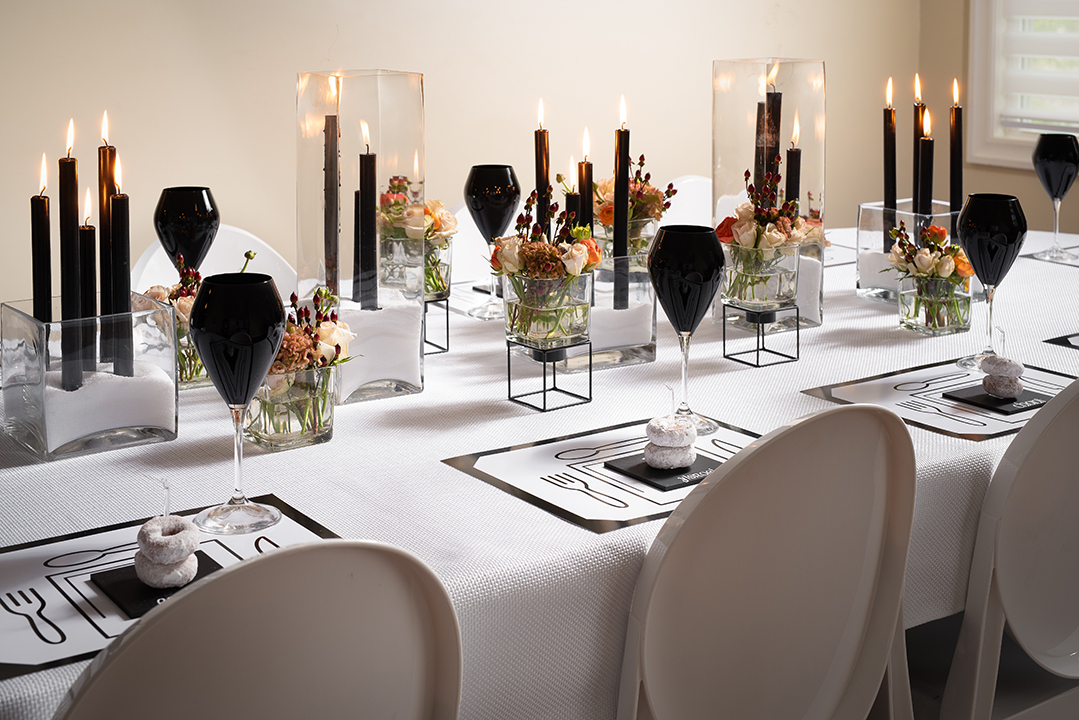 Keeping with the sleek and modern look of the buffet tables, we created these adorable placemats, also available for downloading. If you're hosting a large party with many people coming and going, I suggest setting up a table with all the cutlery, plates, bowls, and napkins. I had the designer create a placemat that resembled a real place setting so that the table looks set, even if the actual settings are elsewhere.
Although I didn't put any real dishes on the table, I wanted a glass that would really stand out, so I went with these striking black goblets from Classic Touch.
I was looking for a simple white tablecloth that had some texture, so I chose a white burlap fabric at Stitch N' Sew of Lakewood. They sewed up the ends for me and made it into a tablecloth.
Candle Clusters
I love setting a table with lots of candles, and there's no better time than Chanukah for that.
With safety being the number-one priority, keep in mind the ages of your party attendees and place your candles strategically. If you're setting up bars, as I did here, there is less passing food back and forth, so candles can more easily be placed on the table. You can also have them lit at the beginning of the party and blow them out if necessary.
For an added touch, I filled vases with kosher salt and stuck the candles in at various heights. (Tip: To avoid wasting the salt, save it for the next snowstorm.)
Flowery Feel
For the flowers, Devoiry of Daphne's Petals set up just the right amount of flowers to add a special touch without overcrowding the table. Sometimes less is more!
The mini vases were purchased at the Dollar Tree.
Mini Doughnut Stands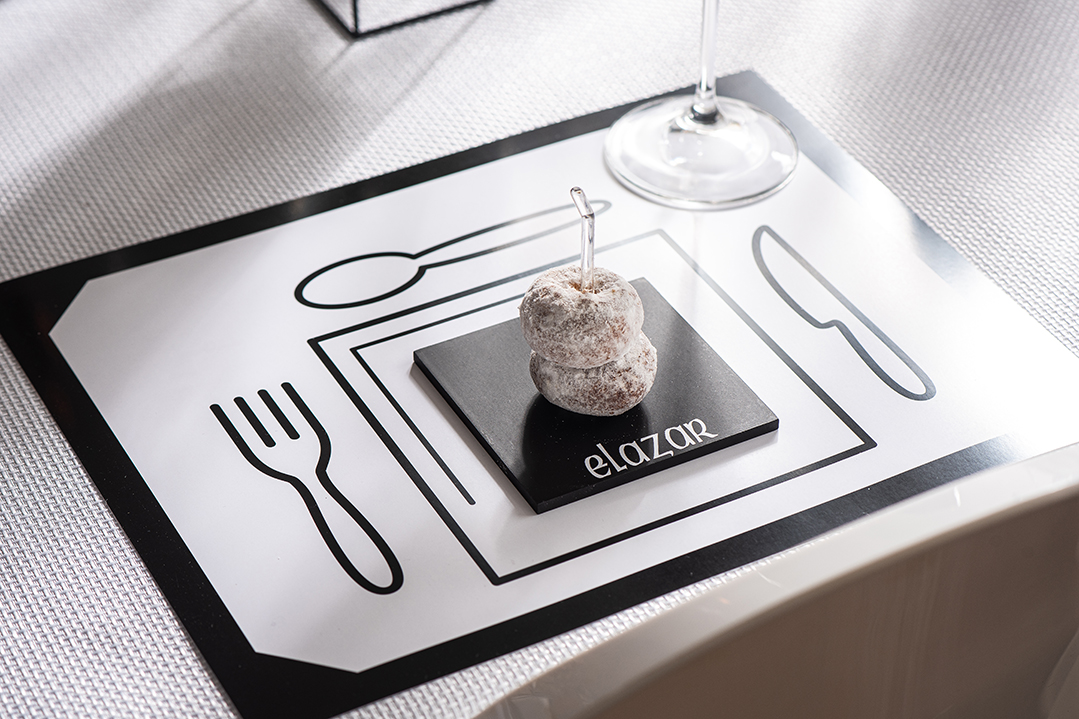 Here's my version of a mini doughnut stand. I used a coaster-and-hook combination to create this unique party favor. You can customize them by adding a name to each one.
YOU WILL NEED:
any flat 3–4-inch surface, such as coasters, mini plates, acrylic squares or circles
3-inch acrylic hooks (available on Amazon)
permanent glue dots, glue gun, or acrylic glue marker or sticker letters (optional)
acrylic hooks (search for "Acrylic Hooks for Party Favors Mini Donut Stand")
Attach a hook to the base with glue.
Customize by adding each person's name, if desired.
Originally featured in Family Table Issue 672
Oops! We could not locate your form.
>