| Recipes |
Potato and Tomato Stack with Nut-Free Mock Pesto
| March 14, 2023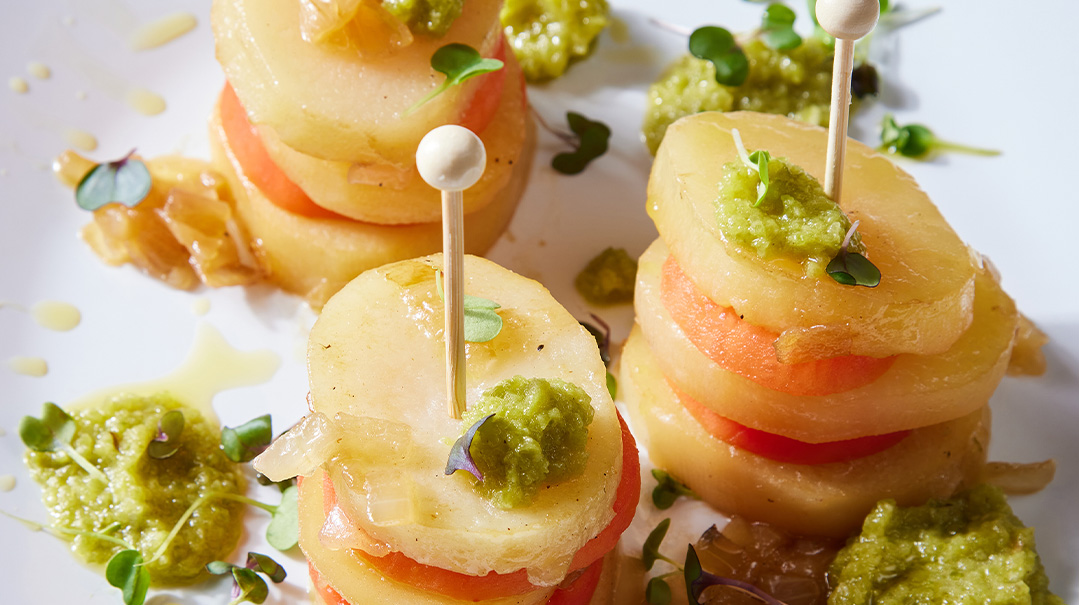 For those of us without Pesach kitchens, cooking for Pesach is quite a challenge! When I didn't have a Pesach oven, I had to become creative, especially when it came to side dishes, since I didn't want to serve mashed potatoes over and over again. These potatoes don't require an oven, yet they taste baked and they look so pretty!
SERVES 6
2 Spanish onions, diced very small
3 Tbsp olive oil
4 medium-sized Yukon gold potatoes, peeled and sliced into ¼-inch (½-cm) slices
2 very hard plum tomatoes, peeled and sliced into ¼-inch (½-cm) slices
¾–1 cup Manischewitz Chicken Stock, divided
salt and pepper, to taste
caramelized onions, for garnish (optional)
Mock Pesto
1 very large green pepper (try to get one that has a lot of flesh)
1 clove garlic, optional
salt and pepper, to taste
½ tsp paprika, optional
2 Tbsp olive oil
In a large frying pan, sauté the onions in olive oil until golden but not crispy. Add sliced potatoes and toss with the onions. After tossing, try to arrange all the potatoes in the pot so they don't overlap much. Add 1⁄2 cup chicken stock. Lower heat to a simmer; cover. Simmer for 15 minutes.
Lay the sliced tomatoes on top of the potatoes. Sprinkle with salt and pepper and add 1⁄4 cup chicken stock. Cover pan and let simmer another 10–15 minutes or until potatoes are fork-tender. Make sure not to mix or to move any of the vegetables around at this point. Do not overcook, as you want the potatoes and tomatoes to stay a bit firm and keep their shape. If the potatoes are drying out, add another 1⁄4 cup chicken stock.
To make the mock pesto: Over an open flame, using tongs, char the pepper. Put it into a pan and peel. It's best to do this while it's still hot. (Wear a double pair of gloves to protect your hands from the heat.) Once peeled and deseeded, char the pepper for another minute, then place into your food processor. Add the garlic, salt, pepper, and paprika. Turn on the processer and slowly add the oil until it forms a paste.
To serve, stack 3–4 potato slices. Add 1 slice of tomato. Pour some of the onions on top, then garnish with the pesto sauce. This can also be served on a platter.
(Originally featured in Family Table, Issue 835)
Oops! We could not locate your form.
>