| PlateArt |
Peeled, but With Appeal! | April 3, 2023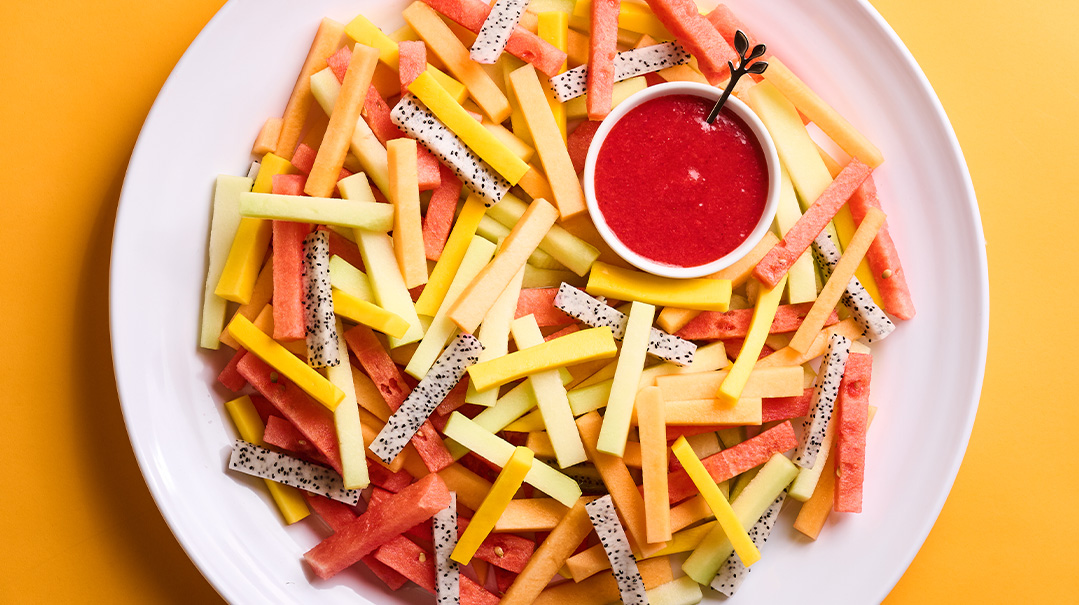 Text and styling by Esther Ottensoser
Photography by Sina Mizrahi
If you love adding that extra touch to your Yom Tov table, these garnishing ideas are for you! Featured here are ideas that can be enjoyed by everyone, using mostly peelable fruits and vegetables.
Wishing you a beautiful Yom Tov!
Esther
Fruit Fries
I love how all you need here is a knife to turn your fruit into an attractive, delicious, and healthy dessert.
You will need:
assorted melons
mango
dragon fruit
strawberry sauce (aka blended frozen strawberries)
Peel the fruit and cut it into matchsticks.
Serve with strawberry sauce on the side.
Tip: Divide the fruit scraps into individual serving containers and store in the fridge for convenient snacks over Yom Tov!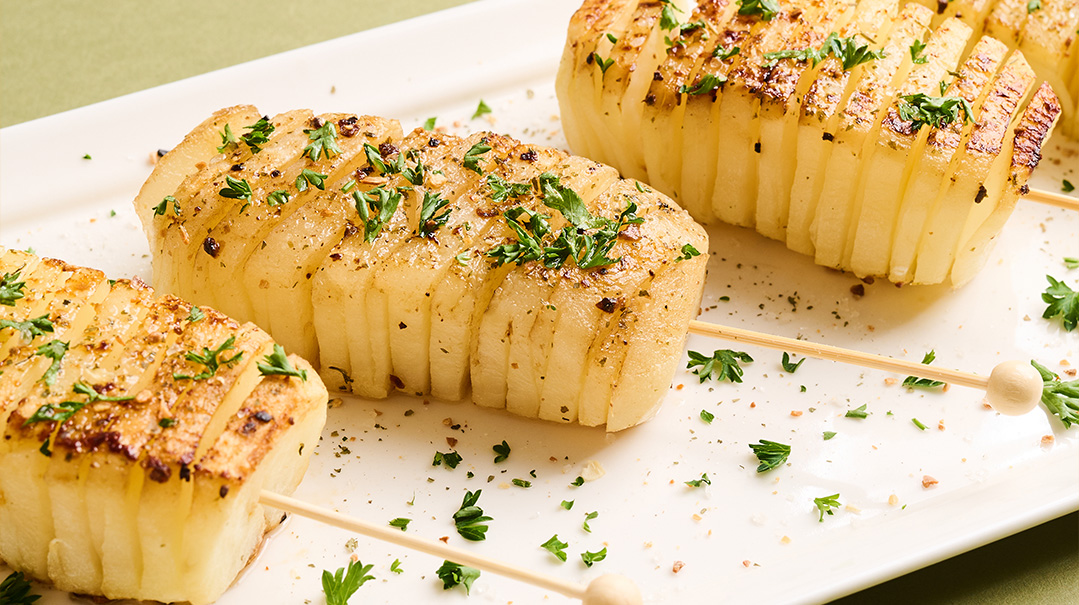 Accordion Potatoes
Pesach is the time when we serve potatoes in any shape, form, or fashion. Having them stretched out into this accordion shape makes them fun and different!
You will need:
potatoes (I used russet, but Yukon gold and sweet potatoes also work well)
chopsticks
cooking spray
spices and herbs
skewers
Peel the potatoes and cut off the ends to make them into a rectangle shape. (Use the ends and scraps for your cholent, mashed potatoes, soup, etc.)
Position two chopsticks underneath a potato, one on each side. Cut the potato hasselback style, slicing it thinly but making sure you don't cut all the way through to the bottom. Flip the potato over and cut diagonal lines.
Continue slicing the potatoes, placing the potatoes that are already cut into cold water. (This helps keep them from turning brown, and also breaks down the excess starch, resulting in delicious, crispy potatoes once baked.)

Preheat oven to 400°F (200°C). Prepare a baking pan with parchment paper and spray it well with cooking spray.
Sprinkle your favorite spices onto the parchment paper and place the potatoes on top. Spray and spice the tops of the potatoes.
Bake the potatoes for about 40 minutes, flipping gently halfway through. Depending on the size of your potatoes, they may need more time (five minutes or so) in the oven to get crispy. Once they're done, they should have crispy edges and a golden brown center.
Carefully push a skewer through each potato and serve.
Tip: To prepare this dish ahead, simply slice the potatoes, place in a large bowl covered with water, and refrigerate until ready to bake. You can leave the potatoes covered in water in the fridge for up to three days.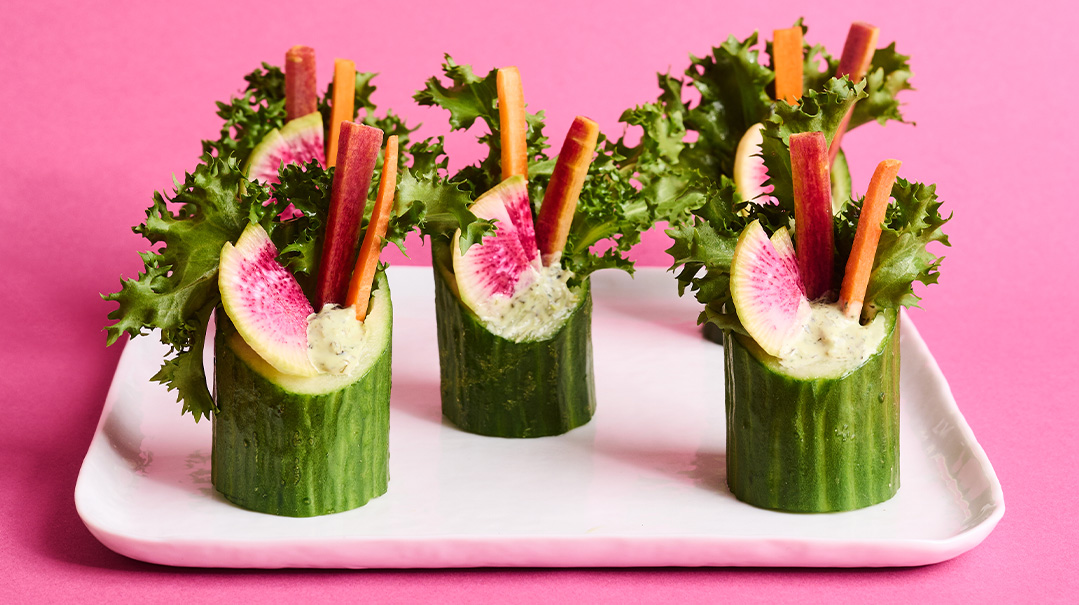 Cucumber Cups
This is a pretty garnish to add to an individual fish plate or your fish platter.
You will need:
English cucumbers
rainbow carrots, cut into matchsticks
watermelon radishes, sliced
dip (optional)
Wash cucumbers well. (They can be peeled too.) Cut into 3-inch pieces.
Using a sharp knife, cut some of the cucumber off on an angle.
Use a small scoop or a knife to remove part of the cucumber flesh. (If you're not adding dips, you can cut all the way to the bottom of the cucumber.)
Place dip and vegetables into the cucumber cup.
(Originally featured in Family Table, Issue 838)
Oops! We could not locate your form.
>