| Recipes |
Pastrami Potato Puffs | September 30, 2019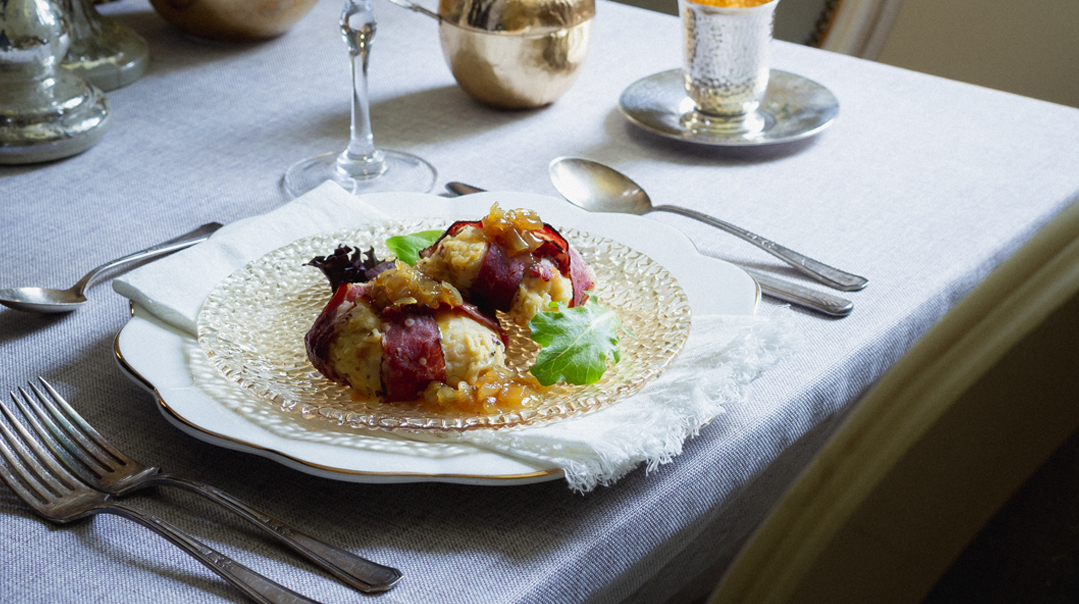 Pastrami Potato Puffs 
These pretty potato puffs use tasty ingredients that everyone loves. They can be made larger or smaller, to suit your needs. They're fabulous as an appetizer over a bed of lettuce or a delicious side dish for your Yom Tov table. 
SERVES 8 POTATO PUFFS
4 large potatoes
2 large onions, diced
oil, for sauteing
16 strips pastrami
1 egg, beaten, divided
salt and pepper, to taste
SAUCY ONION JAM
2 large onions, diced
oil, for sauteing
¼ cup brown sugar
2 tsp Dijon mustard
scant ½ tsp salt
dash black pepper
2 Tbsp red wine or regular vinegar
Place potatoes in a large pot of boiling, salted water and cook until soft. (Be careful not to overcook.) Drain very well and allow to cool. Meanwhile, saute onions in oil until soft and slightly browned.
Place cooked potatoes and onions into a large mixing bowl and mash until smooth and creamy. Add beaten egg, reserving 1 tablespoonful for glazing puffs, and salt and pepper, to taste. Set aside. Preheat oven to 350°F (175°C). Line a baking pan with parchment paper.
Working with one slice at a time, lay out the pastrami slices and trim to 1¼-inch (3-cm) strips. Dice shavings and saute in a bit of oil; add to potato mixture and stir to combine. Using two strips of pastrami per puff, place strips one over the other, forming an X shape. Place a large scoop of potato mixture in the center of the X and cross pastrami ends over the top of the scoop, folding over and pressing down. Turn over and place seam-side down on the prepared baking pan.
Repeat with remaining pastrami and potato mixture. Glaze with reserved egg and bake for 25 minutes. To make the onion jam: Saute onions in oil until caramelized. Add remaining ingredients and mix well; bring to a boil. Lower heat and simmer for 5 minutes, stirring until slightly thickened. Divide evenly over potato puffs and serve.
(Originally featured in FamilyTable, Issue 661)
Oops! We could not locate your form.
>