| Recipes |
Pastrami Chicken and Rice | September 14, 2021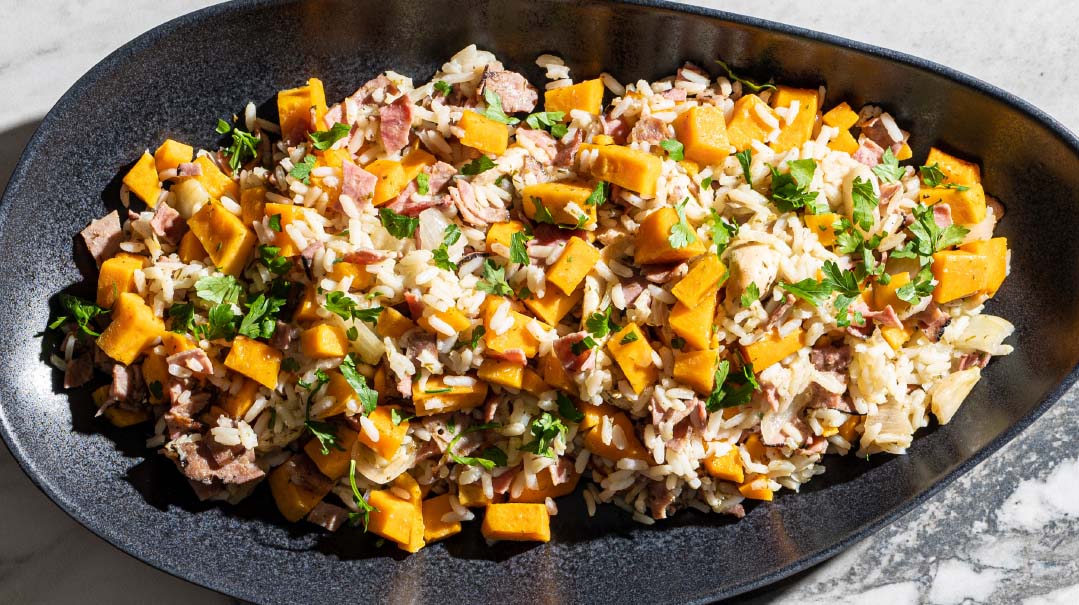 Food and Prop Styling by Renee Muller
Photography by Hudi Greenberger
When you develop a recipe, you're never quite sure how it will turn out. Sometimes you know from the get-go that it will be a winner, but here, I really didn't know what the results would be. All I can say is that it turned out to be a fabulous meal-in-one that was bursting with flavor, texture, and amazing taste in every single bite. It should yield at least six servings, but four of us polished it off in a jiffy. And we even ate it cold!! So maybe double it to be on the safe side!
YIELDS 6 MAIN DISH SERVINGS
1 large sweet potato, peeled and diced
1 cup basmati rice
4½ oz (125 g) pastrami, diced
12 oz (350 g) chicken cutlets, cut into strips
1 large onion, cut into chunks
1 Tbsp apricot jam, diluted in 1 Tbsp warm water
2 cups water
3 Tbsp olive oil
salt and pepper, to taste
(be generous)
1 Tbsp Lieber's Apple Cider Vinegar
1 rounded Tbsp onion soup mix
2 large cubes frozen parsley, defrosted in microwave for 10 seconds
1 large cube frozen dill, defrosted in microwave for 10 seconds
Preheat oven to 350°F (175°C). Line a 9x13-inch (23x33-cm) baking pan with parchment paper.
Place sweet potatoes on the bottom of the pan. Sprinkle rice all over. Add pastrami pieces and then the chicken pieces. Spread onion over all. Do not mix. Drizzle the diluted apricot jam over all.
Combine the water, olive oil, salt and pepper, vinegar, onion soup mix, and slightly defrosted herbs in a small bowl. Mix well. Pour evenly over the entire pan.
Cover the pan with parchment paper and then tightly with aluminum foil. Bake for 1½ hours. Remove from oven and let sit at least 5 minutes before serving.
(Originally featured in Family Table, Issue 760)
Oops! We could not locate your form.
>