| No Food Left Behind |
Nondairy Sachlav-Chia Yogurt
| August 5, 2020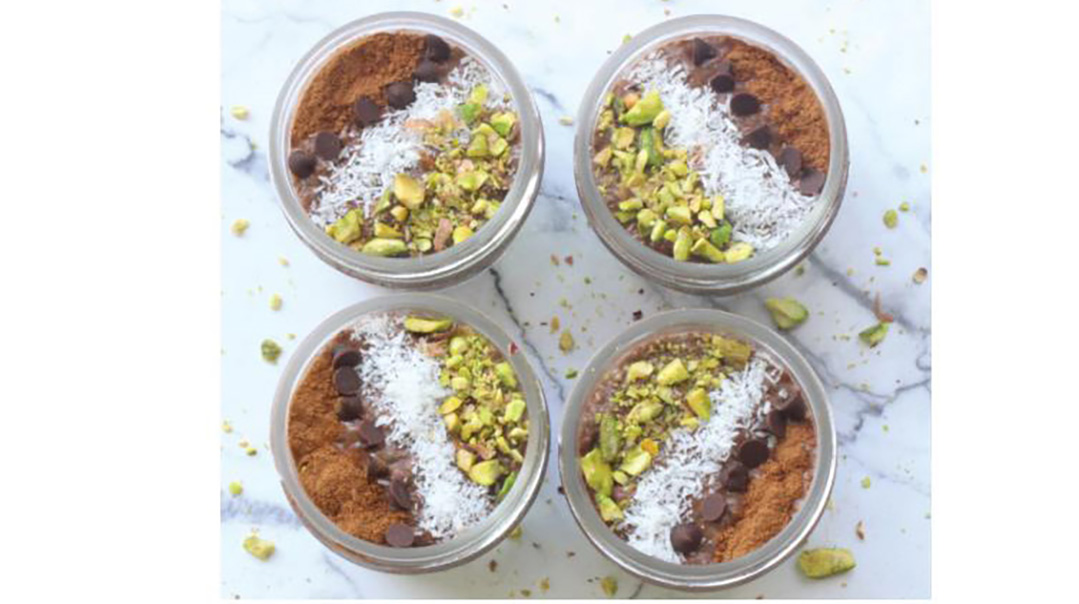 PHOTOGRAPHY BY BETH WARREN
Many of my clients search for a quick breakfast or snack option. My mind immediately goes to one food: yogurt. But how can you enjoy yogurt if you're on a dairy-free diet?
While there are nondairy yogurt alternatives on the market, they can be costly, hard to find, high in sugar, or not your taste. Here's a yogurt-like recipe that can be made on a budget with only two major ingredients: chia seeds and almond milk. Of course, you can easily substitute any milk or add other flavorings, such as a spoonful of peanut butter for a nutty taste, but I guarantee my sachlav spin using rosewater takes this recipe to another level. You'll enjoy it so much, I bet you'll start serving it to guests as a refreshing treat.
YIELDS 2 CUPS
1⁄4 cup unsweetened cocoa powder
2 Tbsp agave syrup
1⁄2 tsp cinnamon
1 pinch sea salt
1⁄2 tsp vanilla extract
2 tsp rosewater (I use Sadaf brand, purchased on Amazon)
11⁄2 cups unsweetened almond milk
1⁄2 cup chia seeds
shredded coconut, chopped nuts, and cinnamon, for garnish
In a small mixing bowl, place cocoa powder, agave syrup, cinnamon, salt, vanilla, and rosewater and whisk to combine. Add the milk and continue to whisk. Add chia seeds and whisk once more. Cover and refrigerate in a mason jar or an airtight container for at least 6 hours (until it's achieved a pudding-like consistency) or overnight. You may need to give it a stir at some point in the middle.
Serve chilled with desired garnishes for an authentic sachlav flavor. Leftovers last covered in the fridge for 4–5 days, though it tastes best fresh.

Beth Warren Nutrition is running fully virtual nutrition appointments during the COVID-19 social distancing restrictions. To schedule a nutrition appointment with Beth in the Brooklyn (Flatbush and Williamsburg), NYC, or Five Towns locations, or book an appearance, email beth@bethwarrennutrition.com or call 347-292-1725. Most insurances accepted.
(Originally featured in Family Table, Issue 704)
Oops! We could not locate your form.
>