| Between Brothers |
No Better Time | March 23, 2021
Today, with over a million users, Shimon and Rubin Kolyakov still don't take the credit for TorahAnytime — they just followed the path Hashem paved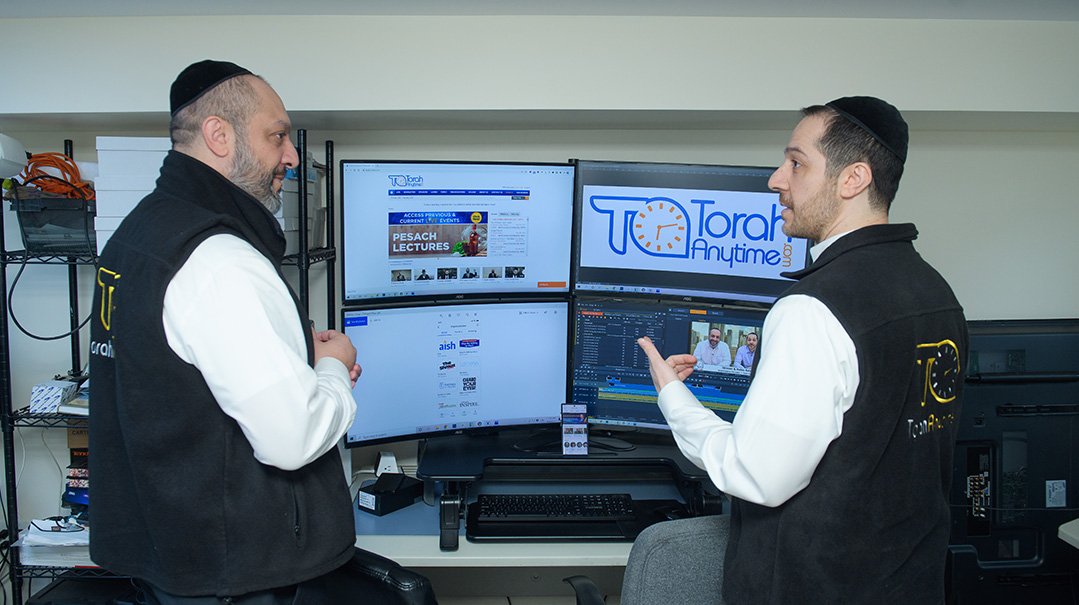 Photos: Naftoli Goldgrab
When Shimon and Rubin Kolyakov first put up their website of Torah shiurim in 2006, they considered 50 hits a success — that meant 50 more people listening to a Torah class. Today, with over a million users, they still don't take the credit for TorahAnytime — they just followed the path Hashem paved
Shimon Kolyakov is, by his own admission, a man obsessed. And that turns out to be a particularly good thing for Klal Yisrael. Because, as a child of Bukharian immigrants growing up in Queens, New York, once Shimon became drawn to Torah as a teenager, he became obsessed with sharing his newfound wealth. Together with his younger brother Rubin, who followed enthusiastically in his wake, he began videoing and sharing shiurim, taking advantage of the swiftly advancing development of the Internet and following new breakthroughs in photographic technology.
Their efforts ultimately morphed into TorahAnytime.com, the largest library of originally recorded Torah videos in the world.
In fact, the massive global resource we all know started with a mini-DV camera and a driven and inspired teenager.
In 1979, when Shimon was two years old and Rubin not yet born, the Kolyakov family, coming from Tashkent, Uzbekistan, fled Communism for America and settled in Queens, New York's Bukharian community. The Kolyakov family's roots boasted a steadfast line of deeply religious ancestors, but Communism had obliterated religion from two generations of Jews, leaving them unlearned, uneducated, and practically disconnected from Yiddishkeit.
Shimon recalls the highlight of his school week: The Queens branch of JEP pulled the Jewish kids out of their public school classrooms once a week for an hour, and Shimon recalls a defining incident that got his parents' attention and eventually spurred them to switch him out of public school.
Though his parents were not religious, like most immigrant Bukharian Jews, they had a strong Jewish identity. As a third grader, Shimon's public school held a small sale as part of a student fundraising project. "I wanted to buy something for my mom and saw a small necklace with a pendant," Shimon remembers. "The shape looked familiar so I figured it must be something that was in style."
He bought the necklace and proudly presented it to his mother. "I gave it to her, and she didn't say anything, but she gave me a strange look and an awkward smile." The Kolyakovs might have been unaware of halachah, but they knew well enough that Jews don't wear crosses. This wake-up call, combined with the efforts of JEP volunteers and Shimon's only religious relative, his uncle Baruch, spurred the first switch. Shimon's parents transferred him to Yeshiva Institute in Queens, now called Yeshiva Primary, which is still active and thriving — and Shimon remains closely tied and grateful to the yeshivah and to Rabbi Zalman Deutscher, its dynamic principal. "I loved it there," he says. "I was a kid, I wasn't holding anywhere yet, but the seeds were planted."
Shimon didn't continue his yeshivah education though, and instead chose to go to a public high school — but it was this unlikely route that eventually brought him into a position of Jewish leadership. In the early 1990s, the Iron Curtain fell and there was a huge influx of Russian families into Queens. Their kids all ended up in public high schools, yet they were ripe for learning what Shimon could offer. "I was obsessed with kiruv and wanted to get people to that level and share what I knew," he says. "I myself wasn't even totally observant yet, but I became somewhat of a leader."
One day someone pulled him over and asked if he wanted to hear a Torah lecture — free pizza included. It sounded good and he attended. The next time he was invited they offered Chinese food. In the end, Shimon started attending lectures regularly at the Beth Gavriel Bukharian Jewish Center in Forest Hills and his interest grew. He was always ready to be mekarev his peers, but he put his greatest efforts into his own brother, Rubin. Six years his junior, Rubin had been born in America and had an exclusively public-school education. But Shimon knew Rubin could have more.
"I was always behind him," Shimon remembers. "Rubin was always so receptive, his neshamah was so absorbent. He loved Torah and was never resistant."
For his part, Rubin describes himself as a "go-with-the-flow kind of guy." So when Shimon invited him to shul one day, he agreed. Why not? he thought. Beth Gavriel had started a break-off minyan for youngsters, the atmosphere was pleasant and the ideas and words of Torah delivered by the dynamic Rabbi Israel Itshakov — the first rabbinical figure in Rubin's life — were actually interesting.
"It was a fun time for us," says Rubin. "It started as a social thing, but we all grew in observance."
Rubin says he's indebted to his brother for the spiritual journey Shimon set him on back then. "He's my spiritual guardian. He introduced me to a life of Torah and to the desire to spread Torah," Rubin declares. "Spiritually, he raised me like a parent. When I was younger, I always knew I could count on Shimon."
Today, as adults, the brothers work together from different locations — Rubin is in Kew Gardens Hills and Shimon is in Monsey — and speak multiple times a day, planning projects and updating each other on TorahAnytime tasks. "Hashem made our personalities go well together," Rubin says. "But any success that we've seen is obviously only through Hashem's blessing and not our own merits. Without Hashem behind us nothing would get done."
Rubin was around 20 years old when he was exposed to the tech industry in 2003. Shimon owned a computer repair shop and gave Rubin his first tech job. After two years, he left to work for Touro College in their IT department, where he took advantage of the daily minyanim and the beis medrash.
At that point, Shimon was busy recording shiurim and laboriously copying them one by one onto DVDs and distributing them within his community. Many suggested that he try to distribute them more widely, perhaps using the evolving phenomenon of the Internet. Though Shimon was interested in expanding his reach, he wasn't knowledgeable enough to start an online platform. Meanwhile, his brother Rubin was thirsty for more sources of Torah learning and, in late 2005, he decided to search the Web for Jewish content. The Internet was still young, and there were only a few fledgling sites online. People could upload only ten minutes of video on something called YouTube, a brand-new site that had just started up. But at that point in his career, although Rubin was not really qualified to design and manage a website, he shared his brother's passion for spreading Torah and he took up the challenge. He asked around in Touro's IT department, picking up knowledge where he could. In time, he set up a website called "Kolyakov.org," meaning the "Voice of Yaakov," and a play on the family name.
"I once heard it said that when a person dies, all his dreams, plans, and ideas die along with him," Rubin muses. "It's a lesson to everyone. A person should use every opportunity that presents itself or it may be lost forever." Shimon agrees. "Rubin didn't really have the skillset to start the website at the time, but he stepped up to the plate and made it happen."
The Kolyakov brothers were about to embark on a project that would see unprecedented success in the Torah world, but what would their parents think about it? There were actually two parts to consider — the Torah aspect and the entrepreneurial angle. Regarding the latter, talent and drive weren't foreign to the Kolyakov family. Rubin describes his father's strong independent and entrepreneurial character. In Russia he was a professional photographer and videographer, and he continued in the field in America wherever he could. He often took Shimon along to assist him, and that helped Shimon hone his own videography. Officially, Mr. Kolyakov opened a shoe repair shop near the Empire State Building in Manhattan, and his wife, an independent and hard worker, opened a nail salon next door. "Our family," says Rubin, "is a learning family. We were always taking classes and learning new skills. It's in the blood."
Their parents never denied the tenets of Judaism, but the long arm of Communist Russia had too strong a hold on them. However, Bukharians have a tremendous respect for their parents and saying Kaddish for a deceased parent is nonnegotiable. Sixteen years ago, when Mr. Kolyakov's father passed away, he started attending shul every day, and it resulted in one of the greatest gifts the family experienced.
"For our parents, the biggest catalyst for their turnaround was saying Kaddish for our grandfather," says Rubin. "By that time, my brother and I had already come closer, and after a year of Kaddish, it was just natural for our parents to move toward observance as well."
In fact, it was a bit of a communal wave. Other middle-aged parents, peers of the Kolyakovs, found themselves coming closer to mitzvah observance, going to shul and taking classes together, meeting their children on new and fertile ground.
"I believe that all parents want their children to be happy," Shimon adds. "At first my parents wanted to adapt to our lifestyle for our sake, but later they took it all on their own. Today, my father listens to the lectures in Russian, and my parents' nachat is indescribable — they get a lot of feedback and can't believe what their sons have accomplished."
Today, with TorahAnytime counting over 130,000 Torah videos highlighting more than 1,000 different speakers and serving over a million users, the brothers spend their days and nights maintaining the organization, networking with speakers, sourcing, recording, and organizing content.
And most recently, they have been pouring endless hours in TorahAnytime's newest project, the Daily Dose.
But it didn't happen overnight.
Both Shimon and Rubin attended lectures for years and saw the impact these lectures were having on their own lives and personal growth. But for their initial public offering, they had a primitive, watered-down website where content was uploaded manually, and nothing was streamable. An exciting improvement came when a new hard-drive camera hit the market, making uploading faster and easier — which meant no more tapes or discs.
By the end of March 2006, after a full month of being live, the fledgling site had achieved about 50 hits. Word of mouth spread and the next month saw 150 hits. Then 250, 500, and the next month, a surprising 1,000. By the end of 2006, the site saw almost 10,000 users and usage continued to surge: over 145,000 users in 2010, over 300,000 users in 2015 and fast-forward to 2020 with a whopping one million+ users.
TorahAnytime had some crises in its infancy. In 2008, before the site was well protected, it had to fend off hackers who tried to disrupt operations. At that time, they raised funds to create a firewall and the site rebounded. But last year, when COVID struck, the demand was so great that the site was crashing. "We were caught off guard," says Rubin. "It pushed us into getting the new site and mobile app up and running faster than planned."
Last year was record-breaking on many fronts. "Hashem brought the cure before the makkah," says Rubin. Before COVID, TorahAnytime drew between 8,000 to 15,000 users a day. When COVID hit, those numbers jumped to 40,000 to 50,000 users a day. "We weren't ready for such an influx," Rubin admits. "We held everything together with band-aids."
Since then, he's worked to upgrade the website. The organization held a virtual fundraiser, three months into COVID, as an expression of hakaras hatov that Hashem had given the world something to fill the void during this dark time. It was a 36-hour event with 250,000 attendees, and the funding earned meant that the site could be improved and could provide more for its users.
Today, TorahAnytime continues to video Torah classes using its own equipment and then uploads them to their multiple platforms, including their website, mobile app, WhatsApp broadcast, podcasts, live streamed events, phone hotline, and publications. It's a long way from that first mini-DV recorder.
In keeping with this generation's limited attention span and its attraction to WhatsApp and other social media, TorahAnytime launched a platform that sends out short, powerful, and life-changing clips from top TorahAnytime speakers. Users can receive these short bursts of inspiration via WhatsApp or email. The brothers trawl through the videos daily in order to find that one moment that may awaken and inspire, and they're excited about the responses they've been receiving in reaction to the Daily Dose:
"I'm 13 and going through a hard time…"
"These clips get me thinking about my life…"
"I look forward to this every day. It does a lot for my Yiddishkeit."
"Today's message was meant for me — I really needed to hear it."
Shimon even got a message from a young woman who was depressed and had decided to end her life, but changed her mind after absorbing that morning's Daily Dose.
The organization is currently working to monetize its operation by offering various dedication options. Their goal is to ensure that users can continue to access the site at no cost. Shimon asserts that if even one person chooses not to learn Torah because there is a cost involved, the whole idea of charging a fee is worthless.
While Shimon Kolyakov is the leader of TorahAnytime and Rubin is the self-proclaimed perfectionist tech guy, the Kolyakovs refer to Yosef Davis, who serves as executive director, as the "third brother" on the team. Meir Sommers is director of operations, and together with his assistant, Rachamim Segev, manages recorders, uploaders, and organizations that TorahAnytime works with, and takes care of all quality assurance issues. After all, each shiur posted could potentially be viewed by 20,000 people or more, and TorahAnytime has the responsibility to make sure the audio is perfect and the video is sharp. Moshe Sofer holds the title "Director of Getting Things Done," and his unique style helps the whole operation excel, and the board's Chesky Kaufteil contributes indispensable experience and guidance.
The secret of their success? "We can only do what we do because we live and breathe TorahAnytime," says Rubin. "We have no hours. TorahAnytime is in my dreams, I talk about it to friends and colleagues on Shabbat. If we could do more than 24/7, we would."
Both Shimon and Rubin insist on a shout-out to their wives, Golda and Miriam. "If they weren't on board, there would be no TorahAnytime," says Rubin. "This is no simple 'nine to five.' It's our life. It's our families' lives and it's a family organization."
When the brothers ponder TorahAnytime's success, it's more about jumping into opportunities than lauding their own talents. "We always need to be looking for opportunities, whether it's giving a smile to someone who needs it or creating an organization, or anything in between," says Rubin. "Everyone has a path that has been set out for them by Hashem to make the world a better place. Hashem has already prepared the road for you, and you have to take advantage of it. You should never say 'I can't' — you have been given the tools to make Hashem's Name great, but that doesn't mean you have to start an organization or save the world. You can donate, volunteer, or join someone in a mitzvah. It goes a long way."
They make sure to emphasize that it's not their own hard work that has brought TorahAnytime to front and center. "Hashem gave us these special opportunities," says Shimon. "When we wanted to fill the void and give everyone access to Torah knowledge, Hashem made it happen. But as much as we've accomplished, we're just getting started."
(Originally featured in Mishpacha, Issue 854)
Oops! We could not locate your form.
>