| 2.0 Feature |
My Dream Job: Jus by Julie
| February 19, 2020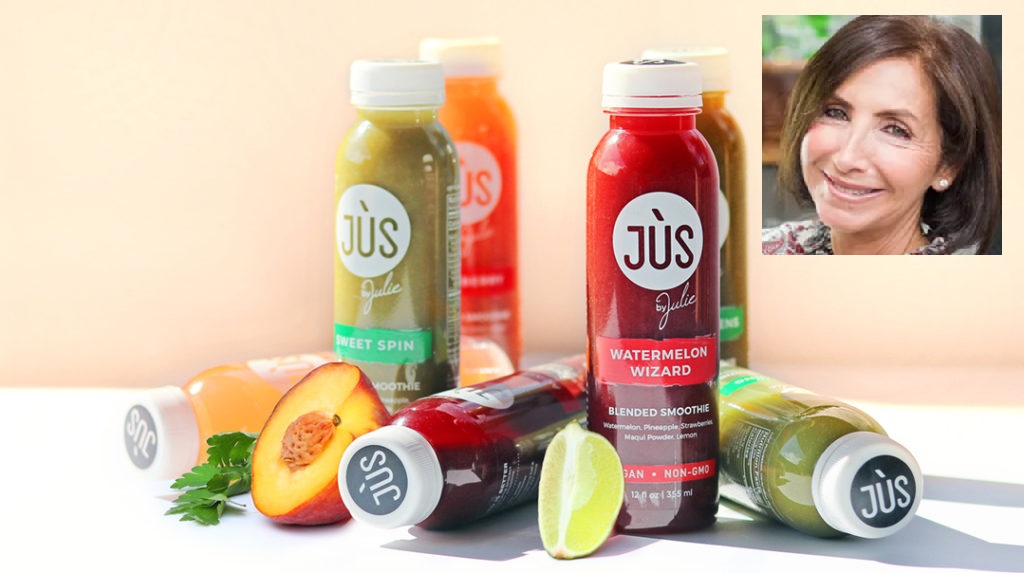 W
e all have our dreams and passions. What makes one follow them through all the way? How do you go from idea to full-on business? What were the steps you took along the way? Was it a conscious decision or a result of organic growth? This column will explore different avenues and paths various entrepreneurs have taken to fulfill their dreams while following their passions and making a parnassah.
Jus by Julie is one of those business success stories I'm obsessed with. Why, you ask? At the age of 50, after her kids were grown, Julie Maleh ended her long stint as a stay-at-home mother (and grandmother) and went back to school to learn nutrition. After raising her kids, she felt it was time to work on a passion of her own. Her love for healthy living would soon change her life in more ways than one. Today, Maleh runs a company that sells juices, salads, and other healthy, on-the-go products, under the hechsher of the OU. Jus by Julie has five retail stores throughout the tristate area, and Costco, Whole Foods, and Amazon carry her products nationwide. One of the most inspiring parts of her story is that each one of her five children are partners in the business today. I traveled to the Five Towns to meet Maleh and her daughter Marcy Tbiele, head of marketing, to hear how Maleh initially got started, to glean advice for other business owners, and, of course, to try her delicious signature products. 
THANK YOU SO MUCH FOR TAKING TIME OUT OF YOUR BUSY SCHEDULES TO SPEAK WITH ME AND OUR READERS. I'M SO EXCITED TO FINALLY MEET WITH YOU BOTH! I'VE HEARD SO MUCH ABOUT YOUR STORES AND JUICES. JULIE, CAN YOU TELL ME A BIT ABOUT HOW YOU GOT STARTED? 
MALEH: Well, my kids were getting bigger and moving out of the house — they were starting their own lives and I was just getting back to living mine sans children. I was always interested in nutrition and I wanted to do something I believed in, so I decided to go back to school to learn the benefits of healthy living. I found an online school for integrative nutrition and started taking classes. Then, while I was in school, my husband was diagnosed with high blood pressure. I am very much into healing naturally through foods, so I was curious if what I was learning in school could heal my husband. I began experimenting in my kitchen, developing juice blends, and since green juices were trending, I concocted a green juice that both my husband and I drank every morning. It included kale, spinach, mango, pineapple, strawberries, and rosemary, and it was delicious, nutritious, and had incredible health benefits — plus it contained no additives or preservatives. The fruits and vegetables added fiber, which also helped control sugar cravings. After a month, my husband went back to the doctor for a checkup, and the doctor was blown away. He asked me what we were doing, and I told him that all I had been doing was giving my husband this green drink for breakfast every day. I also noticed a huge change in my skin and the texture of my hair. We both had renewed energy, and I couldn't deny the power of that green drink.
The thing with me is that if I love something, I share it, so I began giving out my green juice recipe to everyone I met — family, friends, strangers… My husband kept telling me I should sell the drinks, but this was my hobby, not a business. The more my drink became popular, however, the more he insisted that I should think about selling it. Then, before Chanukah that year, 2011, my niece mentioned that there was a popular Zumba teacher in our community who was offering small businesses the opportunity for collaboration. They could use her classes for promo. All I had to do was show up at the end of the class and hand the Zumba instructor the green juice. Honestly, I thought it was a bit bizarre, but my niece encouraged me to take advantage of the opportunity, and so that's what I did. After the class I handed the drink to the instructor and the women in the class. They were raving about it. The next day my phone wouldn't stop ringing. So many women wanted the green drink. I was completely taken by surprise. I called Marcy and asked her what I should do. 
TBIELE: I told her, "Ma, do it like the milkman. Drop the juice off in the morning in a jug and pick up the empty jugs at night." And that's exactly what she did. It was the craziest sight! My mom had bundles of cash in her front seat and carafes with juice all over her car. As the juices became more popular, my mother was waking up at 3 a.m., cutting coconuts and washing kale. My father kept telling her that he should get involved to help the business grow, but my mother wouldn't have it.
MALEH: For the first time in a long time, I had something that was just for me, and I didn't want to let that go.
TBIELE: But it was starting to make my mom crazy, and we could tell the schedule was starting to wear her down. Three o'clock wake-up calls soon turned into 2 a.m. alarms. My mom would wake up to accept fruit and veggie deliveries. She was working all day and hardly sleeping. So my siblings and my father and I staged an intervention with my mother. We sat her down and told her that she can't keep going on like this; Daddy must get involved with the business.
MALEH: I told my husband, "If you want to get involved, then find me a set of carafes that come sold together." I wanted to sell a cleanse, and for that we would need proper packaging, carafes, and marketing. While he was working on that, I got a group of friends together and we went on a three-day juice cleanse. They were my first test subjects. Now, just so you know, the juice cleanse that I created had a lot of fiber, so it was filling, and there was tremendous nutritional value in my drinks. I wanted to see if I could last three days on the cleanse — I love food — and to see what my friends would say, too. The results? Amazing. We all had our own personal benefits, and I knew that I had something tangible here besides my signature green juice. This would take my business to the next level.
WOW, WHAT AN INCREDIBLE STORY. SO, HOW DID YOU SCALE IT FROM YOUR KITCHEN TO SELLING ALL OVER? 
TBIELE: My father hired a worker — who is still with us today. And once it started getting much bigger than what we could personally handle, we started manufacturing everything in a larger facility.
MALEH: Honestly, my husband really had the vision for growth. If it was up to me, I would have kept it small, but in truth that never would have been sustainable. The opportunity was coming at me, and fast. My husband is very creative. He came up with the branding and packaging, as well as the concept of the stores. Our first juice store was the one on Avenue U in Brooklyn. That's still my original space, and it's where we introduced salads and sandwiches.
TBIELE: It's amazing to see where we've come from. We used to just sell 12 salads; literally, I would make just a dozen salads at the store on Avenue U. Now? We sell to schools, and have five locations — another in Brooklyn on Avenue M, one in Cedarhurst, one in Deal, and the most recent in Crown Heights — and we sell more than 200 salads a day. It's an unbelievable thing to watch my mom's vision become a reality and see her expertise help so many people. We also do business via e-commerce. Five percent of our sales come from there, which includes 50,000 juices a week. We're also expanding to beauty with a new skincare line called Jus Beauty. So things are only growing. Our ultimate goal is to have Jus by Julie be a strong, healthy lifestyle brand both inside the body and out.
BESIDES SIYATA D'SHMAYA, WHAT WOULD YOU SAY IS THE NUMBER ONE REASON FOR YOUR GROWTH OR SUCCESS? 
MALEH: One hundred percent word of mouth.
TBIELE: Social media. (We all laugh.)
WELL, IN TODAY'S DAY AND AGE, THEY'RE SYNONYMOUS, AREN'T THEY? 
TBIELE: For me, as head of marketing, our collaborations with influencers are paramount to the growth of sales within each store. By connecting with a variety of influencers in each of the five cities our stores are located in, we can greatly multiply the number of customers that come in to try our new and signature products.
MALEH: And for me, without the word of mouth, my business wouldn't exist! The Zumba teacher launched our brand in a big way, just by getting it out there to her students. If it weren't for friends recommending it to their friends, no one would have tried our juices and seen the benefits for themselves. My kids also had a strong business sense, which helped early on. They put the products on Groupon when it was booming, and it was a huge success nationally. It's really been a team effort with my kids and husband. My husband now oversees all the day-to-day operations and manages 40 employees. And we've never brought on investors.
WHAT'S ONE PIECE OF ADVICE YOU WOULD OFFER TO WOMEN WHO ARE IN THE FOOD MANUFACTURING SPACE, LOOKING TO GROW OUTSIDE THEIR MICRO-BAKERIES OR KITCHENS? 
TBIELE: Competition is good — like, really good. The more options people have, the more people will actually be attracted to your personal brand message and story. Don't get scared or phased when new companies come out with similar products. Keep your eye on the prize and don't focus on everyone else, because you will get distracted and distraction is a waste of time and energy.
MALEH: My grandkids tell me, "Grandma, you're the OG — the original — and no one does it like you." When we opened our store in Brooklyn, two other stores quickly popped up in the neighborhood, and our business did not suffer, because we were who we were. No one could touch us, or our customers, because of the quality of our products, as well as our customer service.
TBIELE: My mother treats every single person who comes into the store as family. If someone is not happy or has a complaint, she will personally drive to their house to deliver more food. Same at the store in the Five Towns. You're not happy with your salad? You didn't like it? Take something else. Customer service is key.
MALEH: It's never been a business for me. Everything we sell still feels like it's coming from my house. My store is still like my home — that original test kitchen from so long ago. My workers laugh at me that I have such a hard time accepting money from paying customers. I just love what I do, and it's still something I'm so passionate about.
I THINK THAT'S WHAT PEOPLE LOVE MOST ABOUT YOUR FOOD AND JUICES. THEY'VE BEEN MADE WITH LOVE, AND YOU USE ONLY THE FRESHEST, NUTRITIONALLY PACKED INGREDIENTS. JUST SITTING HERE AND WATCHING YOUR INTERACTION WITH CUSTOMERS, I CAN SEE WHY YOU ATTRACT SO MANY PEOPLE TO YOUR STORES EVERY DAY. THEY KNOW THAT, AT THE END OF THE DAY, JUS WAS MADE BY JULIE — A MOTHER WHO JUST WANTED TO PROVIDE HEALTHIER FOOD TO HER FAMILY. 
Abbey Wolin is the founder of her own eponymous hand-painted glassware company. She has amassed more than 16,500 followers on Instagram and continuously empowers them with her stories, posts, and 30-day business challenge. As a result, she's helped more than 1,000 women grow their profits and spend more time with their families. Abbey lives in Passaic, New Jersey, with her husband and children.
(Originally featured in 2.0, Issue 8)
Oops! We could not locate your form.
>