| 2.0 Feature |
My Dream Job: Chaya Suri Leitner Of Spice And Zest
| August 14, 2019
Meet Chaya Suri and learn how she's made the art of sourdough baking into a business that provides for her family in more ways than one.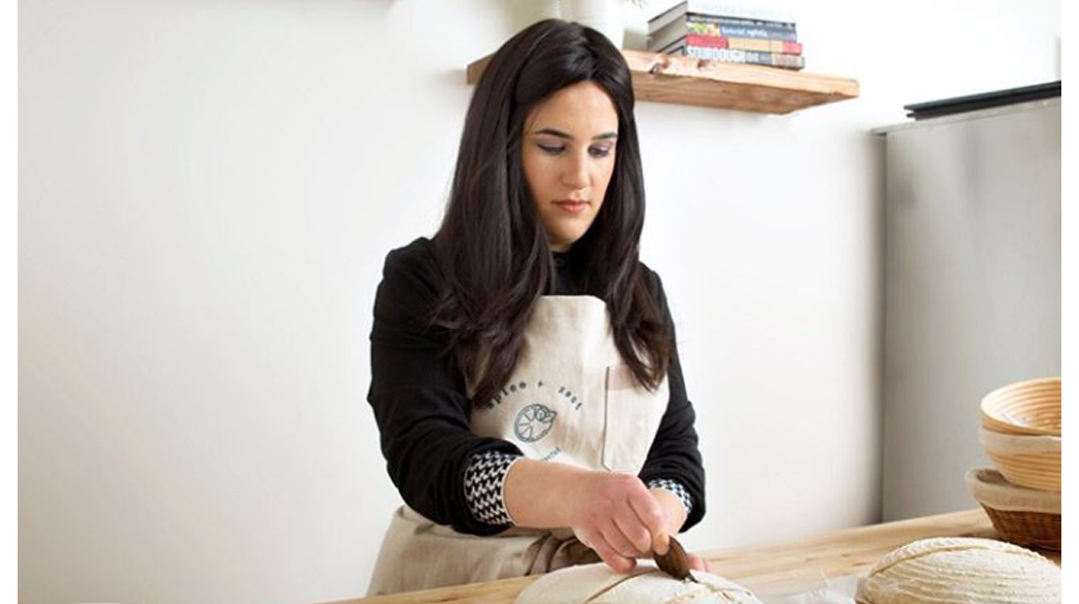 We all have our dreams and passions.What makes one follow them to make money? How do you go from idea to full-on company? What were the steps you took along the way? Was it a conscious decision or organic growth? This column will explore different avenues and paths various entrepreneurs have taken to fulfill their dreams while following their passions and making a parnassah.
Chaya Suri Leitner of Spice and Zest began her culinary exploration as a way of self-expression. She just wanted a place to share the dinners she prepared for her family. But after seeing a Pinterest-worthy image of sourdough bread, she challenged herself to learn the art of artisan bread making. What soon followed was not just a burst of creative energy but a full-blown business. On a beautiful sunny day, I traveled to Lakewood to meet Chaya Suri in her microbakery (which is in her house). Over some light, airy, and delicious slices of sourdough and the wafting scents of more of that amazing bread in the oven, we discussed her early beginnings and how she's made the art of sourdough baking into a business that provides for her family in more ways than one.
THANK YOU SO MUCH FOR TAKING THE TIME TO MEET WITH ME TODAY. LET'S GO BACK IN TIME. I WOULD LOVE TO HEAR A LITTLE MORE ABOUT YOUR EARLY BEGINNINGS AND HOW YOU GOT STARTED. 
I love cooking for my family and wanted to share recipes and meals with my followers. I never really had a blog. I tried starting one, but it never took off. Instagram was the place to be at the time, so that's where I started building my community. One day, I saw an image of sourdough bread on Pinterest and instantly fell in love. I challenged myself to learn everything about the process. I love how each bread turns out different, depending on the starter, spices, and scoring; it's a real art. What I didn't realize was the effect it would have on my family.
WHAT DO YOU MEAN? 
Sourdough is a healthier, fermented bread that breaks down the gluten inside it. Because of this, it's incredibly beneficial for gut health, as well as for people who suffer from inflammation. My husband had terrible sciatica — back pain caused by a problem with the sciatic nerve —and my son had recurring strep. We completely changed our lifestyle, getting off gluten and sugar. As I started baking sourdough bread for my family, I saw a tremendous difference in everyone's health. My husband couldn't get out of bed at times. He went to physical therapy three times a week and received cortisone shots every three months. His memory was starting to be affected by the shots, and he couldn't remember things at times. Once sourdough became a staple in our family meals, I noticed a complete turnaround within a month. I have taught sourdough workshops for over four and a half years now, to all types of people suffering from a variety of disorders such as Crohn's disease, sciatica, ADHD — they make the bread for their families and see a significant difference, because it's not causing inflammation in the body. I'm not a nutritionist, but this is what people have told me. When I read the messages from women who are making bread for their families and helping them live their best life, that's the best nachas in the world.

I EXCLUSIVELY EAT SOURDOUGH BREAD FOR THE GUT AND INFLAMMATION BENEFITS. AS SOMEONE WHO SUFFERS FROM SEVERE ALLERGIES AND AN AUTOIMMUNE DISEASE, I JUST FEEL BETTER WHEN I'M EATING IT, SO YOU'RE TALKING TO SOMEONE WHO DEFINITELY UNDERSTANDS. HOW DO YOU MAKE MONEY WITH YOUR BAKING? HOW DID YOU GROW YOUR ARTISAN BREAD BUSINESS? 
As I learned more about the details of the sourdough baking process and experimented with recipes, I started selling breads from my home. People loved them, but I soon found baking each week, coming up with new recipes, and managing my daily customers to be too time-consuming. It just didn't work for my family. What I really loved was teaching people how to bake their own breads. As I started teaching my friends on Instagram and cultivating steady workshops and classes, my popularity grew, and soon I was known as "the sourdough girl." It's true what they say, "the riches are in the niches." My favorite thing about giving workshops is sharing the little bits of knowledge that you can't learn from the Internet. I infuse my classes with the deep knowledge of the sourdough baking process: how to create your first starter, how to feed it, how to prepare the dough, how to shape, score, and bake it. I love every minute of it. What my students get are my years of knowledge, and they always know that I'm there post-workshop if they have any questions.
YOU RELEASED AN EXCITING NEW PROJECT EARLIER THIS SUMMER THAT YOU HAD BEEN WORKING ON FOR MONTHS. CAN YOU TELL US ABOUT IT? 
Yes, and I think this is the most excited I've been for a really long time. I launched my first-ever digital course, which is a complete guide to baking sourdough bread. As my popularity has grown, so has the number of workshops I've been booking on my calendar. The work-life balance struggle is real, and I needed to find a solution to the many requests I received to travel all over the place. The digital course world is booming, and believe it or not, there is no online sourdough course available — kosher or otherwise — or at least not the way I teach it. Now I can teach anyone across the globe without it affecting my family life. It's the best of both worlds. The online course includes how to create your very own starter, feed it, take care of it, get it ready to bake, bake it, and any troubleshooting along the way — like when you think it's dead and how to store it. It's so much more than my live three-hour classes. I can provide so much additional information and content this way. Usually after a workshop, I will get an onslaught of questions from people. I collected all those questions and made sure to include them within the course.
HOW LONG WOULD IT TAKE FOR SOMEONE TO GO THROUGH THE COURSE? 
If you're creating your own starter from scratch, it will take you about three weeks to be ready to bake with it. And as you are doing so, I will be there to walk you through every step. I have pictures of what it looks like on day one, on day two, on day five, what it looks like before you feed it and after you feed it. My goal is to teach any person who wants to learn the art of sourdough baking — and to guide them from start to finish, so they can be baking their first breads within a month. At this point, the first round of the course is closed, and while I don't have an exact release date for the next, I should be opening it again in the next few months. I limited enrollment so I could give the students my full attention — I have an online community for them specifically on my site. And since many of them are starting at the same time, it makes it easier for me to help and guide as a community.
HOW DO YOU HOPE YOUR WORK-LIFE BALANCE WILL CHANGE NOW THAT YOUR DIGITAL COURSE HAS COME OUT? 
The whole idea behind the digital course is to have more time with my family and to make money in my sleep. It's about putting in a ton of work, setting up the entire system, and allowing for the sale of the course with minimal effort on my part going forward. I want to be in control of my schedule and not have my schedule controlling me. I am a mom first, and my kids need me. I want to make money without working so hard. I don't want to be working until the second that Yom Tov starts. Creating a digital course is a huge undertaking. From the site you're going to build it on, to the filming and the content you will be showing and teaching, you have to think of everything, because no one can ask you questions live. I recorded it, showed it to my team, made changes where it wasn't clear, made changes again, recorded it again, showed it to more people, and made more changes. The whole process took three months, until I had it down pat without anyone asking me questions after watching the videos. There's also the marketing and the back-end technology behind it. I had to do so much research.
HOW HAS SOCIAL MEDIA SHAPED YOU AS A BUSINESS OWNER? 
Instagram used to be my only go to. I never had anything to push me otherwise. My workshops always filled up, and the requests were so numerous that I never felt I needed anything beyond that platform. That's where I started, and that's where I stayed [she now has over 13K Instagram followers]. I've gotten a lot of students that way. Social media is an incredible tool, the best word-of-mouth. That being said, it shouldn't be anyone's main focus when growing a successful business. If Instagram shut down today, you would have nothing. You need to build your own place to nurture your community. I decided to start an e-mail list, which tripled my correspondence with my audience.
I AM SO IN AGREEMENT WITH YOU. WHAT DO YOU INCLUDE IN YOUR E-MAILS, AND DO YOU HAVE TO BE A PERSONAL STUDENT TO RECEIVE THEM? 
No, anyone can sign up for my e-mails. They include tips and tricks for sourdough baking. My e-mails are chock-full of recipes, stories, and different things I've learned along my baking journey.
WHAT ADVICE WOULD YOU GIVE TO SOMEONE JUST STARTING THEIR BUSINESS? 
Do not compare yourself to others. Don't ever look at your competition. When they jump, you run! Don't ever look at their numbers, don't look at their pictures. Mute them! As much as you may be similar to them, everyone has their own strengths in different areas. If we focus on our own strengths, then we can really shine and complement one another instead of being in competition.
YES, YES, STANDING OVATION! CHAYA SURI, YOU HAVE FIGURED OUT A SECRET THAT MOST PEOPLE HAVEN'T, AND THAT IS THAT WE CAN MAKE ONE THING, PUT IN A LOT OF EFFORT, AND SEE RESIDUAL INCOME. THANK YOU SO MUCH FOR TAKING THE TIME TO MEET WITH ME TODAY. I'M SURE THAT I SPEAK FOR EVERYONE WHEN I SAY THE COURSE SOUNDS GREAT, AND WE WISH YOU MUCH HATZLACHAH! 
Abbey Wolin is the founder of her own eponymous hand-painted glassware company. She has amassed more than 14,500 followers on Instagram and continuously empowers them with her stories, posts, and 30-day business challenge. As a result, she's helped more than 1,000 women grow their profits and spend more time with their families. Abbey lives in Passaic, New Jersey, with her husband and children.
(Originally featured in 2.0, Issue 5)
Oops! We could not locate your form.
>