| Teen Feature |
Multitasking… Is It for Real?
| June 5, 2019
The brain's limited attention gets diluted when it's doing too much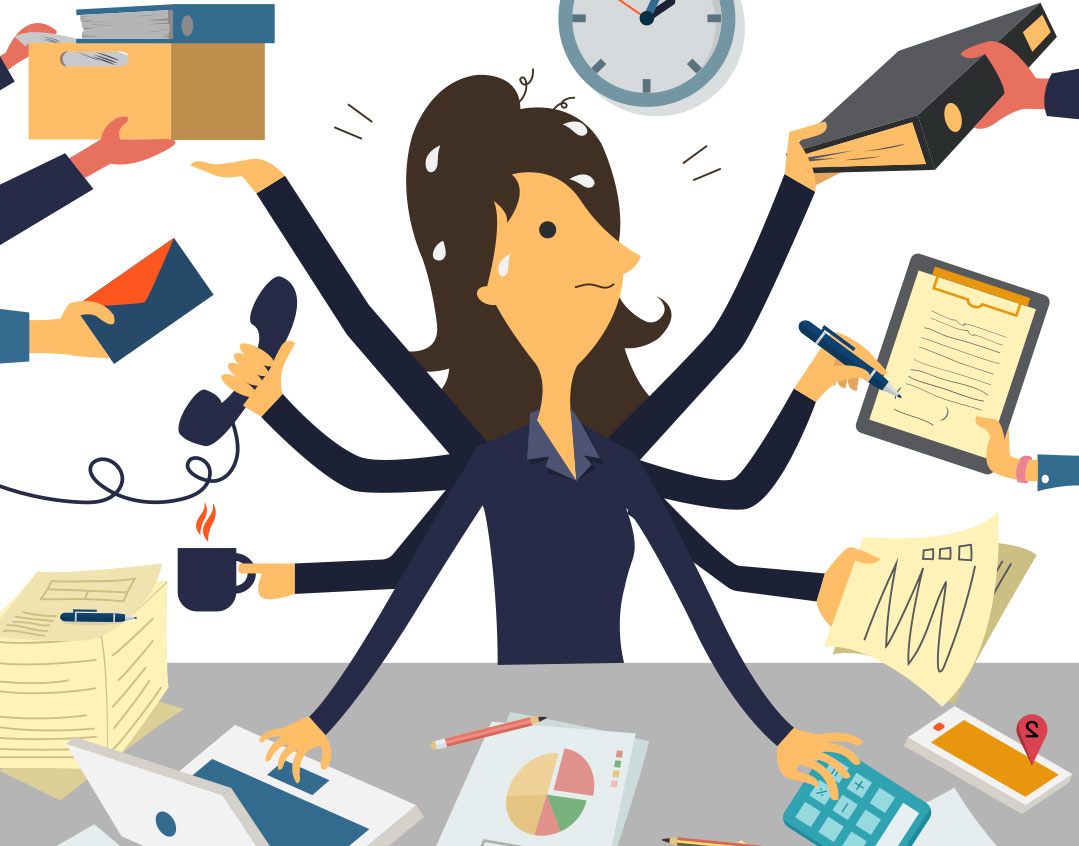 "N
o way! We need to leave already?" Shani asked her mother as she frantically searched for her belongings all over the house. Her ride had arrived, but she was running late and had only just started packing. She was travelling to a friend out of town for a weekend seminary reunion and there was a lot of clothing to prepare. The biggest problem of all was that her family had moved that week and all their worldly possessions were either in a new location or in boxes. Shani's mind was in overdrive: she was thinking of what she needed, packing, and searching all at once.
At last, they were on the way. Shani breathed easier—the chaos of the day was over. Until she remembered. Oh, no! I forgot to pack my pajamas! A couple of phone calls later and she arranged with another friend who was also coming to the reunion to bring them. But the chain of disasters continued: Later, as she was calmly settling into her friend's house, she realized she had left a lot of essentials at home, which she had no choice but make do without.
Shabbos was approaching as she put the final touches on her makeup. She might have been disorganized about her packing, but at least she would be ready on time. Shani ran upstairs just in time to join her host for lichtbentshing, when she suddenly remembered she had forgotten to turn the bedroom light off. Racing against the clock, she zoomed down to her room. With cheeks flaming red, panting and sweating, she made it downstairs in time to turn the light off and then back up again just as everyone was wishing each other "good Shabbos". Phew!
Shani was suffering a string of embarrassments from the negative effects of multitasking. While she was packing, she was also searching and planning. Compounded by clutter, there was no organization, her brain was all over the place and her mental power wasn't up to par.
I Can't Handle This!
According to numerous studies, multitasking can negatively impact performance and productivity. Although 2% of the population do have a handle on how to multitask well (a genetic gift they were born with), the rest of us do worse when paying attention to multiple things at once. In general, we are 40% less productive when we are multitasking. And please don't brag if you consider yourself a talented multitasker — documented studies show that people who believe they are good at simultaneously doing a few things at once are actually the worst at it.
Now down to the nitty gritty. Scientifically, multitasking can take on three forms. The most obvious is when you focus on two things at once (listening to your teacher while writing detailed notes). We're also multitasking when we quickly divert attention between two activities (studying and partying). The third type is doing several things at an accelerated pace, rather than thoroughly (skimming through notes for three assignments).
What happens when we do a couple of things at once? Our brains quickly shift focus between the activities. You may think you're being super-efficient by helping your mother and feeding your little sister supper, while also eating your own dinner and cleaning up so that you can be free sooner to meet your friends. But what you're really doing is interrupting none other than yourself each time you switch tasks. That's because the brain has a capacity of 110 bits of information per second and that's not enough for double duties! Instead, the brain's limited attention gets diluted when it's doing too much. Additionally, our loud environment adds noise and distraction. Even when you don't pay attention to noisy surrounding stimuli, it still uses up some of your mental space.
Rivky, a 17-year-old living in Karmiel, Israel, admits that she easily forgets what she's supposed to be doing when she multitasks. "I've burned food so often while running off to do something else that my mother is now the one to watch over my pots and pans after I cook or bake." Timers are great for this too, by the way.
Researchers at the University of Michigan ran an experiment where subjects were told to watch sets of red and green numbers on a screen and record them based on color. When the color patterns on the screen changed, so did the rules of what they were supposed to record. They wanted to check what happens when you have two "jobs" to do at once. They used MRI scanners to monitor the brain activity of the subjects while they worked. Can you guess what the results showed? The brain of each subject had to pause for a moment each time the color pattern changed, because it needed to switch focus. Which means, we lose time every time our brain has to reset! When considering the switch from one more mundane task to another, this reset time may not matter very much, but in an operating room or on the road, these things matter a lot.
The recent results of an amazing study from the University of London garnered a lot of attention. The study concluded that frequent multitaskers experienced severe IQ drops. They reported that with too much multitasking, the intelligence of the subject plunged to the same degree as someone who was up all night! You may want to reconsider that all-nighter you were planning for the night before your history final!

Media Madness
There is one type of multitasking that demonstrated the worst results in all the studies. Media multitasking is defined as being active on more than one form of media, such as watching a video clip and texting, e-mailing while listening, or hopping between tabs on a screen.
So here's what you should remember while typing up a report as you call your friend while simultaneously doing research on the computer for an upcoming report and looking for your favorite song on your mp3 player: Chronic media multitasking hinders cognitive processing in the brain. In simple language — it disrupts thinking and analyzing. That can make it quite difficult to filter relevant information from the nonrelevant — think wasting time while clicking on whatever jumps at you first when you're on the computer. Frequent offenders can also struggle with focusing on one thing at a time and develop an impaired memory. And the potential for trouble only continues when you find yourself in college or in the workforce later on in life.

So, what to do?
Say you work in an office. Part and parcel of the job is… dealing with distractions! Phones ring, colleagues confer in loud voices, and deadlines loom. You may be doing so much at once that you begin to have a hard time remembering things that you did just a day or even an hour earlier. (It can be pretty scary.)
Despite having plenty of practice, heavy media multitaskers are also challenged when switching tasks. The scariest thing I've learned while researching this topic? People who spend a lot of time on multiple devices at once have less brain density (that's less brains, my friends!) in the anterior cingulate cortex — the area responsible for decision making and emotional control.
Some researchers still aren't certain if it's the multitasking that has led to all these negative effects and they still need to determine if the results are permanent, but I'd say your best bet is to play it safe and avoid getting sucked into perpetual distraction.
Shana Lebowitz, a business reporter, once experimented by taking on President's Trump's schedule for a week. Since she was trying to mimic the president, she listened to numerous news stations in the morning and in the evening. (Apparently, Trump uses many of his off hours to stay up to date on the news.) But the news wasn't captivating enough for Shana, so before long she was switching between her business and personal e-mails, news stations, as well as other various activities. When she reflected back on how she spent her time, she realized she had learned absolutely zero. "Between sleep deprivation and multitasking, I had absorbed nothing," Shana says regretfully.

What's Your Label?
David Meyer, PhD, a professor of psychology, labels three types of multitaskers. There are those who do it out desperation (think Erev Shabbos in many homes). Then there are the impulsive types. For example, while writing a list of what to pack for camp, they'll switch gears to check if the there's any chocolate left in the cabinet because they developed a sudden urge to eat chocolate. The third category includes people who are dreaming (or just fantasizing!) and actually feel proud that they are capable of multitasking. We all know someone like that! Once you know what makes you tick, you can work on setting boundaries for yourself, so that you stay focused on whatever task you are trying to complete.
Besides being less efficient, multitasking also brings on stress. You are trying to do something difficult, like getting a few things done at once, but it's not being done in an organized fashion, so the brain responds by pumping adrenaline and stress hormones into your body. Sometimes the boost will help you meet a deadline, but it can also leave you feeling drained. And often it will simply make you feel like a chicken without a head!
Nechama, a high school student in Boro Park, recalls a time when her parents had to go out of town during finals season and she was left in charge. "I was stretched thin running the house and studying — and I felt more tense than ever before."
To ease anxiety, try to get things done in advance when possible, especially during busy times like at the end of the school year and the start of the summer. Which is much easier said than done! "I would like to study in advance," says Yitty, a tenth-grader in Brooklyn, "but I have a hard time feeling motivated until it gets very close to the test date."
"One negative about studying in advance," says Minna from Norfolk, Virginia, "is that if it's too far in advance, you're less likely to remember the material by then." Okay, so it's not for everyone. But excuses aside, deep down we all know what works for us!
Accomplishing Is Key
Enough about the negative; there actually are positive forms of multitasking. Yes, they do exist! When you try to accomplish two activities at once, with each firing up a different area in the brain, combining them can be a great idea. When you take a brisk walk with a friend — technically you are walking and talking — you are gaining exercise and friendship without compromising on the quality of performance. Linking physical and mental tasks such as these works well. Another example: You want to feel accomplished and also happy and energized. So if organizing your closet is your most dreaded job, you can combine it with a phone call to a friend. It may slow you down a little, but you will be motivated while working instead of relying on a lot of self-discipline. (Unless your mother's smile is enough…)
Switching tasks can be also work well for generating fresh ideas. Sometimes, the brain is so focused, it gets stuck in the same line of thinking. For instance, sometimes it's beneficial to take a break from preparing for finals, do something else, and then go back to studying.
Also, we do sometimes need to accomplish a certain amount within a specific amount of time, and multitasking is the only option. If your mother cooked only one dish at a time, dinner would take hours to prepare. Ditto for Shabbos and Yom Tov food. There's nothing wrong with making the most of your time, as long as it's deliberate, like doing exercise while waiting for a load in the dryer to finish.
The problems begin when your attention and focus start to jump around. Tziporah, a bookworm from Brooklyn, gets annoyed when her younger sister interrupts her while she reads. Her sister, in turn, gets annoyed when Tziporah gets so absorbed in the book she's reading that she hardly hears when she's being spoken to! So, what to do? To multitask or not?
Though there are some redeeming qualities to multitasking, formal studies and most psychologists agree that multitasking does more harm than good. Because no, our brains cannot do two things at once.
The takeaway? As Chayala, a senior in Brooklyn puts it, "Study with friends if you want to have good memories of high school, but make sure to set aside time to review your notes at least once yourself if you want to do well on the test."
Maximize Your Time
To get the most of your study time or any type of desk work, try the "Power Hour," recommended by writer and motivational speaker Vanessa Loder, cofounder of Mindfulness Based Achievement.
Prepare what you need to complete an item on your to-do list. Keep those items near you and remove all other distractions (FYI, clutter prevents focusing).
Spend 20 minutes being completely attentive to your job. Just go go go. It's only 20 minutes…
Break time! You deserve it. After 20 minutes of working, take a two-minute breather. Stretch, move around, or get a drink of water. Do something that gets your body moving.
More studying! Repeat step two by working for another 20 minutes with complete focus. If you're done after 20 minutes, then move on to the next thing on your list; if not, go to the next step.
Take your second two-minute break. Sing and dance, stretch, or walk to the other end of the house.
Complete the final 20-minute work sprint.
Hurray, you did it! Enjoy a 10- to 15-minute break to do something completely unrelated to work. Sit on the porch, chat with a friend, or eat a snack.
There are times when you'll be fine without pausing every 20 minutes, like when you're helping with housework. But do remember the principle of avoiding distraction. For instance, if you are helping to clear the dining room table before Shabbos by putting away some books on a bookshelf, don't start reading one of the books! You may then decide to run to your room and get your bookmark, and before you know it, you're all over the house, reacting to everything you're seeing, and your brain keeps needing to rewire.
Go with the Flow
Being immersed in a task (a state of being that scientists have termed as "flow") is usually the fastest route to accomplishing. If you get distracted, says expert psychologist Dr. Julia Irwin, it can take up to 25 minutes to become deeply absorbed again. Whether you are writing a report or memorizing information for a final, the most satisfying time is when you are totally absorbed in your work. If your brain is at a peak level of alertness and the work is going well, do not allow yourself to get distracted! The phone may ring or you may remember the new book you just bought, but then you will interrupt your work flow. It's normal for the brain to have ups and downs in concentration; you will inevitably experience times when focus is highly elusive. Just take advantage of those alert moments when you have them.
(Originally featured in Teen Pages, Issue 763)
Oops! We could not locate your form.
>