| Recipes |
Mocha Meringue Squares | August 24, 2021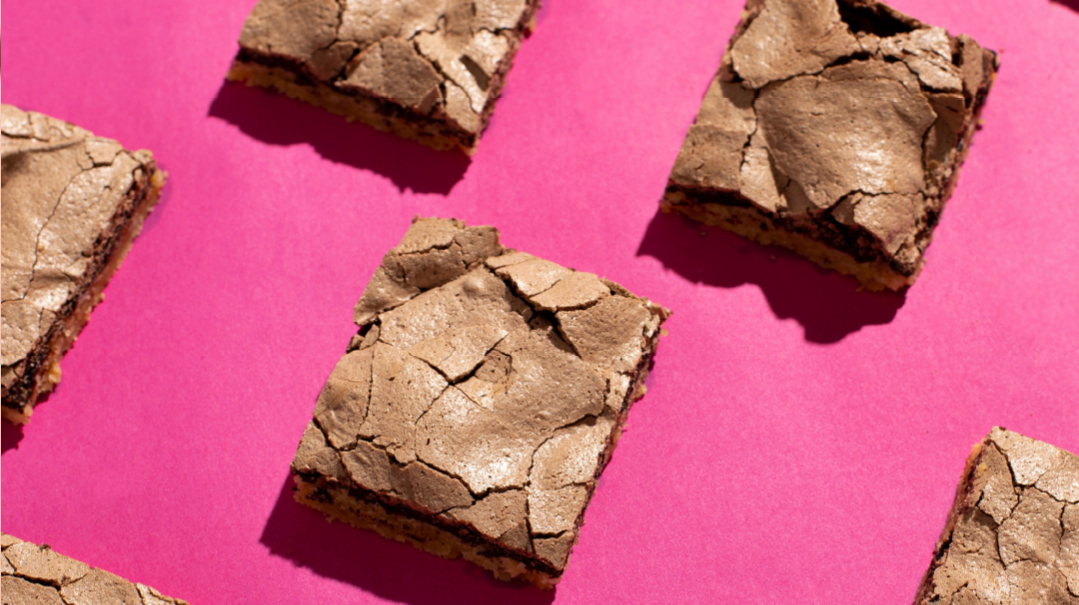 Food and prop styling by Goldie Stern
Photography by Moshe Wulliger
The perfect addition to any cake platter. Small enough that you can fargin yourself two! Freezes beautifully.
YIELDS 60 SMALL SQUARES
Base
1¼ cups flour
1 tsp baking powder
scant ¼ tsp salt
½ cup trans-fat free margarine or coconut oil
⅔ cup sugar
2 large egg yolks
1 tsp vanilla extract
Filling
2–3 tsp coffee liqueur
4 oz (110 g) good-quality pareve chocolate, melted
Topping
2 large egg whites
full ½ cup sugar
½–1 tsp instant coffee granules, or to taste
1 Tbsp cocoa powder
Preheat oven to 350°F (175°C).
Mix together flour, baking powder, and salt in a small bowl. Beat together the margarine or oil and sugar until light and fluffy, scraping down the bowl if necessary. Add yolks and vanilla. At low speed, beat in flour mixture until combined.
Press down into a 9x13-inch (23x33-cm) baking pan lined with parchment paper. (Flour your hands if necessary.) Bake for 10 minutes. Cool.
Pour coffee liqueur into a small bowl. Brush it carefully all over the cake base. Allow it to sit a few minutes until liqueur is "dry" and slightly absorbed. (If the hot chocolate touches the liqueur, the chocolate will seize and not be smooth.) Smear the melted chocolate on top.
To make the topping: Beat egg whites at high speed until foamy. Gradually add sugar, coffee, and cocoa, beating until stiff but not dry peaks form. Spread topping evenly over chocolate to the sides of the pan; smooth top. Bake for 15 minutes or until lightly browned. If topping gets brown too fast, cover the pan loosely with a piece of parchment paper. Remove from oven. Cool slightly. Cut into squares.
Note: I tested this recipe a few times using white spelt and 80% whole wheat flour. Both worked equally well. I also tried both margarine and coconut oil. I much prefer the taste and texture of the coconut oil. If you prefer a more chocolaty flavor, as opposed to mocha, omit the coffee liqueur.
Tip: To beat the whites by hand, make sure your bowl is clean and dry. I recommend wiping it out with a paper towel wet with a drop of lemon juice, which neutralizes any possible residue. Use a wire whisk and beat the whites, trying to keep your elbow stuck to your waist, so only your arm is moving and not your entire hand. This takes a few minutes. Proceed as above.
(Originally featured in Family Table, Issue 757)
Oops! We could not locate your form.
>