| Recipes |
Lemon-Harissa Green Vegetable Trio | August 28, 2019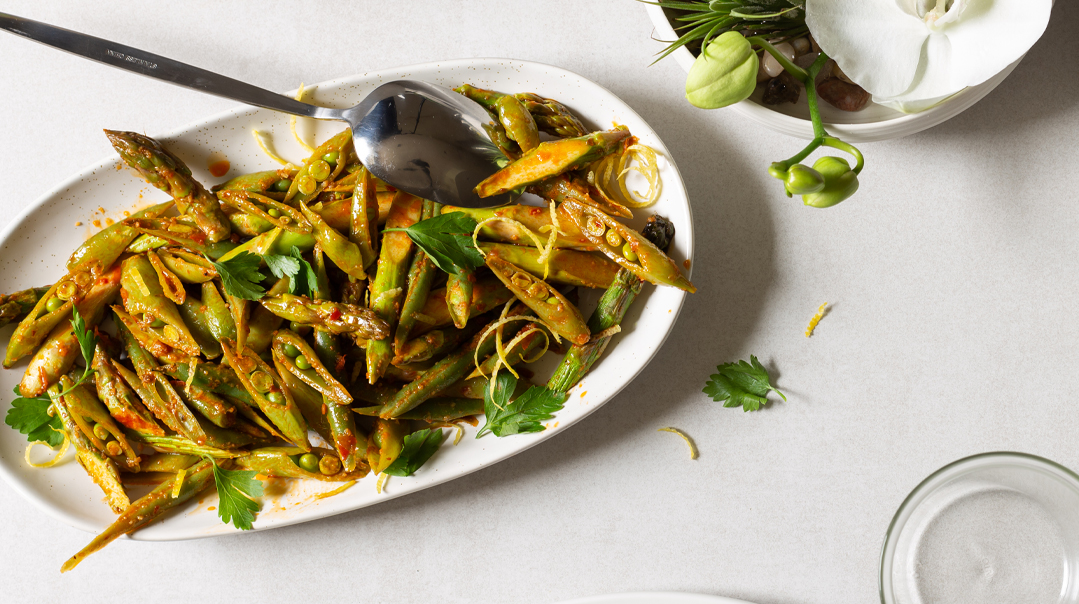 Food And Prop Styling By Renee Muller Photography By Moshe Wulliger
Lemon-Harissa Green Vegetable Trio
This combo is my new favorite. It feels like a step up from weekday green beans — and all I can say is that it's a good thing I made two trays because one was fully gone before Shabbos! 
SERVES 4–6
1 8-oz (225-g) pkg fresh snap peas
1 12-oz (340-g) pkg fresh string beans
1 bunch asparagus
4–5 radishes, thinly sliced (optional)
DRESSING
4 cloves garlic, minced
2 Tbsp olive oil
1 Tbsp rice vinegar
1 tsp kosher salt
cracked black pepper
1 Tbsp harissa (see tip)
zest of 2 lemons, divided
Preheat oven to 450°F (230°C).

Slice snap peas, string beans, and asparagus on a diagonal (see note). Spread out all vegetables onto two baking sheets.
To prepare dressing, combine all dressing ingredients except for the zest of one lemon. Drizzle dressing over both baking sheets.
Roast for 10 minutes. Just before serving, garnish with remaining zest.
Note: Cutting on a diagonal is not only for aesthetic purposes. Cutting on a diagonal allows heat to penetrate the stem of the vegetable, and you will be able to cook it for less time, allowing for a firmer bite.
Tip: Harissa can be subbed with another hot sauce of your choice, but be aware of varying levels of heat in each sauce.
(Originally featured in FamilyTable, Issue 655)
>