| Recipes |
Jelly Doughnut Cake | December 13, 2022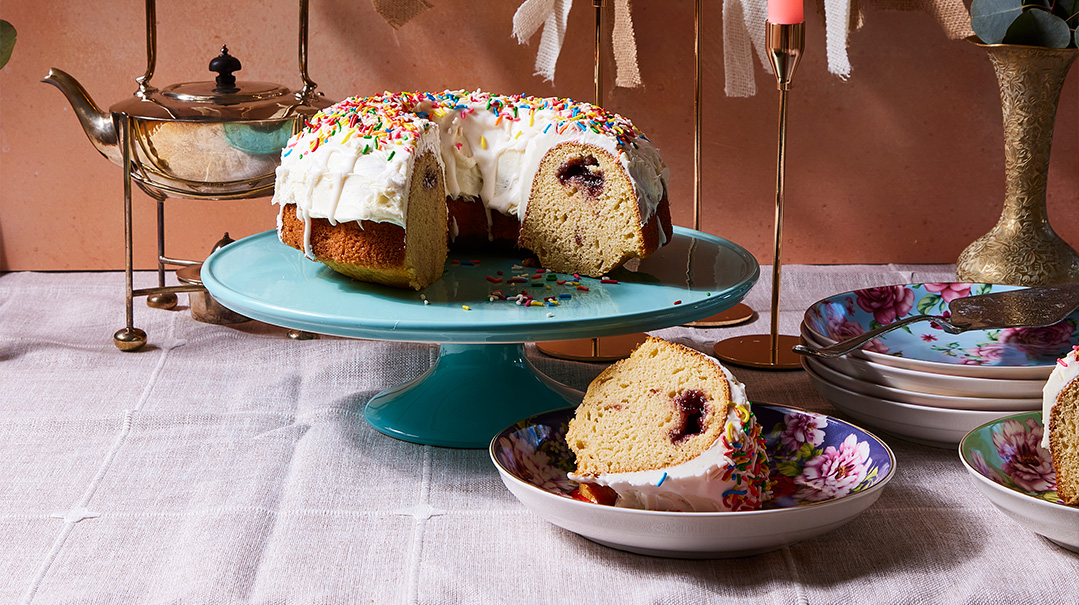 Food and prop styling by Shiri Feldman
Photography by Felicia Perretti
Shabbos Chanukah comes just once a year, so I veer from my natural tendency to offer you healthful desserts and share a doughnut cake that tastes delicious, looks like a big doughnut with the white glaze and sprinkles, and is filled just like a jelly doughnut. After all, what's Chanukah without a sufganiyah?
YIELDS 1 BUNDT CAKE
1 Tbsp vinegar + soy milk to equal 1 cup
1 cup (225 g) trans-fat free margarine, softened slightly in the microwave
1⅓ cups sugar
2½ Tbsp vanilla sugar
4 eggs
3 cups flour (I used whole wheat pastry)
3½ tsp baking powder
1 tsp cinnamon
¼–½ tsp nutmeg (don't omit; it gives an authentic doughnut flavor)
1 tsp salt
Filling
approximately ½ cup strawberry, cherry, or raspberry jelly, slightly warmed
Glaze
1 cup confectioners' sugar
1–2 Tbsp pareve whipping cream
1 tsp vanilla extract
small pinch salt
colored sprinkles, for garnish
Preheat oven to 350°F (175°C). Spray a Bundt pan well with oil spray and sprinkle generously with flour.
Place 1 Tbsp vinegar in a measuring cup. Fill with soy milk to the 1 cup line and let it sit a few minutes to curdle. Set aside.
Beat together the margarine and sugars until light and fluffy, approximately 3 minutes. Scrape down the mixing bowl occasionally. Add eggs one at a time.
In a medium bowl, combine the flour, baking powder, cinnamon, nutmeg, and salt. Add this alternately with the sour soy milk to the mixer, mixing well, scraping down the bowl if necessary. Pour the batter into the prepared Bundt pan, smoothing out the top.
Using a teaspoon, make a circular shallow groove in the batter. Carefully spoon jelly into it, filling it up. Press down ever so slightly. The jelly will sink a little into the batter, and when you slice it, you'll have jelly in the center of each slice.
Bake for 45–48 minutes or until golden brown. Cool completely before turning over and removing from pan.
To make the glaze: Whisk together all the glaze ingredients in a small bowl. Use just the amount of pareve whipping cream necessary. You want it to be thick. Pour over cooled cake and top with sprinkles.
(Originally featured in Family Table, Issue 822)
Oops! We could not locate your form.
>