| News In Depth |
Jason Greenblatt, at Peace?
| September 18, 2019
In a conversation with Mishpacha in his White House office, Greenblatt looks back over the last three years, discusses the challenges of his job, and shares a few memorable moments from behind the scenes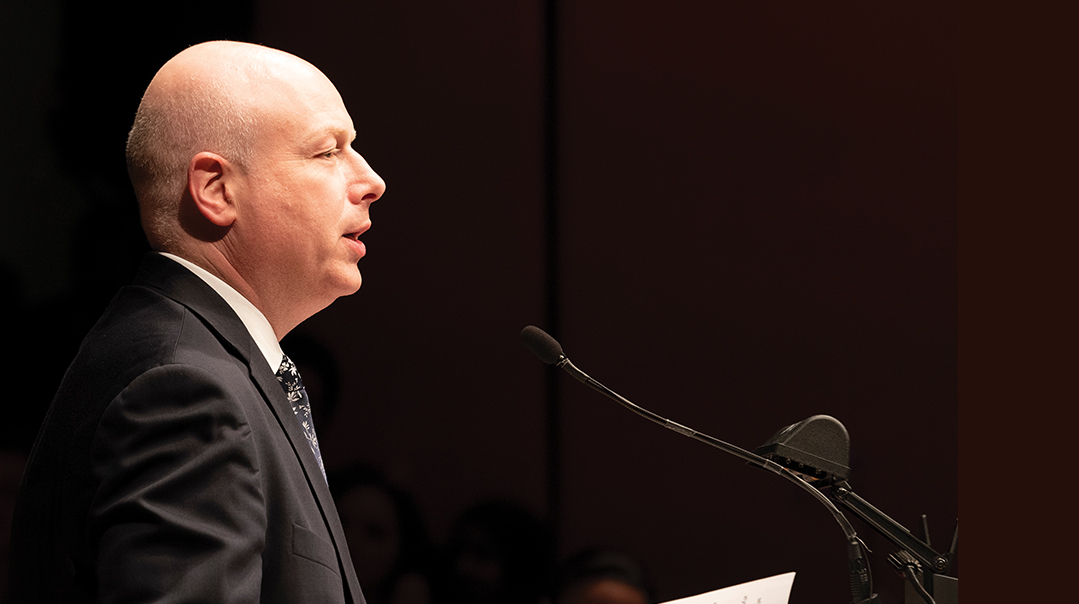 Every Sunday evening for the last three years, Jason Greenblatt said goodbye to his wife and kids in Teaneck, New Jersey, and headed to Washington, D.C., for the work week.
His office was located at the most powerful address in the world, 1600 Pennsylvania Ave., where he served as special envoy for Middle Eastern affairs. But no matter how great the honor of serving in the administration or how great his task, that Sunday goodbye was always tough. Soon, for the first time in a long time, Greenblatt will be staying home.
Greenblatt recently announced that he is soon resigning from his position as the Trump administration's most visible peacemaker. In an interview in Washington, Greenblatt admitted the timing isn't ideal. The long-awaited plan, the latest in a long line of proposals that promises to bring peace between Israel and the Palestinians, has not yet been released. When it is, most likely after this week's Israeli elections, there is a good chance the Palestinians will reject it immediately. The Trump team will surely attempt to lure the Palestinians to the negotiating table, but that work will be left to Avi Berkowitz, Greenblatt's replacement on the peace team, along with presidential adviser Jared Kushner, Iran specialist Brian Hook, and US Ambassador to Israel David Friedman. By that time, Greenblatt will be at home with his wife, psychiatrist Naomi Greenblatt, and their six kids.
The past three years have been a roller coaster for Greenblatt. At first, he enjoyed a certain measure of cooperation, albeit reluctantly, from the Palestinians. There's still a picture in his office of a meeting with Palestinian Authority chairman Mahmoud Abbas. But after President Trump made the historic decision to recognize Jerusalem as the capital of Israel, the Palestinians cut off relations with the United States. Since that time, Greenblatt has focused on working with Palestinian businessmen and sympathetic leaders in the Arab world to build support for the plan.
In a conversation with Mishpacha in his White House office, Greenblatt looked back over the last three years, discussed the challenges of his job, and shared a few memorable moments from behind the scenes.

What's the most important lesson that you learned during your time in the White House?
I think there are many, but I'll focus on one: How people use the conflict for propaganda purposes. I'm grateful that there are people who may disagree with our policies yet are willing to discuss them open-mindedly, have a respectful dialogue back and forth and, in some cases, convince us why we might want to change something. But there are quite a few people who are so certain that they are right and that their way is the only way to achieve peace — even though it hasn't happened — who refuse to listen to anybody else. That was a big surprise to me.

The last five years have been the quietest years in the recent history of the conflict. And yet, there is no way to get both sides into the same room. How would you explain that?
Well, I hope that our plan changes that paradigm, but I'm not sure that it made sense for them to engage without at least some sort of vision, because they have engaged before and the deals fell apart. So just to sit down again with no vision might not have been the proper use of time. To sit down again with a vision, with something we hope we've charted, I think would be useful to both sides.

As someone who knows President Abbas, do you think there is anything that can bring him back to the negotiating table?
We're not going to provide the carrots to get him to the negotiating table, but that's different from what he might decide to do when he sees the plan. I believe what we have crafted — even though it is not the deal that he was promised or the deal that was promised to Palestinians for 70 years — has great potential and should be carefully considered. I think there will be enough good in this deal that he hopefully will be interested in coming to the table. I also think he understands that there is no deal without direct negotiations with the Israelis. There is no deal that the international community can create. I think deep down he understands that. I think deep down he understands only he and the prime minister of Israel can make something happen. And the two societies must work a deal together. There is no substitute for that.

As you said, peace cannot be imposed on the sides. If the Palestinian are going to immediately reject whatever you put out there, what should be the next step after revealing the peace plan?
If one or both sides immediately reject it, our hope is that the two societies start talking about it. We drafted a long plan because we want the people to talk about it and then maybe the leadership will understand that perhaps there is an appetite for it. So even if they reject it out of hand, if they hear from the people that the deal is in fact appealing, even if it contains difficult compromises, maybe the leadership will listen. That is the next step if they don't engage on their own.

How would you summarize the past three and a half years? Are you at all optimistic that something can come out of all your efforts?
It's been a blessing to work here. I have tremendous respect for all of my colleagues. Some of them didn't necessarily agree with our policies, but we're always ready to roll up our sleeves to get the president's agenda done. We've accomplished a great deal on the US-Israel relationship on protecting one of our most cherished allies, Israel. We've accomplished a great deal connecting Israel to its neighbors. I think we've crafted a plan that I hope will lead to meaningful discussions. And we've certainly had our setbacks. I wish the Palestinian Authority was talking to us, so that we could improve the lives of the Palestinians.

What about Gaza? Is there any hope for peace with Hamas? Are you optimistic?
We have been unable to improve the lives of the two million Palestinians suffering under the brutal rule of Hamas in Gaza. But people understand this conflict much more now than they did nearly three years ago. They understand the issues more, and the complexity, and that was a major priority of ours.
I would use the word hopeful instead of optimistic. It's a very tough conflict. To say that I'm optimistic would be too strong a statement. I would say that I'm hopeful that people will recognize the good faith that went into our efforts, not only to resolve the conflict but to dramatically improve the lives of Palestinians and Israelis and people in the region. I hope people see it for that and will take it seriously and start talking.

What was it like to work as an Orthodox Jew for the Trump administration?
As an Orthodox Jew, I was proud to work for this administration. I felt respected in this administration. I felt respected by the US government, by my colleagues. I was proud to work on peace, supporting the State of Israel and trying to help Palestinians.

You were very involved in the 2016 campaign, especially with the Jewish community. Are we going to see you involved in the 2020 campaign?
I support President Trump. I'm a big fan of his, but I first need to see what I will be doing once I leave the White House.

Do you expect that more Jews will vote for President Trump after what he's done for Israel? For instance, recognizing the Golan Heights and moving the embassy to Jerusalem.
I would certainly hope so. I think that he has been a huge friend to the Jewish People. He's been a huge friend to the State of Israel, despite people trying to pretend otherwise. He has made more strong statements against anti-Semitism than just about anybody else that I know, including fighting against perhaps the greatest enemy of the Jewish People and the State of Israel, which is Iran. So I think that people need to take a closer look at what he's actually done for the Jewish People before they make that decision.

Can you recall a less-formal moment from your job?
One thing that was extremely moving: There was an Israeli who I had a meeting with, who was going through a very, very horrible situation and was seeking our assistance. And it so happened that I had a meeting with an Arab official right after my meeting with the Israeli. I asked the Israeli if he'd be willing to meet the Arab official and explain the issue and see if he was willing to help. He said, of course. I then left the room and asked the Arab official. I explained what was going on and asked whether the Arab official would be willing to sit with the Israeli to see if he could help. He agreed. They sat in my office and spoke, and by the end of the meeting they both had tears in their eyes. The Arab official promised to try to help. They hugged when they said goodbye.
I see things like that all the time. Maybe not quite as moving, but one of the reasons to be hopeful is that on an individual basis, when I connect the two sides, when they have business meetings and other kinds of meetings, there is respect, understanding, and even joking. Many act like anybody else would, like neighbors and friends. But that's in private and in small group settings. When you see so many hours of those kinds of interactions, you realize that somehow there is a way to get past this. We haven't gotten there yet.

What is the one thing that you will cherish from the job?
The honesty that I get from regular Palestinians is extraordinary. Ordinary Palestinians appreciate what we are trying to do. They may disagree with some of our policies, but they understand we are trying to help them. I have had Palestinians over for Shabbat meals and the conversation and friendship is very special.
(Originally featured in Mishpacha, Issue 778)
Oops! We could not locate your form.
>