| Yiddishe Gelt |
How We Do Cleaning Help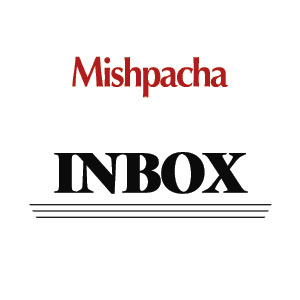 | January 25, 2022
How much do you spend for a clean house?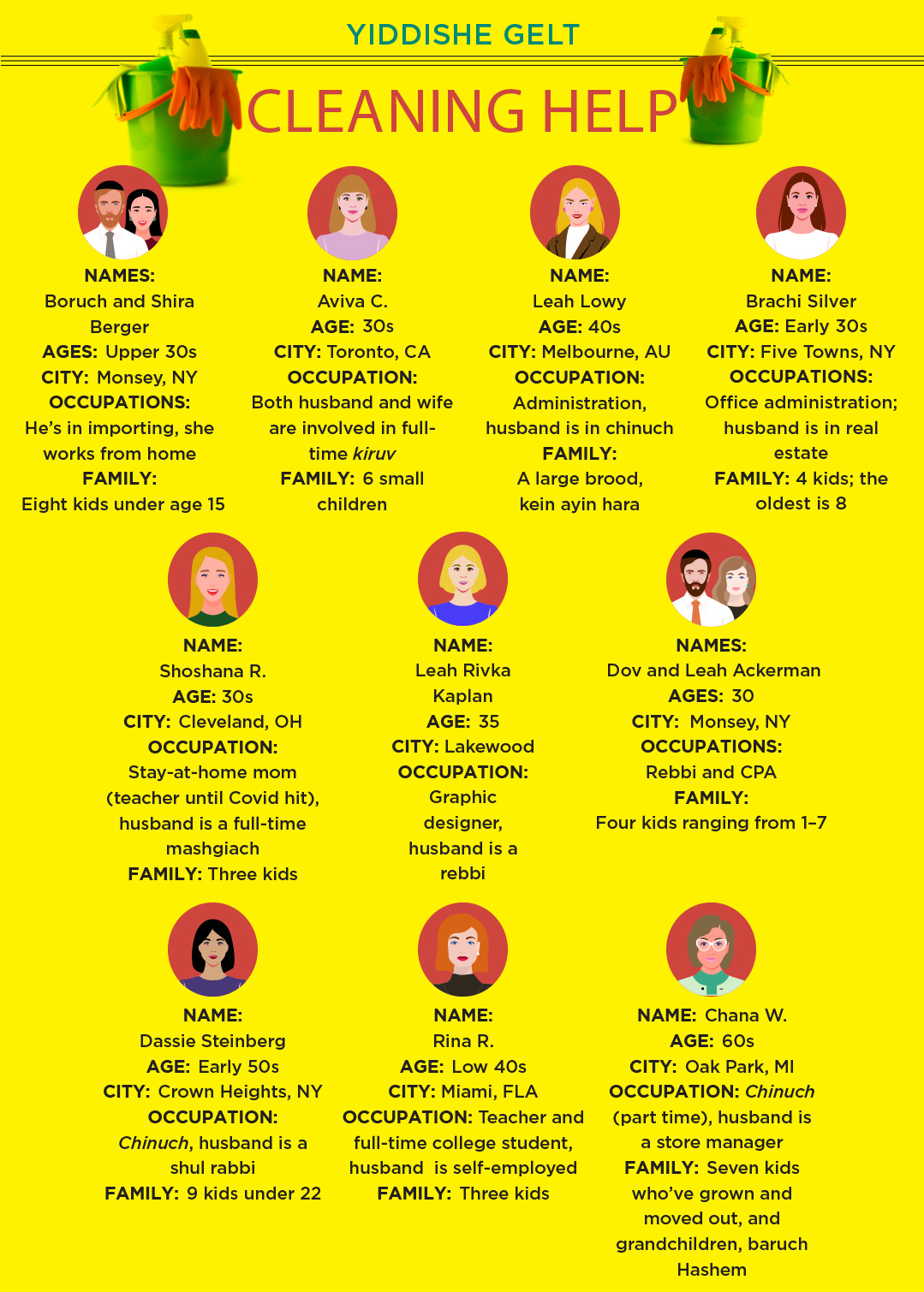 How many hours per week in total? How do you divide the time? What do you pay?
7–8 hours, once a week. It's $12–13/hour plus the cost of a taxi one way (around $6–9), or $14/hour with no taxi.
—Boruch and Shira Berger
Eight hours a week. Twice a week for three hours, and once a week for two hours.
—Dov and Leah Ackerman
About 4 hours a week, with extra hours before Pesach. Her hourly rate is around $25… which is cheap for Melbourne!
—Leah Lowy
Four hours, once a week on Friday mornings. It costs $65 weekly.
—Rina R.
Three hours a week at $15/hour. It adds up to $180/month. She comes on time, does a good job and I don't have to clean my own toilets — I think it's a fair deal.
—Shoshana R.
For years, I had help for three hours a week, and I paid her $16/hour. But then she went up to $18/hour and more recently, $20/hour, which made it harder for me to justify the expense, especially without kids at home. Now I don't have cleaning help on a weekly basis anymore, but I call when I really need the help.
—Chana W.
12 hours total per week. She comes twice a week for six hours at a time and I pay her $14/hour.
—Dassie Steinberg
I have 30 hours of cleaning help per week and pay $20/hour. Yes, it's very expensive, but I see it as a necessity and feel that it's worth every penny.
—Aviva C.
15 hours in total. She comes five days a week for three hours a day. I pay $15/hour, and if we make a party or have a simchah, or it's Erev Pesach and she's worked extra, I'll give her a bonus.
—Leah Rivka Kaplan
30–33 hours a week spread over 5 days.
— Brachi Silver
What is included in your cleaning help's job description?
Basic house cleaning — changing linen, vacuuming, mopping, washing the dining room table, sweeping under the couch. Really everything except putting away laundry (because she would get all the kids' stuff mixed up).
—Boruch and Shira Berger
Just basic cleaning and changing linen. She isn't responsible for any food related jobs or child care.
—Dov and Leah Ackerman
Tidying and vacuuming all rooms with carpets; tidying, sweeping, and washing all rooms without carpets; cleaning all three bathrooms; emptying the garbage; changing some linen each week; and random extra things, like washing the fridge, which are only done as needed.
—Leah Lowy
Cleaning 4.5 bathrooms, cleaning kitchen counters and table, and sweeping and mopping the entire house (with five bedrooms it takes a while!). She also clears the couches, putting away items that haven't made it to their places, and every few weeks she'll deep clean the fridges or wash linen if I wasn't able to, or fold laundry if I was overwhelmed with the mountain of clothing. Basically whatever I need. Before Pesach, it's more.
—Rina R.
Cleaning both bathrooms, sweeping and mopping, and taking out the garbage. In the kitchen, she does the stove, oven, sanitizes counters, cleans outside and inside the fridge, and sweeps and mops the entire house. Each week, I rotate between one additional task, like dusting shelves, cleaning the front closet, etc.
—Shoshana R.
I had my help clean things that I didn't want to do — like the bathroom or the kitchen floor. But it was often a challenge when the lady didn't understand English, or if I left the house and she decided to leave before finishing the job, and I found it wasn't always worth the hassle.
—Chana W.
She does everything: changes linen, does laundry and puts it away, cleans the kitchen, bedrooms and front yard, and takes out the garbage.
—Dassie Steinberg
She does everyday cleaning, laundry, ironing, and helps out with the children (especially the little ones). Childcare is part of her job description.
—Aviva C.
She keeps house for me. Her daily list includes dishes, floors, tidying up, laundry, linen, putting away groceries, keeping pantries and closets organized, and keeping all rooms and bathrooms clean. Less frequently, I ask her to clean walls, windows, cabinets, and appliances
—Leah Rivka Kaplan
Household cleaning and organizing. She also watches my younger children who get home from school early until I get home.
— Brachi Silver
Do you give your cleaning help holiday bonuses on top of wages? Any other side benefits?
I provide them with lunch every time they come to my house… And of course, all our chometz at Pesach time, is that counted?
—Boruch and Shira Berger
Once in a while I'll give some food items that we have in the house, but I don't give presents.
—Dov and Leah Ackerman
We give a bonus Pesach time because of all the extra work involved. Australians are not big into tipping, but we do go out of our way to be extra courteous and cordial to her at all times.
—Leah Lowy
I give her a coffee when she comes, and a bottle of water when she leaves. I give her a birthday present, and gift her an extra week of pay around Chanukah time. I also share items — if I made challah, I'll pack her up a roll or two; if I made a cake, I make sure she has time to sit and eat a slice. I've given her soup I made, produce I've brought, and before the school year starts, I make sure her kids have school supplies.
—Rina R.
We give a holiday bonus and a handwritten thank-you card. I also give her an additional small gift card to Starbucks or Target once or twice during the year.
—Shoshana R.
I sent her home with food on Friday. If I knew it was going to be a lot of work, I gave her $10 even before she started. And I always gave her a bottle of water before she left.
—Chana W.
I treat her very kindly, and give her gifts and nice clothing I'm giving away. I make sure to always speak to her nicely and thank her all the time.
—Dassie Steinberg
She gets all legal holidays off, and we give her a holiday bonus in December, usually $500.
—Aviva C.
Yes, for the December holiday I give her an extra $50. And I give her lunch every day, a full meal. I treat her very well. She takes care of me and I take care of her!
—Leah Rivka Kaplan
I offer paid legal holidays off and give a bonus of one and half week's wages on Chanukah. My policy is to pay for any regular working day even if I don't need help (ie., I'm away, for example). Our housekeeper is extremely reliable, so if she needs to take a sick day, I usually pay for that as well. It's rare and she doesn't take advantage. We try hard to be accommodating and menschlich, and hope for reciprocity.
— Brachi Silver
What percentage of your income goes to cleaning help?
About three percent.
—Dov and Leah Ackerman
I consider cleaning help a lifeline and with that in mind, it doesn't really matter what the percentage is.
—Leah Lowy
Our income fluctuates because my husband is self-employed but overall, $65 a week is a small percentage.
—Rina R.
It turns out to be approximately five percent of our total income this year (because we're down to one income now). We went without cleaning help when I didn't work during Covid, but after a year we decided it was worth cutting down in other areas (like eating out). We fit cleaning help into our budget, but we openly admit it isn't essential.
—Shoshana R.
Less than ten percent.
— Brachi Silver
(Originally featured in Mishpacha, Issue 896)
Oops! We could not locate your form.
>