| Whats Cooking |
How Do You Q? | June 21, 2022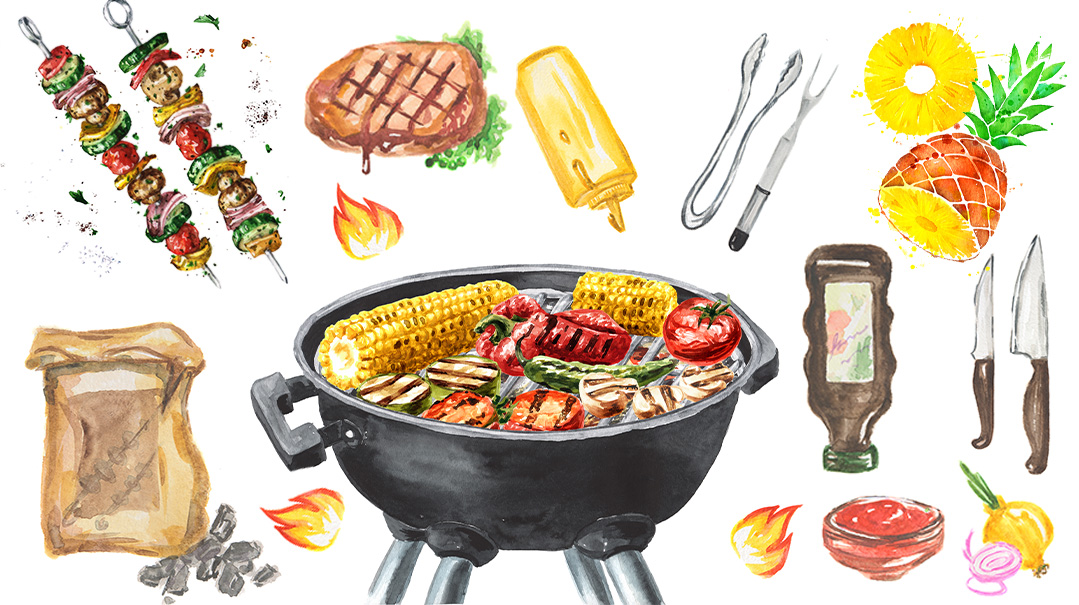 This time of year has us cooking outside as much as possible — and grill-panning indoors when it's not, just to make sure we're getting those summer vibes in somehow. Whether you're happiest with the classic burgers and dogs or you prefer to jazz up your grill fest, there's always something for everyone.
Lots of Salads
I always, always, always make a ton of small salads for a barbecue! The type that you can actually pile onto your burger or cut up your grilled chicken into!
Here are a few of my easier go-to's; adjust to your liking!
Hearts of Palm Salad
2 cans hearts of palm, cut into ½-inch (1½-cm) rings
1–2 avocados, diced
1 jalapeño, finely minced
1 cup firm cherry tomatoes, quartered
1 shallot, minced
juice of 1 lemon
2 Tbsp olive oil
2 tsp kosher salt
Place first five ingredients in a bowl. Add lemon juice, oil, and salt. Mix to combine.
Fennel Slaw
4–5 cherry belle radishes (the small round red ones), thinly sliced
fronds of 1 fennel, very thinly sliced
2 cucumbers, halved lengthwise, seeds removed, and thinly sliced
2 scallions, thinly sliced
1 tsp sesame seeds
juice of 1 lime
1 tsp balsamic vinegar
2 tsp soy sauce
½ tsp sesame oil
salt and pepper, to taste
Place first five ingredients in a bowl. Add lime juice, vinegar, soy sauce, and sesame oil. Mix. Season with salt and pepper to taste.
Also, this isn't quite a salad but it's a super Israeli staple and well, they sure know how to barbecue and it's delicious! Buy yourself a package of pitas. Slice them open crosswise so you have two circles. Drizzle some leftovers of the (oil-based, not barbecue-sauce based) meat/chicken marinade you made (or use the pita to wipe the bowl!). When you're done grilling and all the yummy meat and chicken flavor is seared into the grates, throw the pitas on and grill them for about 1–2 min on each side. It's soooooo delicious!!!
—Danielle Renov, recipe contributor
Vegetable Kabobs
Veggie kabobs are a colorful and fun addition to any barbecue. Slice zucchini, yellow squash, red onions (or pearl onions), bell peppers, and cherry tomatoes. Prepare baby bella mushrooms (and if you have vegans eating, add extra-firm tofu cubes).
Toss all veggies with a drizzle of olive oil and seasoning mix (Mrs. Dash original is a favorite). Slide veggies onto soaked skewers and roast at 425°F (190°C) for about 15 minutes, or grill. Serve with a green goddess dip or toned-down barbecue sauce (add a squirt of honey, ketchup, lemon juice, and black pepper).
—Sarah Faygie Berkowitz, columnist
Peaches or Pastrami on the Grill
Try some delicious grilled peaches! Slice peaches in half, remove the pit, and grill — as simple as can be! Also amazing is pastrami marinated in barbecue sauce and grilled.
—Faigy Grossman, recipe columnist
Japanese Sweet Potato Chips with Mango-Chive Guacamole
This recipe is a star at every barbecue — no matter how much I make, it's never enough! These chips and dip can sit out for hours, making this an ideal healthy option for your next summer barbecue.
4 Japanese sweet potatoes (long and narrow rather than short and wide), rinsed and very thinly sliced (about ⅛-inch/⅓-cm)
olive oil, for spraying
sea salt, to taste
2 ripe avocados (ripe but not mushy)
½ cup very finely diced mango
1 Tbsp chopped fresh chives
juice of 1 lime
1 tsp Himalayan pink salt
¼–½ tsp coarse black pepper
To prepare the Japanese Sweet Potato Chips: Preheat the oven to 375°F (190°C). Line two or three real metal (this is very important) baking sheets with parchment paper. (Disposable pans will produce soft chips that don't crisp up; parchment paper helps absorb moisture in baking and keeps the chips from sticking to the pan.)
Lay out yams in a single layer on the baking sheets, leaving a bit of space between each one and making sure none are overlapping. Spray with oil and season with sea salt.
Bake for 30 minutes and then remove any slices that look completely baked, as some parts will bake faster than others. Flip the rest and continue to bake until desired crispness is reached.
To prepare the Mango-Chive Guacamole: Dice the avocado into small pieces. In a small bowl, combine avocado, mango, chives, lime juice, pink salt, and pepper. Mix vigorously until a chunky salsa-like texture forms.
Note: After about 25 minutes of baking time, start checking your chips every few minutes. They're very thin and can go from not-quite-ready to burnt in under a minute. Babysitting your chips is worth the effort to get perfectly crispy chips.
—Rorie Weisberg, columnist
Burger Sauce
Every family has their Camp Ketchup and Camp Mustard. Some even have those who keep a foot in each camp. If you want to stop the debate forever, make this sauce! It includes both ketchup and mustard, but also a bunch of other ingredients that create a sauce that will make your burger that much more flavorful and juicier.
¾ cup mayonnaise
½ cup ketchup
¼ cup mustard
1–2 cloves garlic, minced
1 tsp onion powder
1 tsp seasoned salt
½ tsp apple cider vinegar
2–4 dashes hot sauce
Mix all ingredients together. It's best if you can let it sit in the fridge for an hour or two so the flavors can really get acquainted, but if you need to serve it right away, it will still be great.
—Bassi Gruen, managing editor
Grilled Chicken Skewers
YIELDS ABOUT 15 SKEWERS, DEPENDING ON AMOUNT OF CHICKEN
6 chicken cutlets
cherry tomatoes, preferably 2 colors
pearl onions or 1 medium onion, chunked
zucchini slices (optional)
Sauce
¼ cup oil
¼ cup barbecue sauce, plus more if desired
generous shake of garlic powder, onion powder, salt, and paprika, or to taste
Cut cutlets into cubes. Wash vegetables and prepare them on a separate plate.
In a small bowl, mix together sauce ingredients.
To assemble: Dip schnitzel cubes into sauce. Thread a cube onto a skewer, a few inches from the bottom. Follow with a whole or halved red cherry tomato, yellow cherry tomato if available, a whole or halved pearl onion (or piece of onion), and a slice of zucchini if desired. Continue the pattern (dipped schnitzel cubes and vegetables) until about 2 inches (5 cm) from the top. (This can be done a few hours before and refrigerated for later use.)
Pour more barbecue sauce over skewers if desired. Grill for approximately 10–15 minutes or until done.
Note: Feel free to just alternate chicken pieces, half a cherry tomato, and a chunk of onion. Or you can be creative and use veggies that you like! Also, you can use semi-defrosted cutlets for this; no need to totally defrost. This way you can put any unused frozen pieces back into the freezer.
—Brynie Greisman, recipe columnist
Burgers and Toppings
We grill a lot in the spring and summer, and we always enjoy loading up our hamburgers. I prepare the patties — a ratio of two-thirds ground beef and one-third ground turkey, an egg, and Weber's hamburger spice — but my husband gets the credit for the burgers, since he's the one grilling them to perfection! And while he's busy with the charcoal and the hot and not-as-hot zones and the probes and whatever it is that makes the burgers so good, I prepare a few toppings for us to enjoy.
Sautéed Onions
Slice an onion or two into thin-ish rings. Heat a little olive oil and paprika in a frying pan — it heats up pretty quickly — and then sauté the onions, mixing as you go along and adding a little oil if the onions look like they're going to burn. Sauté on medium-low for a very long time, as you want the onions very wilted and caramelized and dark (but not burnt).
Garlic Aioli
In a small bowl, mash 2 cubes frozen garlic and 1⁄4 tsp salt with the back of a spoon; it should form a paste. Whisk in 1⁄2 cup mayonnaise, 2 tablespoons olive oil, and 1 tablespoon lemon juice; mix until smooth. Season to taste with salt and pepper.
Smoky Guacamole
Slice 2 avocados in half and remove the pits. Oil the insides lightly and place face down on the grill. Grill 5–10 minutes, until they feel softer and have grill marks. Let cool a little. Scoop out the flesh and use it to make guacamole (we mash the avocado with lemon juice and salt). It has a delicious smoky flavor!
—Rachel Bachrach, associate editor
Basic Tomato Salad
Aside from the protein and vegetables I serve at a barbecue, I almost always add a basic tomato salad — I love the acidity near the meat.
vine tomatoes, sliced into rounds
1 sweet white onion, thinly sliced
1 Tbsp olive oil
1 Tbsp vinegar
kosher salt and coarse black pepper, to taste
Mix vegetables. Drizzle with olive oil and vinegar, then sprinkle a generous amount of salt and pepper to taste.
—Faigy Grossmann, recipe columnist
Mashed Potato Salad
My fave potato salad is served warm and is a mash-up of potato salad and mashed potatoes.
1 lb (½ kg) red potatoes, cooked with skin on
1–2 Tbsp mayonnaise
1 tsp salt
1 sour pickle, diced
1 Tbsp pickle juice
Mash potatoes with a masher and add other ingredients. Give dirty looks to anyone who judges you for eating the whole pint.
—Chaia Frishman, columnist
Best-Ever Grilled Skirt Steaks
Sweet summer memories always include epic barbecues that aren't complete unless there's a huge platter of these seriously succulent skirt steaks. No matter how many different types of meat I prepare, this winner is always the first to disappear. Grill it on high heat, because achieving a crispy exterior is key to this fantastic piece of meat.
SERVES 4-6
1½–2 lb (¾–1 kg) skirt steak
water, for soaking
Marinade
⅓ cup brown sugar
2 Tbsp honey
2 Tbsp ketchup
2 Tbsp water
1 Tbsp mustard
1 cup red wine, dry or semi-sweet
1 tsp garlic powder
1 tsp onion powder
¼–½ tsp pepper
Place steaks in a large bowl or pot. Fill with water to cover meat and allow to rest for at least 10 minutes. (Soaking the meat is very important and should not be skipped, as skirt steak is a very salty cut of meat.)
Cut the meat into portion-sized pieces. Place all marinade ingredients in a large ziplock bag and shake well. Transfer steaks into the marinade and toss to coat. Marinate overnight in the refrigerator, turning the bag over once to evenly coat the meat. (Overnight is preferable but marinate for a minimum of 1 hour.)
Preheat your grill to the highest possible setting. Place steaks on the grill and cook to your desired level of doneness; you can slit the meat to check if it needs more time. Bear in mind that when you let the meat rest for 5 minutes before serving, the meat will continue to cook through. For medium rare, the steaks will need to be grilled approximately 3 minutes per side. We like to eat them rare with a really good sear, although you can prepare them any way you prefer.
—Rivky Kleiman, recipe columnist
Best Burgers Ever
The mushrooms here add great texture and taste. Sorry, but you can't compare homemade to frozen burgers! These are in a league of their own. Try to ensure your beef is as fresh as possible.
SERVES 6–8
2 portobello mushrooms, cleaned
1 onion, quartered
2½ lb (1¼ kg) good-quality lean ground beef
2 large egg whites
1 tsp pepper
1 tsp parsley flakes
3 Tbsp ketchup
1 tsp garlic powder
½ tsp salt
In the bowl of a food processor fitted with the metal "S" blade, pulse the mushrooms and onion until finely chopped.
Place remaining ingredients into a large bowl. Add mushroom mixture; mix together gently and shape into 6–8 patties.
Preheat grill to high. Place burgers on the grill; cook for about 4 minutes per side for medium doneness. Don't overcook them or they'll dry out. Let sit for 6–8 minutes before serving.
Note: Don't move the burgers on the grill until they're ready to be flipped. It's best to leave them in one place to cook evenly.
—Estee Kafra, recipe contributor
Pineapple Toppers
As a true Australian, I always grill some pineapple slices to add into our burgers.
—Naomi Nachman, columnist
(Originally featured in Family Table, Issue 798)
Oops! We could not locate your form.
>