| Whats Cooking |
Pesach of Possibilities | March 14, 2023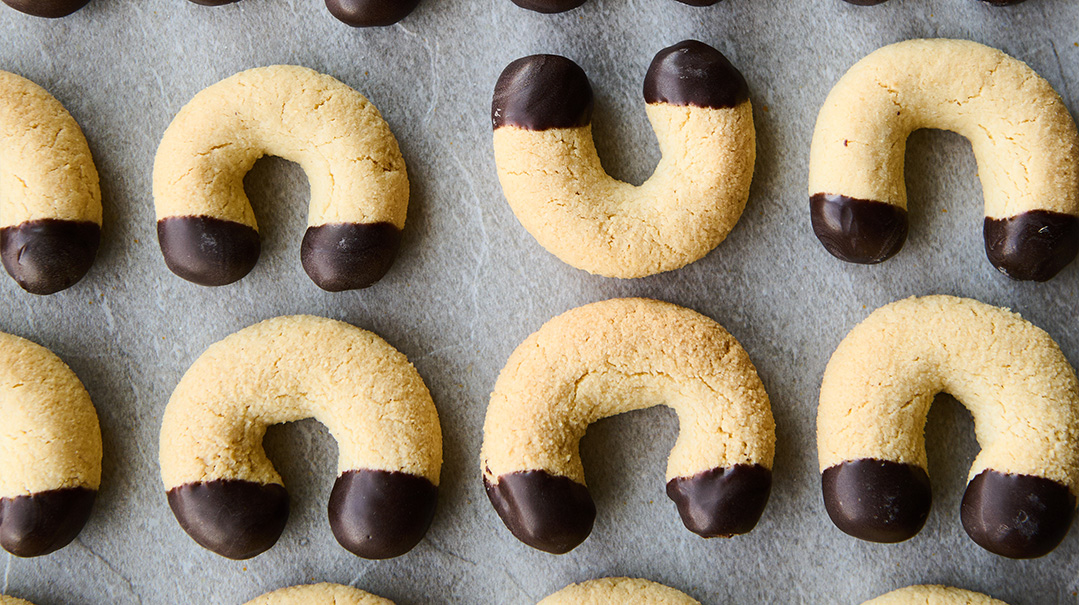 Almond Horns
I got this recipe like many people get recipes, passed around on a recipe group chat! I tracked down the source, it was a three-step process, the originator was ocheltayim.blogspot.com. Anyway, it was excellent, so excellent that I made it for a gluten-free friend a number of times. Actually, thanks to the almond flour, it's really not a very Pesach-tasting cookie at all!
2 eggs
1/4 tsp salt
1 cup sugar
3 cups almond flour
baking chocolate, for dipping
Mix all ingredients together. Roll into a log. Shape dough into horns.
Bake at 350°F (175°C) for 20 minutes.
Allow horns to cool and then dip into melted chocolate.
—Chanie Nayman, editor Family Table
Blueberry Muffins
I like to have something filling and healthful for breakfast, so I make a nice amount of these blueberry muffins every year.
YIELDS 10–12 MUFFINS
2½ cups almond flour
¼ cup coconut flour
¼ cup potato starch
1 tsp baking soda
¼ tsp salt
3 large eggs
full ¼ cup honey
¼ cup coconut oil
4–5 Tbsp orange juice
1 Tbsp fresh lemon juice
2 tsp vanilla sugar
¾ cup frozen blueberries, mixed berries, or cherries
handful sliced almonds (optional), for garnish
cinnamon (optional)
Preheat oven to 350°F (175°C). In a large bowl, whisk together the almond flour, coconut flour, potato starch, baking soda, and salt until very well combined. Heat together the honey and coconut oil in a small bowl in the microwave for 30 seconds, and then another 30 seconds until oil is melted. (Alternately, heat together in a small pot.)
Meanwhile make a well in the center of the almond flour mixture. Add eggs and then the coconut oil/honey, orange and lemon juices, and vanilla. As the batter comes together, gently fold in berries of your choice.
Using a 1⁄3-cup measuring cup, scoop out batter into a muffin pan lined with parchment paper and sprayed with cooking spray. Top with sliced almonds and/or cinnamon if desired. Quickly place the pan into the oven (you don't want the berries melting and turning the batter an unappealing color). Bake for 20 minutes or until golden brown. Don't overbake.
Note: If using frozen cherries, cut them in half or quarters so flavor will be distributed throughout the muffin.
—Brynie Greisman, recipe columnist
Going-Nuts-for-Nuts Pesach Cookies
Here's a family favorite that we make every year. The smell in my kitchen when I make these cookies, recipe courtesy of my sister-in-law Yaffa, reminds me of those street vendors in Manhattan who sell candied nuts!
YIELDS 15 COOKIES
½ cup ground filberts
½ cup ground almonds
½ cup ground walnuts
1 cup sugar
½ tsp vanilla sugar
2 egg whites
½ cup chocolate chips (optional)
shredded coconut (optional)
Mix all ingredients and refrigerate for an hour. Roll dough into balls and refrigerate another 15 minutes. Preheat oven to 350ºF (175ºC). Bake cookies for 20–25 minutes until lightly browned. Let the cookies sit for 15 minutes before removing from baking sheet.
Note: I like to mix up the types of nuts because they add such a depth of flavor to the cookie. If you want to stick with one nut only, though, I would recommend almonds. Walnuts are great, but they have an intense flavor that isn't so popular with the kids.
—Chaia Frishman, columnist
Lemon Biscotti
In my house I've slowly moved away from cakes and prepare an abundance of cookies, bars, and biscotti to keep the hungry kids (and, let's be honest, adults) happy all Pesach. This biscotti recipe is a staple.
YIELDS 24 BISCOTTI
3 eggs
1 cup sugar
⅔ cup oil
2 Tbsp lemon juice
zest of 1 lemon (optional)
2 tsp baking powder (optional)
3½ cups almond flour
½ cup potato starch
pinch of salt
Lemon Glaze
1 cup confectioners' sugar
1 Tbsp lemon juice
½–¾ Tbsp almond milk
Preheat oven to 350°F (175°C). Line a baking sheet with parchment paper and set aside.
Beat eggs and sugar until light and fluffy (around 3 minutes). Slowly add oil into the mixture while the mixer is beating. Next, add in lemon juice and zest. Add in baking powder, almond flour, potato starch, and salt. Beat until combined. Divide the batter in half, placing each half on either side of the baking sheet. (This is a loose batter but shapes beautifully with moistened hands.) Moisten your hands and form each half into a rectangular loaf. Bake on center rack of oven for 35–40 minutes.
Cool for 5 minutes. Cut into 1-inch (21⁄2-cm) slices. Combine glaze ingredients in a small bowl. Whisk until smooth and drizzle over the cooled biscotti.
Tip: These freeze beautifully. For a very crispy biscotti, remove from the oven at 30 minutes. Slice into 1-inch (21⁄2-cm) wide slices and lay each slice on its side. Bake for 5 minutes, then turn over and bake an additional 5 minutes.
—Rivky Kleiman, recipe columnist
Chocolate Chip Cookies, Toll House Style
These cookies are out-of-this-world delicious. We make them year-round and enjoy them straight out of the freezer because they don't get as hard as flour-based cookies. To cut back on fat, you can use half applesauce instead of the oil and they'll still be delicious. If you want to change up the usual, go with chopped chocolate even though it adds a step — the result is a slightly chocolaty chocolate chip cookie with stripes and bits of chocolate. Stock up on that almond flour because you will be making multiples of this dough! It freezes well either raw or baked — raw dough should be put into a gallon ziplock bag and pressed flat for easiest storage and defrosting.
Reprinted from the Leket Israel Cookbook
¾ cup olive oil
¾ cup brown sugar
¼ cup sugar
1 tsp vanilla
2 eggs
1 3-oz (85-g) pkg vanilla pudding mix
3 cups almond flour
1 tsp baking soda
½ bag chocolate chips or 1 chopped truffle chocolate bar
Preheat oven to 350°F (175°C).
Mix all ingredients except chocolate until thoroughly combined. If the batter is very sticky or oily, add up to an extra 1⁄4 cup almond flour. Add chips or chopped chocolate.
Use cookie scoop to scoop medium-size cookies onto a parchment-lined cookie sheet. Bake for 10–12 minutes or until cookies just begin to turn golden at the edges. Allow to cool on the cookie sheet for a few minutes and then transfer to a wire rack to cool completely.
—Sarah Faygie Berkowitz, columnist
Salade Nicoise
With so many days of Yom Tov, nobody wants to see the same fish over and over, so at some point I always make a big salade Nicoise as a starter — it makes an attractive plate and the ingredients are all Pesach-compliant pantry staples: lettuce bed, cubed potatoes, olives, hard-boiled eggs, tomatoes, string beans if you eat kitniyot, canned tuna or salmon, anchovies if your family likes them. I make a balsamic vinegar dressing for it (pressed garlic, salt and pepper, balsamic vinegar, and olive oil).
Another option is a riff on a Susie Fishbein recipe — fish fillets dredged in potato starch and sliced almonds and fried, served with a mango-strawberry salsa.
—Barbara Bensoussan, columnist
Best Ever No-Mixer Brownies
My famous Pesach brownies are always one of the first things I make for Pesach. They're so good, many people say they make them all year long!
Reprinted with permission from Overtimecook.com
1 cup oil
4 eggs
2 cups sugar
1 tsp vanilla extract
½ tsp baking powder
¼ tsp sea salt
1¼ cups Dutch-process cocoa powder
⅔ cup potato starch
⅔ cup almond flour or ground almonds
Preheat oven to 325°F (160°C). Grease a 9×13-inch (23×33-cm) pan with cooking spray. Set aside.
In a large bowl, whisk together all ingredients until smooth. Pour into prepared baking pan.
Bake for 35–40 minutes, until the top is set.
Plan Ahead: These brownies freeze nicely in an airtight container.
—Miriam (Pascal) Cohen, recipe columnist
Grain-Free Mini Pancakes
So many of my all-year-round recipes happen to be kosher for Pesach, so for me, Pesach is a lot of just remaking many staples in a turned-over kitchen minus some ingredients. I make my grain-free pancakes every day of Chol Hamoed without fail.
YIELDS ABOUT 12 MINI PANCAKES
1 egg
1 Tbsp honey or maple syrup (optional)
1 tsp vanilla extract
¼ cup milk or pareve milk
¾ cup Rorie's Grain Free Flour or almond flour
¼ tsp baking soda
¼ tsp ground cinnamon (optional)
In a medium bowl, combine wet ingredients. Sift in remaining ingredients; whisk until smooth. Allow mixture to thicken for a few minutes. (If it gets too thick, add 1⁄2 tablespoom milk.)
Heat a frying pan or griddle; turn heat to low. For each pancake, place 1–2 Tbsp batter on the hot pan. Cook until bubbles form and the pancake lifts easily.
Flip; cook on the underside until done, usually less than 1 minute. Top as desired.
—Rorie Weisberg, columnist
Smoky Babaganoush
I like to make homemade smoky babaganoush on Pesach. It actually freezes quite well.
I begin with fire roasting and then baking four large eggplants until soft (about an hour and a half at 350°F/175°C). I then scoop out the pulp and blend it with plenty of fresh garlic, some salt, black pepper, lemon juice, and a few spoonfuls of mayonnaise (homemade or store-bought). I keep it a bit chunky. We spread it liberally on matzah all Pesach long!
—Chavi Feldman, recipe columnist
Chestnut Wine Roast, aka Best Roast Ever
I make this roast every year without fail, for the first and last days. It's simple and really flavorful. Always a hit.
SERVES AT LEAST 10
2 large onions, diced
4 cloves garlic, chopped
1 5-lb (2¼-kg) shoulder roast (see note)
salt and pepper, to taste
2–3 bay leaves
1 cup dry white wine
1 3½-oz (100-g) bag cooked chestnuts, or more to taste
Spray an 8-quart pot with cooking spray. Add onions and garlic. Add roast and brown, over high heat, on all sides. Add salt and pepper. Lower heat and cook covered for four hours. Do not add water; the meat and onions will give off liquid. Cool and slice. (This can be done the day before.)
Return the meat to the pot, along with the onions and garlic. Add bay leaves, white wine, more seasoning if necessary, and chestnuts. Bring to a boil. Lower heat and cook for 1 hour. Cool and refrigerate or freeze (freeze gravy separately) until using.
Note: You can sub almost any roast of your choice. I've made this with brisket, French roast, etc.
—Brynie Greisman, recipe columnist
Rebbetzin Finkel's Mandelbroit
I grew up in a gebrochts-eating household, but for some reason our Pesach baked goods were always of the shehakol variety. The first year I made Pesach, my husband wondered out loud, "Why don't we have any mezonos baked goods around here? Don't we eat gebrochts?"
I dutifully went scouring through my cookbooks to find something to try. This recipe is a winner from the Pesach section of Rebbetzin Sara Finkel's Classic Kosher Cooking. It's not as crispy as year-round biscotti, but it hits the spot on a Yom Tov morning when it's going to be a while until the seudah is ready and you want something to make kiddush on. I always make a double recipe for the first days of Yom Tov, and it lasts until maybe the first day of Chol Hamoed!
3 eggs
¾ cup sugar
¾ cup oil
¼ tsp salt
juice and rind of ½ lemon
½ cup matzah meal
½ cup potato starch
⅔ cup slivered almonds
¼ cup sugar, for sprinkling
½ tsp cinnamon, for sprinkling
Preheat oven to 350°F (175°C).
Beat eggs until light, adding sugar, oil, salt, lemon juice, and lemon rind. Stir in matzah meal, potato starch, and almonds. Spread batter in a greased 8-inch (20-cm) square pan. Bake for 35 minutes. While still warm, cut into strips.
Return slices to baking pan. Combine sugar and cinnamon and sprinkle on top. Bake for an additional 20 minutes.
—Chaya Baila Lieber, copy editor
(Originally featured in Family Table, Issue 835)
Oops! We could not locate your form.
>