| Recipes |
Honey-Glazed Apple-Shaped Galette
| January 31, 2023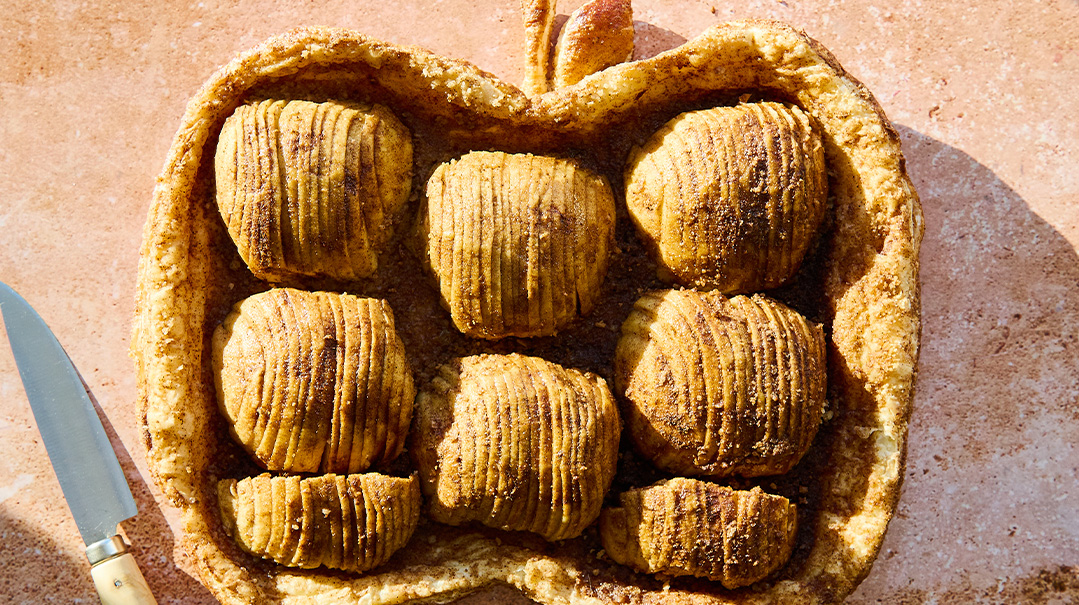 Styling and Photography by Sina Mizrahi
If you're a baked apple fan, try this easy, open-faced baked apple galette. It takes minutes to put together, and your guests will be wowed! This recipe is for one galette, but you'll have enough dough from one package of rolled puff pastry to make two galettes. Either double the recipe or make something else from your leftover dough, since this recipe can't be frozen — it's best served fresh out of the oven.
YIELDS 1 GALETTE
½ 21-oz (600-g) pkg puff pastry, defrosted but still cool
5 Tbsp sugar, divided, plus more for sprinkling
1 Tbsp cinnamon
4 Granny Smith apples
¼ cup plain bread crumbs
1 egg
3 Tbsp honey
Sprinkle a piece of parchment paper with sugar. Place your dough on top and roll out slightly into a 12x12-inch (30x30-cm) square to get an apple shape.
Make a little mark in the center of your dough, about an inch (21⁄2 cm) from the top. Cut the dough into a rounded apple shape on one side, then lightly flip over the cut-out piece, using it as your stencil as you cut out the second side. (Don't discard the extra dough, since you'll shape it into the stem and leaves.) You can also draw an apple shape on a piece of paper and put that on your dough as a stencil.
Mix 3 Tbsp sugar with cinnamon and set aside.
Preheat oven to 375°F (190°C).
Peel the apples with a peeler so they stay the right shape, then slice them in half vertically.
Use a melon baller to core the apples, then slice them very thin, making sure the halves stay intact.
Sprinkle the dough with the remaining 2 Tbsp sugar, then with the bread crumbs. Arrange the apple halves so that they fit into your apple shape. You'll have to cut the last apple half in half horizontally so that it fits into the bottom of the dough.
Fold the dough slightly over onto the apples. Sprinkle the apples with the cinnamon-sugar mixture. Brush the dough with egg wash and bake for half an hour, or until the dough is golden brown.
Cut out the stem and leaves from extra dough. Place on a baking pan and brush them with egg wash. Bake for 15–20 minutes.
When the galette is done, microwave the honey for 30 seconds. Immediately brush over the apples. Slide the galette onto a platter and serve.
(Originally featured in Family Table, Issue 829)
Oops! We could not locate your form.
>