| Recipes |
Homemade Garlicky Egg Pasta
| December 30, 2020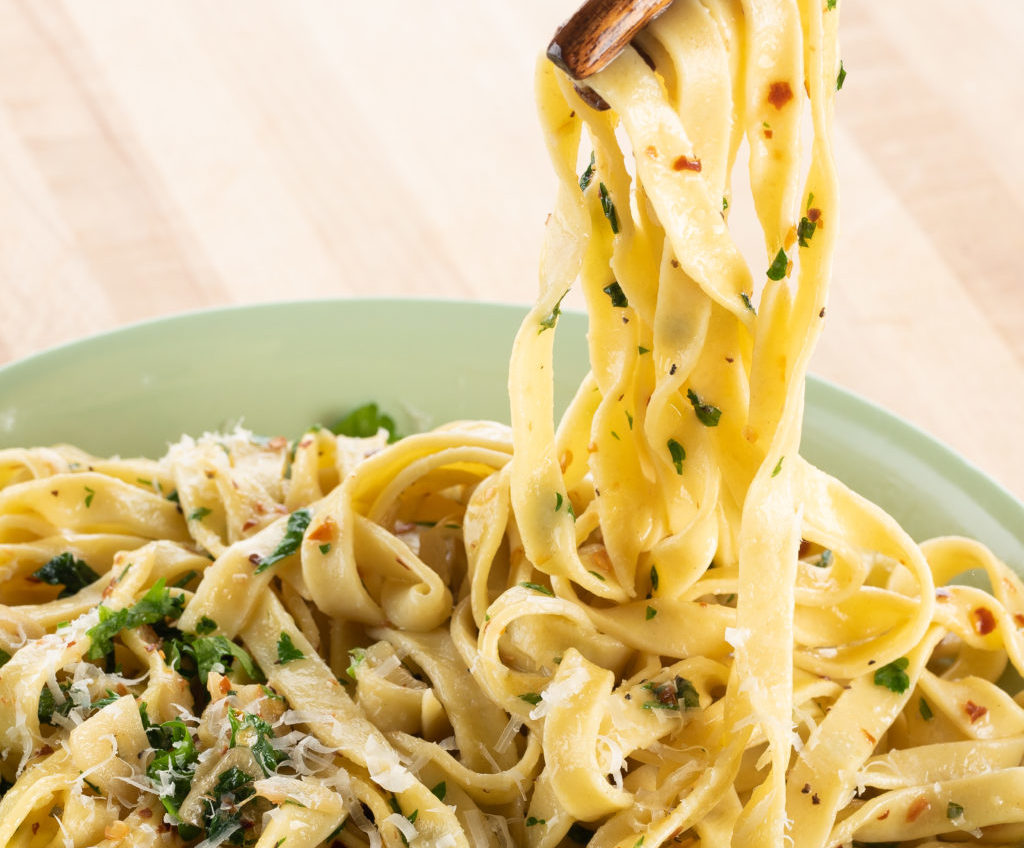 Homemade Garlicky Egg Pasta
I never made pasta from scratch until I bought my first pasta machine, and I seriously regretted it. The idea of rolling the dough paper thin by hand seemed like too much work. But after I tried it, I was sold. When I was developing this dough ratio, I tried to make it as malleable as possible so that it's not too hard to roll it out. Trust me when I say it is so, so worth the results. The taste of fresh pasta is worlds apart from the one that comes out of the box. It's silky and ribbony and melts in your mouth. The sauce recipe can obviously be used with boxed pasta, but I recommend it with fresh. It's not to be compared.
Makes 1 lb pasta; serves 4
Pasta
2 cups all-purpose flour
2 large eggs + 5 yolks
1 Tbsp olive oil
pinch of salt
Sauce
3 Tbsp olive oil
10 cloves garlic, sliced (or more, if desired)
1 tsp red pepper flakes
½ tsp pepper
3 Tbsp butter
2 cups reserved pasta water
¼ cup freshly grated Parmesan cheese
3 Tbsp chopped fresh parsley
fresh lemon (optional)
For the pasta, combine all ingredients in a food processor and pulse until just combined and crumby. Pour the mixture onto a clean surface and press the dough together. Knead for about a minute until everything is smoothly combined, then cover the dough tightly with plastic wrap. Let sit for 1–2 hours. The longer it rests, the easier it will be to roll out. (Don't worry if the dough is hard to knead. Just get it into a lump as best you can, and it should be better after it rests.)
Once rested, cut the dough into four equal-sized pieces. Cover three of the pieces with plastic wrap so they don't dry out. Roll out the first piece as thin as you can, like paper. This might take some time, but trust me, it's worth it. With a sharp knife, cut the pasta into any shape you like (pappardelle, fettuccini, etc.). Repeat with the rest of the dough.
Bring a large pot of heavily salted water to a boil. Add the pasta and cook for no more than 30 seconds to a minute; fresh pasta cooks fast. Strain the pasta, making sure to reserve 2 cups of water.
Add the olive oil and garlic to the same pot. Sauté over medium heat for about 4 minutes. Add the red pepper flakes and cook for 1 more minute. Add pepper and butter and cook until melted. Add 1 cup of the reserved pasta water. Raise heat to medium-high and let the mixture simmer for 5 minutes or so, until it thickens and darkens.
Pour in the pasta, Parmesan, parsley, and remaining pasta water and toss gently so as not to break the noodles. Feel free to squeeze some lemon over each bowl to add some freshness and zing!
TIP: Salting pasta water is way more important than you think. Heavily salt the water so that it tastes like the ocean. If you think you've done enough, you probably need more. Properly salted pasta water brings the dish to an entirely new level, especially in a sauce recipe that uses the starchy water as a thickening agent and to marry the pasta and the sauce together.
(Originally featured in Family Table, Issue 724)
Oops! We could not locate your form.
>