| Recipes |
Homemade Focaccia with Italian Spice Blend | January 20, 2021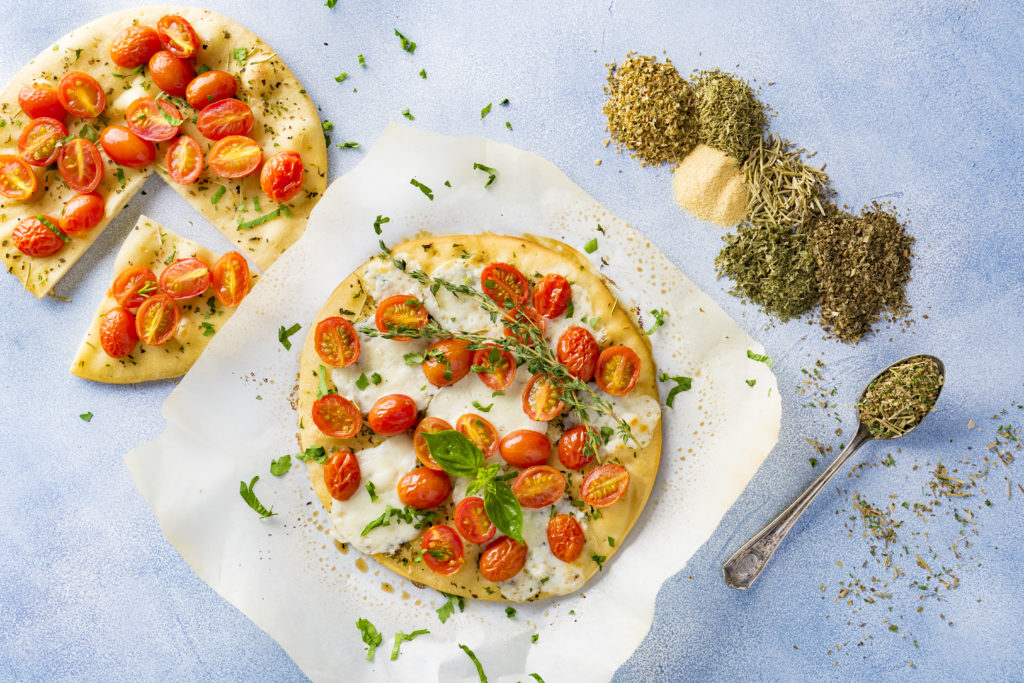 Homemade Focaccia with Italian Spice Blend
Who doesn't love that Italian flavoring — it tastes so good in so many dishes! Here I used some of this blend on a ready-made pizza crust to create an instant, gourmet-flavored focaccia. You can go dairy by sprinkling it with shredded cheese, or keep it pareve and add some additional chopped veggies, if desired. Either way, this recipe brings that heavenly smell wafting through the house; be prepared to make a few extra!
Serves 2
1 9-inch (23-cm) par-baked pizza crust
1 tsp olive oil
Italian spice blend, to taste
flaky sea salt, for sprinkling
¼ cup shredded cheese (optional)
¼ cup grape tomatoes, sliced into thin rounds
Italian Spice Blend
2 Tbsp dried oregano
2 Tbsp dried basil
1 Tbsp thyme
1 Tbsp rosemary (crush lightly with your fingers)
2 Tbsp dried parsley flakes
1 tsp garlic powder (you can add more if you like a stronger garlic flavor)
For the blend: Combine all spice blend ingredients in a small mixing bowl. Transfer to a small container and shake well before using. Store with your spices.

For the focaccia: Preheat oven to 375°F (190°C).
Smear olive oil evenly over the pizza crust. Sprinkle with spice blend and sea salt. Spread shredded cheese on top, if using, and scatter tomato rounds. Bake for 7 minutes, checking to see if the cheese is melted and dough is beginning to brown. You can serve as is or return to the oven for another minute or two if you like a crispier crust.
Remove focaccia from oven and cut while still warm.
Note: I used a 9-inch (23-cm) par-baked pizza crust; feel free to use any size frozen pizza rounds (such as the 7-inch/18-cm one shown); simply adjust recipe and baking time accordingly.
Tip: Try this Italian spice blend on fish (think broiled salmon), poultry (add to cut-up chicken pieces with tomatoes and onions in the pan), and in vegetable soups for a great flavor enhancer and delightful taste!
(Originally featured in Family Table, Issue 725)
Oops! We could not locate your form.
>