| No Food Left Behind |
Healthy Carbs for Diabetics
| August 10, 2021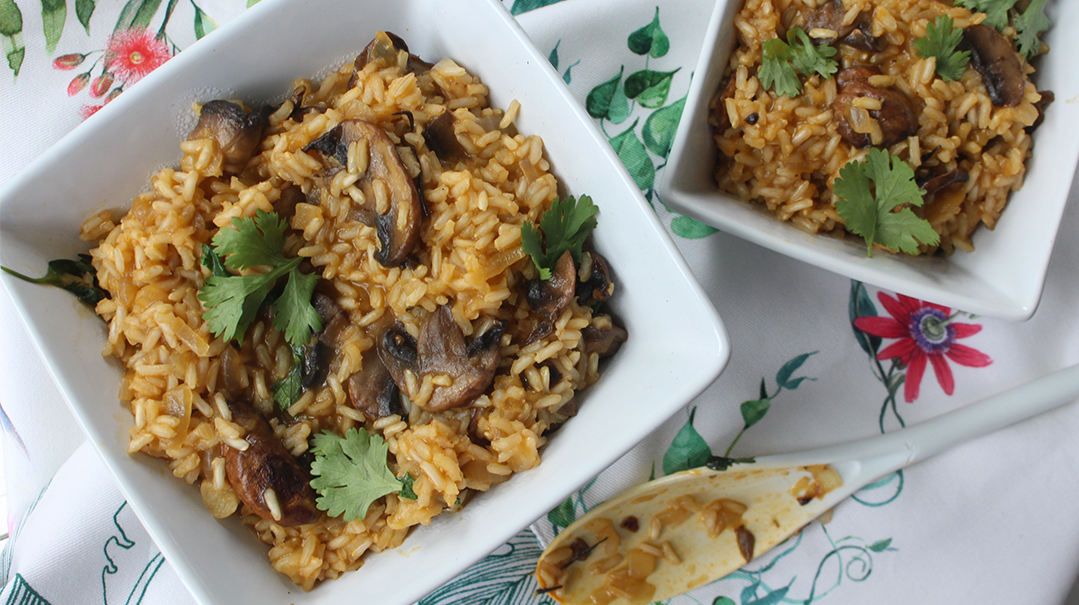 Photograghy by Beth Warren
When it comes to living with diabetes, it's a major misconception that a person has to avoid carbohydrates. In fact, it would be counterproductive and potentially detrimental, since our body processes its own sugar if it doesn't get enough in.
It's important, however, to focus on quality carbohydrates like whole grains, which also have a high fiber content. With fiber, carbs are broken down into sugar more slowly, so your body is able to utilize them more efficiently. Try this Mushroom Brown Rice as your carb portion of choice with a balanced meal amongst lean proteins and veggies. Enjoy!
Mushroom Brown Rice
SERVES 8-10
2 tsp olive oil, divided
2 shallots, chopped
2 cloves garlic, minced
1 cup brown rice
2 cups vegetable broth
8 oz (225 g) crimini or baby portobello mushrooms, sliced
1 Tbsp minced fresh thyme
1 Tbsp minced fresh rosemary
3 Tbsp minced fresh parsley
salt and black pepper, to taste
In a medium saucepan, heat 1 tsp oil over medium heat. Add the onion and sauté until it starts to brown. Add the brown rice, stir, and leave to toast about 1 minute. Add the vegetable broth and bring to a boil. Cover, reduce heat, and cook until liquid is mostly absorbed, about 35 minutes.
In a separate skillet, heat remaining 1 tsp oil and add the mushrooms. Cook until softened, about 4 minutes. Add the thyme and rosemary. Stir to combine, and cook for about 30 seconds.
Add the mushroom mixture to the brown rice, then add the parsley, salt, and pepper. Stir to combine.
Schedule a nutrition appointment with Beth virtually from anywhere or visit her in person at the Brooklyn or Jersey Shore Beth Warren Nutrition offices. You
can also book an appearance or cooking demo. Email beth@bethwarrennutrition.com or call 347-292-1725. Most insurances accepted.
(Originally featured in Family Table, Issue 755)
Oops! We could not locate your form.
>