| No Food Left Behind |
Healthy Break-the-Fast Snacking
| July 13, 2021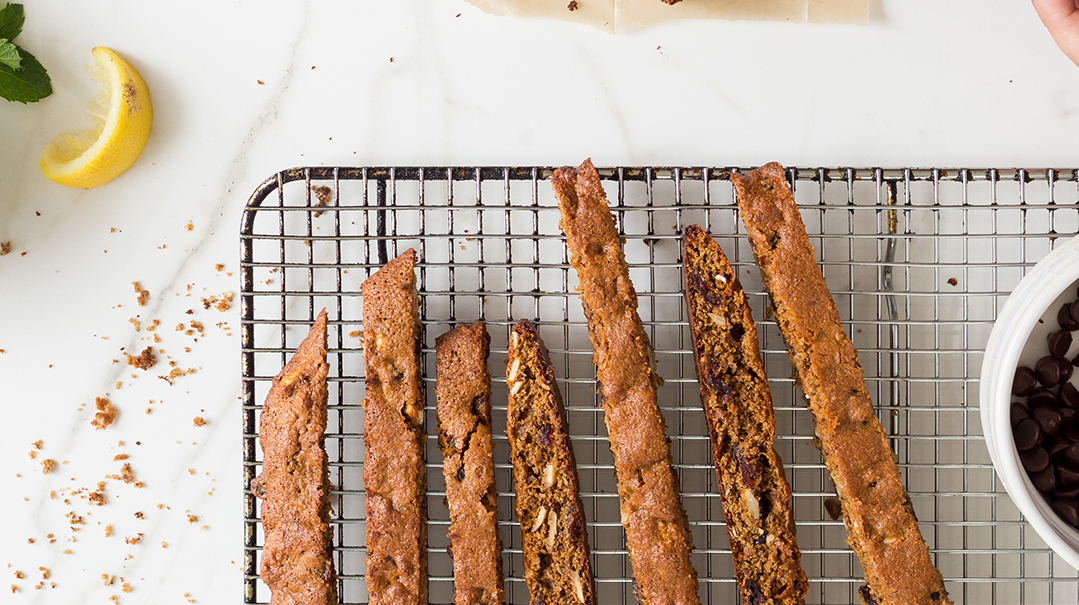 Photography by Moshe Wulliger
After breaking a fast, many people want to eat something light and cozy, with a hydrating cup of tea, to ease their minds and bellies back into eating. An ideal option is a food that doesn't trigger you to overeat, yet satisfies that need for something crunchy and sweet.
Of course, after a fast, you can feel inclined to overeat with any food, but these healthier almond biscotti offer protein, fiber, and just a hint of sweetness to curb cravings and help you satisfy yourself with less, if what you're looking for is a cookie. And guess what? They're free of gluten and refined sugar.
Don't forget to round this treat out with a balance of whole-food protein, carbs, veggie, and fruit options! Have a safe and meaningful fast!
Chunky Biscotti
YIELDS 20 BISCOTTI
2 eggs
1 tsp vanilla
½ cup coconut sugar
1½ cups almond flour
¼ cup coconut flour
½ tsp baking soda
¼ tsp salt
½ cup unsweetened dried cranberries (optional)
½ cup sliced almonds (optional)
¼ cup semi-sweet chocolate chips (optional)
Preheat oven to 350°F (175°C). Line a baking sheet with parchment paper and set aside.
In a large mixing bowl, beat together eggs, vanilla, and coconut sugar.
In a separate bowl, mix the flours, baking soda, and salt until combined.
Combine the dry ingredients with the egg mixture while mixing slowly. Fold in any of the optional ingredients you wish to include.
Transfer the batter to the prepared baking sheet and form into a flat loaf. Bake for 20–30 minutes, until the top begins to brown. Remove from oven and allow to cool completely before slicing.
Slice into 1-inch (2 1/2-cm) slices. Return the slices to the baking sheet, spread out, and return to the oven for another 5 minutes for a biscotti-like crunchy texture. Be careful not to burn!
Per serving (3 biscotti without optional ingredients): 140 calories, 9g fat, 1g saturated fat, 20 mg cholesterol, 180 mg sodium, 11g carbohydrates, 3g fiber, 5g protein
Beth Warren Nutrition is running fully virtual nutrition appointments during the COVID-19 social distancing restrictions. To schedule a nutrition appointment with Beth in the Brooklyn
(Flatbush and Williamsburg), NYC, or Five Towns locations, or book an appearance, email beth@bethwarrennutrition.com or call 347-292-1725. Most insurances accepted.
(Originally featured in Family Table, Issue 751)
Oops! We could not locate your form.
>