| Recipes |
Fluffy Multigrain Seeded Rolls
| August 2, 2022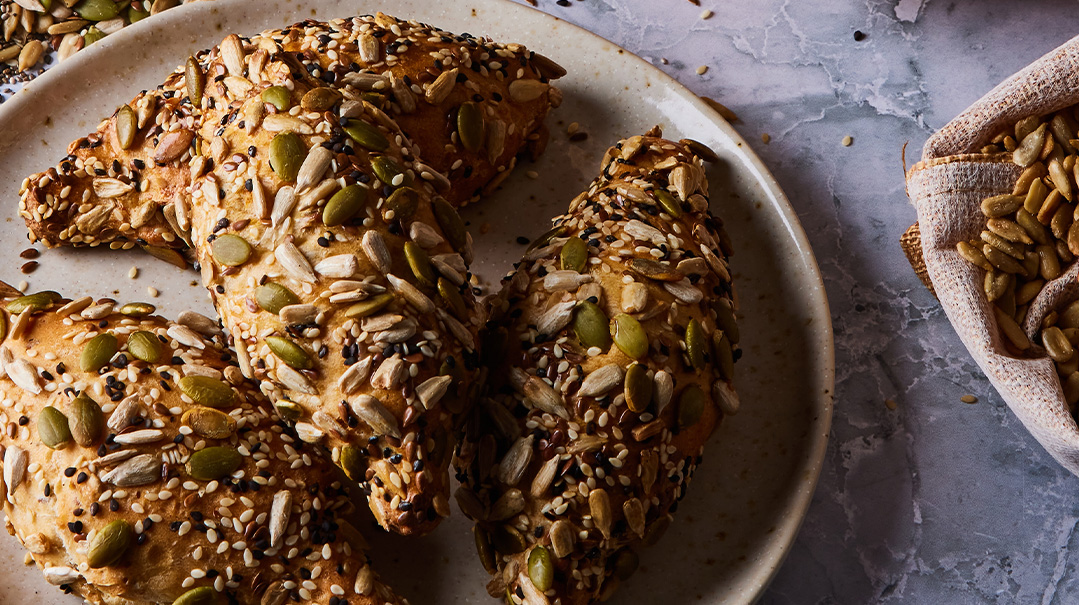 Food and Prop Styling by Goldie Stern
Photography by Felicia Perretti
Food prep and Consultant Chaya Surie Goldberger
These light and airy rolls are the perfect comfort food to break your fast on, along with a hearty bowl of soup. The addition of oats and seeds add interest and texture, making it a healthy choice too! My family actually enjoys these rolls as an alternative to challah at times
YIELDS 24 ROLLS
2 cups water
1 cup quick-cooking oats
3 Tbsp margarine
3 Tbsp raw pumpkin seeds
2 Tbsp raw sunflower seeds
1 Tbsp chia seeds
1½ Tbsp flax seeds
1 (7-g) pkg instant dry yeast (see note)
⅓ cup warm water
⅓ cup brown sugar
1 Tbsp sugar
1¼ tsp salt
1 cup white whole-wheat flour
4 (scant) cups high-gluten flour, divided
1 beaten egg, for brushing
Topping
2 Tbsp pumpkin seeds
2 Tbsp sunflowers seeds
2 Tbsp sesame seeds
2 Tbsp black sesame seeds
2 Tbsp flax seeds
1 cup cool water, for soaking
Place 2 cups of water into a medium-sized pot and add oats and margarine. Bring to a boil and cook for about 1 minute, stirring to combine. Remove from heat and allow to cool until lukewarm.
Combine pumpkin, sunflower, chia, and flax seeds in a dry medium skillet and toast over medium heat, stirring, until lightly brown and starting to pop, 5–7 minutes. Allow to cool.
Place the yeast and 1⁄3 cup warm water into the bowl of your mixer with the dough hook attached. Add the oat mixture, sugars, salt, seeds, whole-wheat flour, and 3 cups high-gluten flour. Knead until smooth, about 7–8 minutes. (Don't worry if the dough appears dry at first, it will moisten once fully kneaded.)
Slowly add remaining cup of flour to the mixture and beat until fully incorporated. You should have a soft and slightly sticky dough. Place dough into a greased large bowl, turning once to grease top. Cover and let rise in a warm place until doubled, about 1 hour.
While the dough is rising, place the seeds for the topping into 1 cup water to soak (so that they don't burn while baking).
Punch dough down; allow to rest for 10 minutes.
Prepare two 9-inch (23-cm) round baking pans. Shape dough into 24 balls and place 12 balls into each baking pan. Cover and let rise until doubled, about 45 minutes.
Preheat oven to 350°F (175°C).
When finished rising, brush the rolls with beaten egg. Drain the seeds through a mesh strainer. Shake out any excess water and sprinkle over the top of the dough.
Bake rolls until golden brown, 20–25 minutes. Remove from pans to wire racks.
Note: If you use active dry yeast and not instant, you will need to double the rising time.
Tip: You can easily add or swap out any of the seeds for other options such as dried cranberries or other dried fruit, hemp, poppy, or caraway. Be creative!
(Originally featured in Family Table, Issue 804)
Oops! We could not locate your form.
>