| TableScapes |
Flowers Abound | May 31, 2022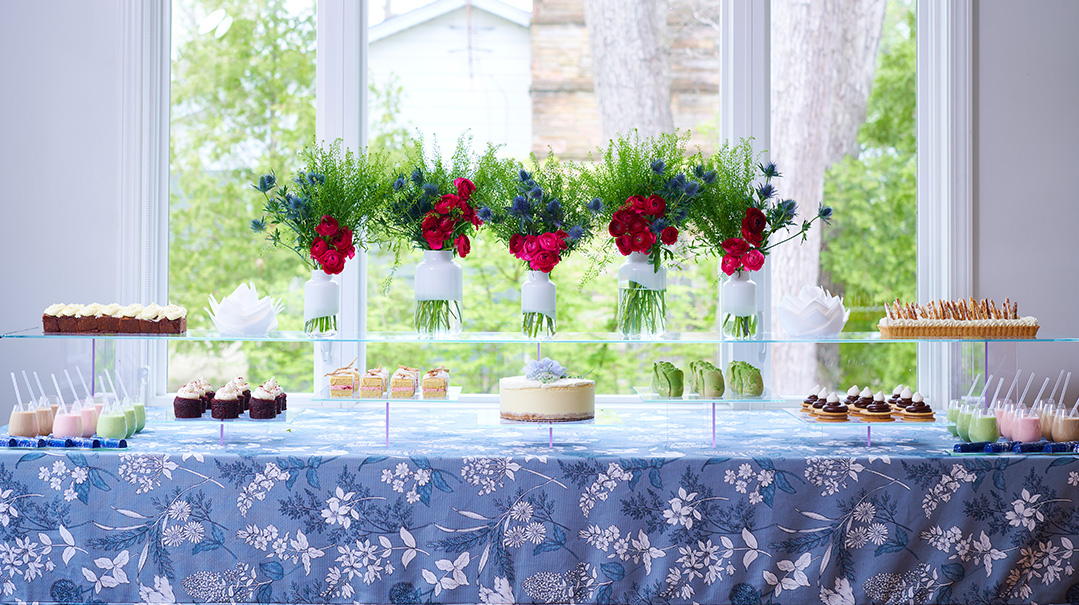 Text and Styling by Esther Ottensoser
Photography by Hudi Greenberger
I always think of Shavuos as the perfect opportunity to have fun, be creative, and get a chance to patchkeh! There's no succah to build or chometz to get rid of — just the heady aromas of babkas, cheesecakes, and flowers.
While it's not actually my minhag to make a full-blown kiddush Shavuos morning, it's always interesting to learn about different minhagim and the ways other people prepare for Yom Tov.
Whether you decide to go all out, incorporate some ideas, or just pick up a tip or two from this kiddush décor, I hope you truly enjoy the preparation and have a beautiful Yom Tov!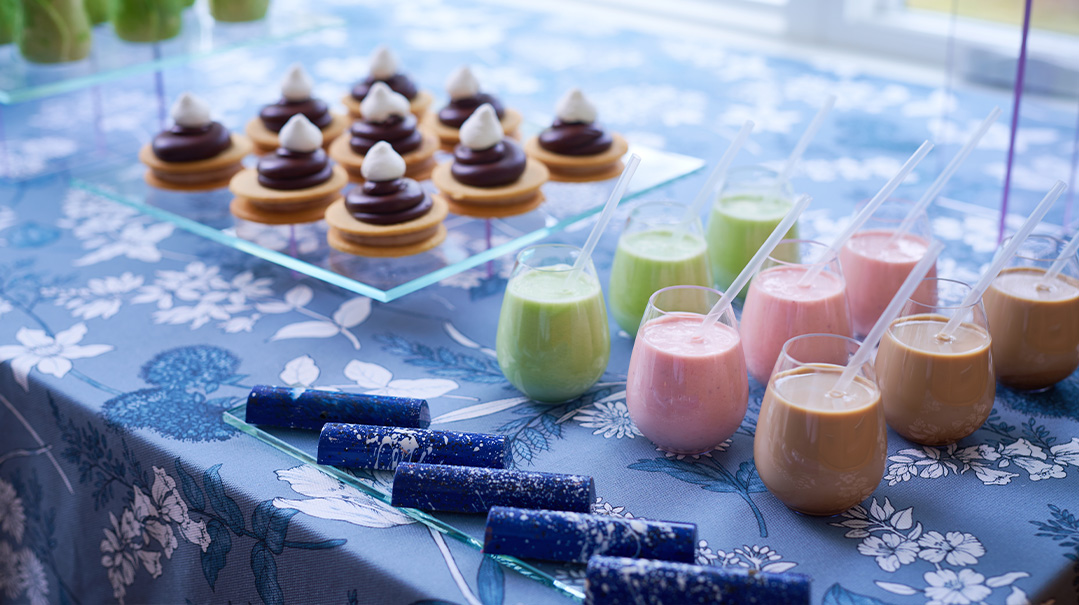 Classy Glass
Setting up a buffet with varying heights creates visual interest, extra space, and keeps the table looking neat and organized.
I was so happy to hear about Caysee's new glass shelf products. They really bring your table to the next level — yes, pun intended. They are so easy to assemble and use. Glass sheets can be cut to any size. The risers can be stored flat and they snap right into each other.
This system is especially great for party planners, caterers, etc. You can either buy the glass or contact the company to learn about its rental service. (The glass featured here is a large sheet of 12x96 inches/30x243 cm and 12-inch/30-cm squares.)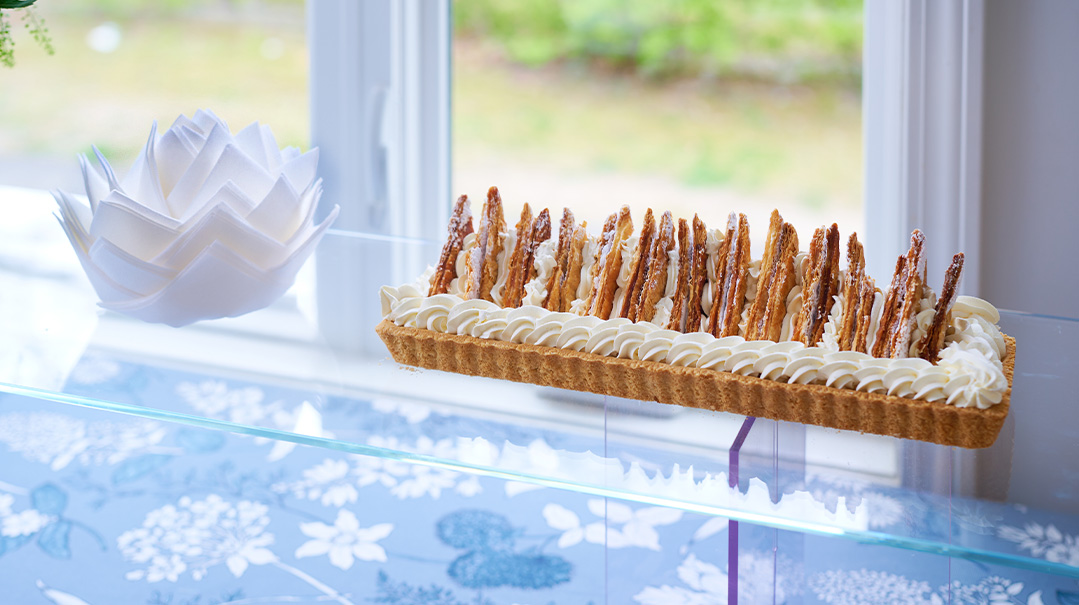 Bright and Fresh
Featured here is the blue floral cheesecake, dairy strawberry shortcake bars, dairy light cookie stacks, red velvet muffins, and dairy napoleon tart from Kayx. Yes — they taste as delicious and mouthwatering as they look!
The cheese tulips, dairy mini chocolate logs, and cinnamon bun cake are from The Nuttery. I know they look too pretty to eat!
The refreshing iced coffee and kiwi and strawberry drinks from Taste It are the perfect drinks to complement the delicious pastries.
Thank you, Tali of Global Flowers, for the stunning flowers. The vivid blue and fresh green in the bouquets were highlighted beautifully with a pop of color from the roses.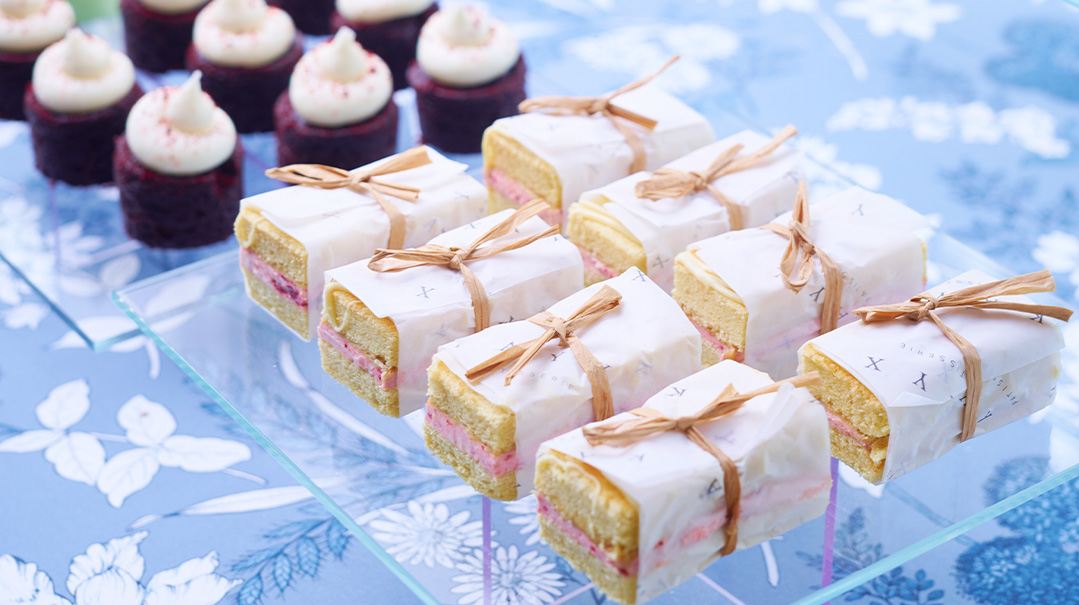 Table and Cloth
I chose this gorgeous floral fabric from Stitch N' Sew Centre. Their in-house workroom conveniently sewed it into a tablecloth.
The folding table is 3x8 feet/ 0.9x2.4 meters (a little wider than a standard folding table) from B & B Tent and Party Rentals.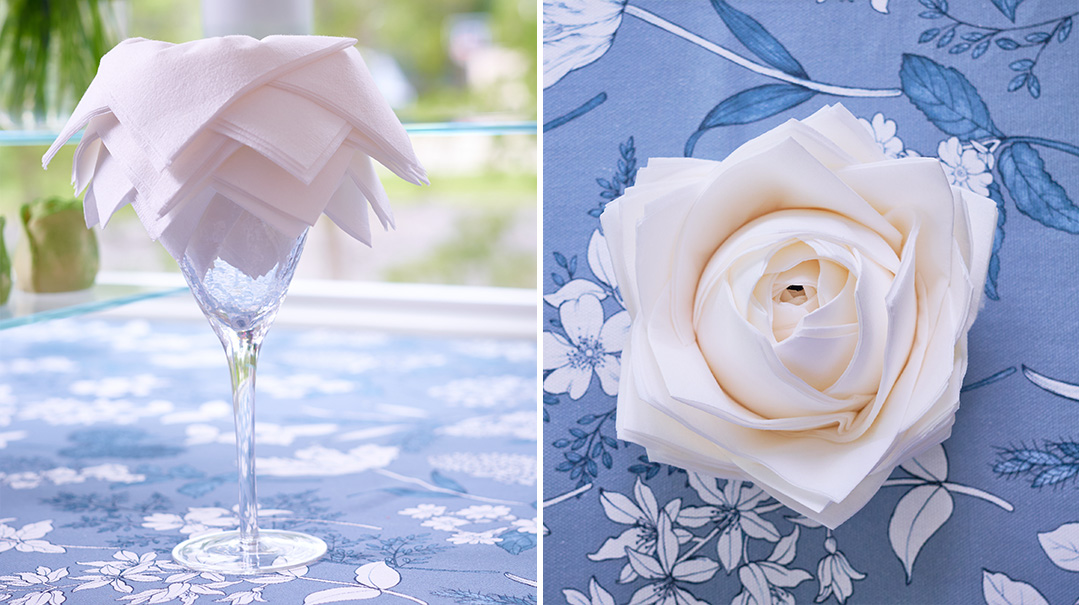 Napkin Rose
Here's an updated way to display napkins on your Shavuos table or at your next party (unless you still prefer the fist-turning method!).
You will need:
beverage napkins (the cloth-like napkins were the easiest to work with as they're soft and thick)
stemware
Fold each napkin in half to form a triangle.
Place one napkin over the rim of your stemware. You'll want the fold of the napkin to be touching the rim.
Overlap another napkin over the first one and keep doing this around the rim of the glass. You can use anywhere from 12–24 napkins depending on how full you want the rose to look.
When done, turn the glass over and remove the rose. To remove a napkin from the rose, simply pull out one of the petals.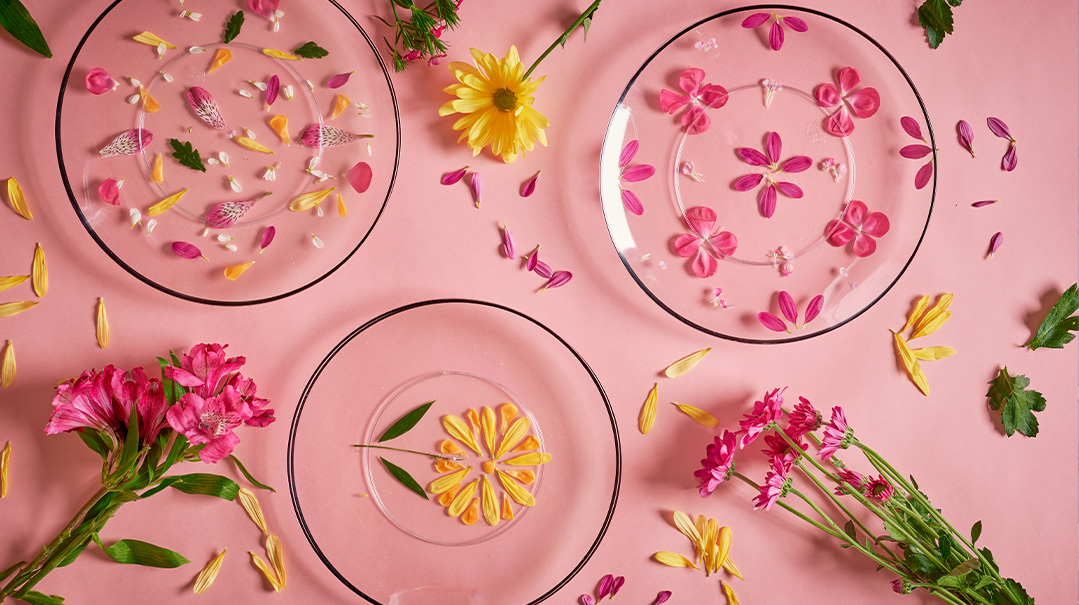 Pressed Flower Plates
In honor of Shavuos, turn your plates or chargers into gorgeous floral artwork. Make all the plates matching or keep each one unique; you can have them coordinate with your flower arrangements.
Pressing flowers is an ancient form of art, preserving nature's beauty. You can use this method to make various crafts, cards, and gorgeous wall décor as well; it's a fun and exciting project for all ages.
You will need:
flower petals and leaves (flatter petals work best)
2 clear plastic plates/chargers or thin glass plates
On the first plate, arrange the petals and leaves to form a design.
Place a second plate on top.
Note: If you'll want to reuse the plates, you can either serve on a third plate on top, or carefully remove the top plate and replace with a fresh plate. If you're using plastic chargers, you won't need to do this.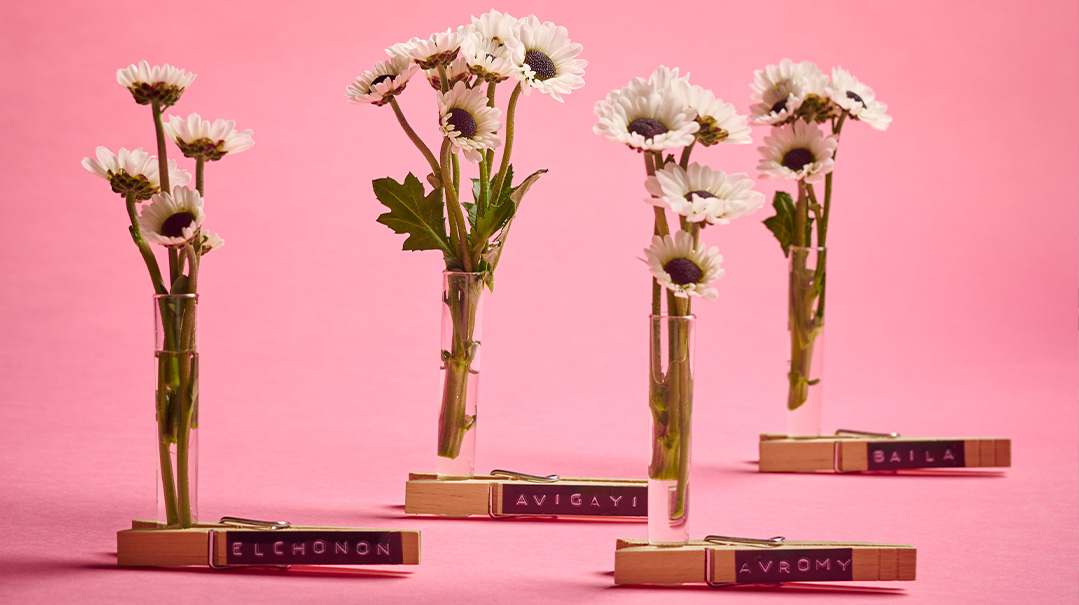 Seating Cards
Clothespins are no longer just for hanging laundry! They're so versatile; you can use them for anything from rustic décor to party favors, crafts, and more. They're available in so many colors and sizes.
These adorable seating cards are inexpensive, easy, and fun to put together.
You will need:
clothespins
labels (I used an embossing label maker)
plastic tubes (I used 3x0.51-inch/78x13-mm bead storage tubes from Amazon)
flowers
Apply label to the clothespin.
Place flowers in tube and place in clothespin.
Credits
Glass risers courtesy of Caysee.co, sales@caysee.co, 845-324-0987.
Blue floral cheesecake, dairy strawberry shortcake bars, dairy light cookie stacks, red velvet muffins, and dairy napoleon tart courtesy of Kayx, info@kayx.com, 845-352-1222.
Flowers courtesy of Tali's Global Flowers, located in Howell, NJ (6520 US Highway 9), Monsey (249 Route 59, Airmont, NY), and Lakewood (1797 Ave of the States), 732-366-9288.
Cheese tulips, dairy mini chocolate logs, and cinnamon bun cake courtesy of The Nuttery, thenutteryny.com.
Tablecloth courtesy of Stitch N' Sew Fabric Centre, info@stitchnsew.com, 732-363-2220.
Strawberry, kiwi, and iced coffee drinks courtesy of Taste It, tasteitnj@gmail.com, 419-827-8348.
Table courtesy of B & B Tent and Party Rentals, 732-886-5510.
(Originally featured in Family Table, Issue 795)
Oops! We could not locate your form.
>