| PlateArt |
Flourish with Flowers | May 24, 2022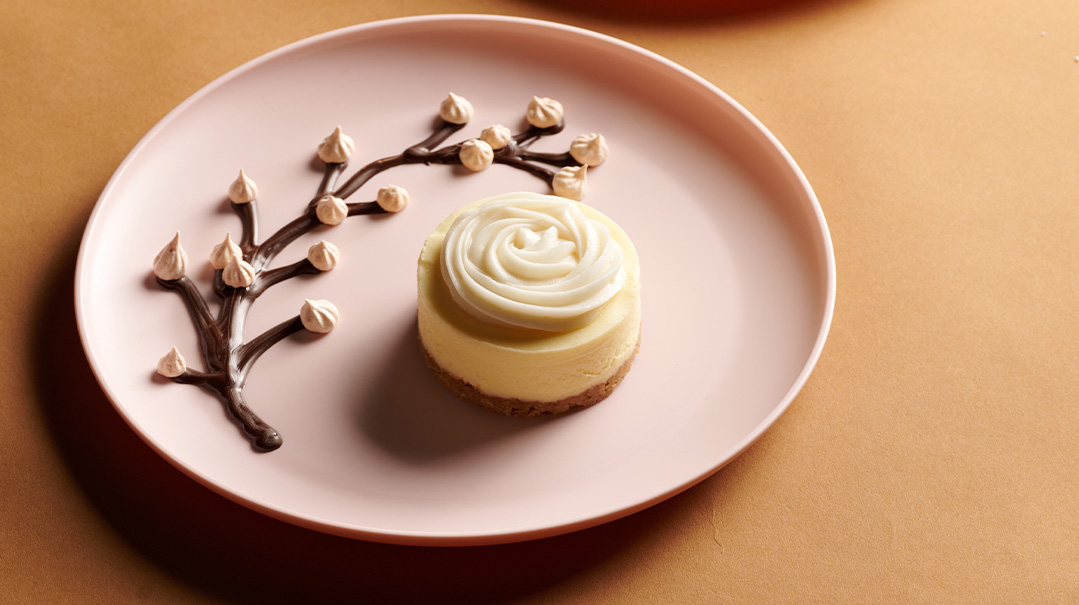 Text and Styling by Esther Ottensoser
Photography by Hudi Greenberger
Your creativity will be in full bloom with these edible flower ideas that are almost too pretty to eat!
Cherry Blossoms
Cherry blossoms + cheesecake = a win-win situation!
Use this beautiful design to decorate your dessert plates or the top of your cheesecake. Thank you, Ottimo, for this trademark cheesecake!
You will need:
melted brown chocolate
plate or parchment paper
mini pink meringues (I made these with a Wilton 21 star tip) or pink fondant flowers
Place melted chocolate into a freezer ziplock bag, or melt chocolate directly in a bag.
Cut a tiny hole and, directly onto the plate or parchment paper, draw a branch.
For the parchment paper method, make sure to make the branch thick enough so it can be transferred without breaking. Allow to dry before moving.
If you're drawing directly onto a plate, you may pile plates on top of each other to store, as long as they're not too heavy. Place parchment paper or Saran Wrap between each plate.
Decorate branch with the blossoms.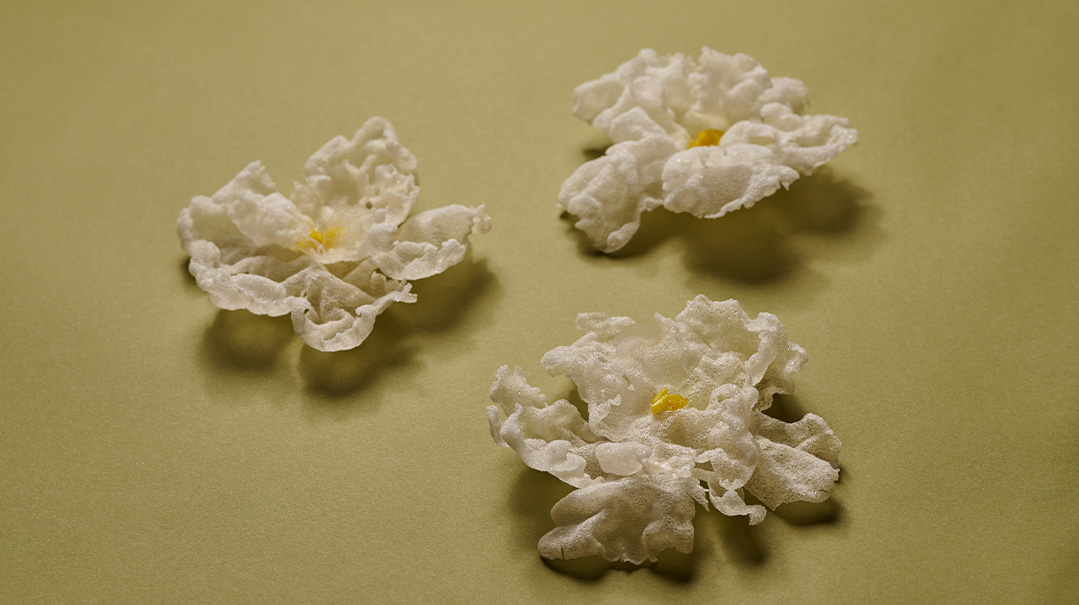 Blooming Rice-Paper Flower
More than the beauty of these flowers is the excitement of watching the transformation of a hard piece of rice paper blossom into a gorgeous flower. A must-try! Use these flowers to garnish a bowl of soup, deli platter, salad plate, etc. You can make your own meat board or purchase a ready-made one.
Thank you, Next Level Taste, for the meat board arranged so beautifully on a Waterdale lazy Susan.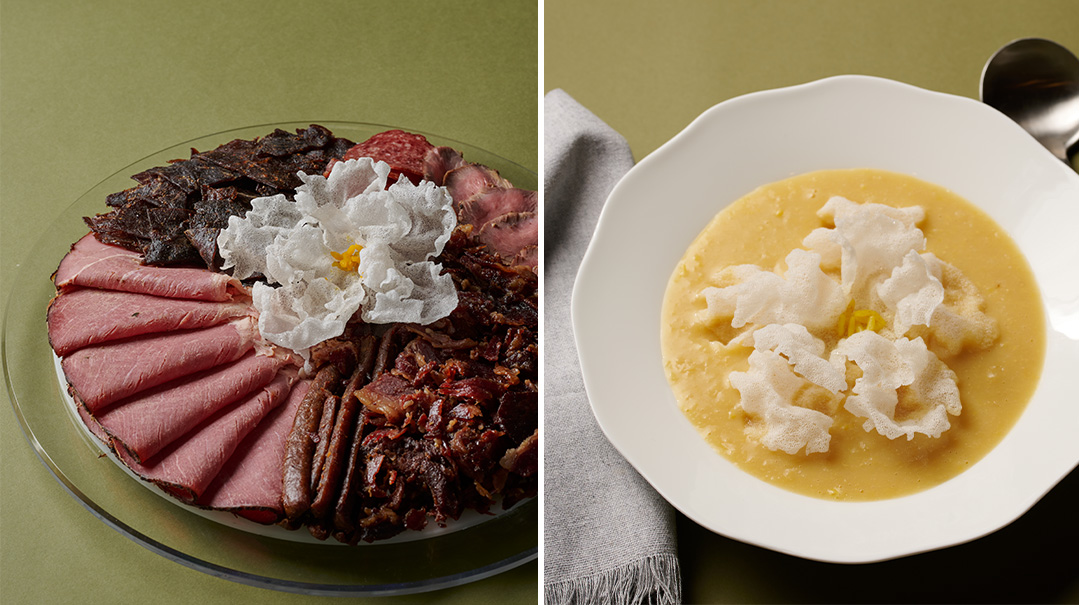 You will need:
Natural Earth Rice Paper
oil, for deep-frying (peanut oil is recommended due to its high smoke point)
sticky yellow rice
For each flower, cut a 3- and 4-inch (71⁄2– and 10-cm) circle out of rice paper. The paper is brittle so work slowly; it's okay if it's a little jagged and not so perfect.
Carefully make each paper into a 5- or 6-petal flower by cutting small triangle-like pieces from the circles' edges. Alternatively, you can also just make slits around the edges.
In a pot, heat approximately 3–4 inches (71⁄2–10 cm) of oil.
While the oil is heating up, stick the two flowers together with a bit of rice, with the smaller one on top. Add a little more rice to the center of the small flower.
Use a small piece of the rice paper to test if the oil is hot enough — it should puff up. Carefully lower the flower into the oil using a slotted spoon. The flower will immediately puff up. Carefully remove from the pot and place on a cooling rack.
Note: Flowers can be made a few days in advance.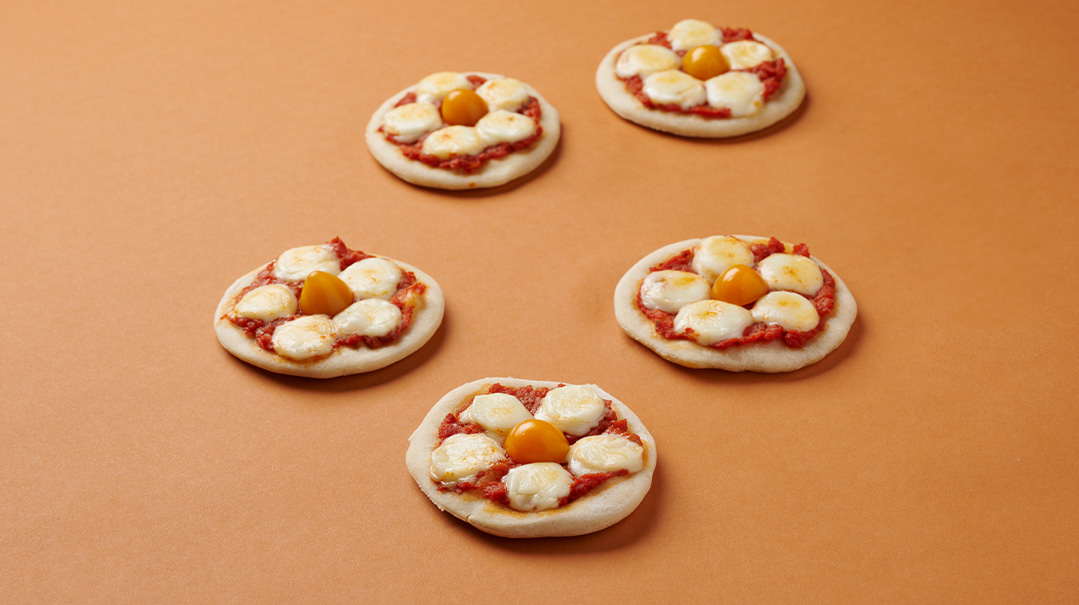 Flower Cutie Pies
Here's a simple, no-fail flower creation for the cutie pies in your kitchen, who will equally enjoy making them and eating them!
You will need:
mini pizza-dough rounds
pizza sauce
string cheese, sliced
cherry tomatoes, halved widthwise
Smear pizza sauce on dough rounds.
Place cheese petals on the sauce in a flower shape.
Bake according to package directions. Place halved cherry tomatoes in the center of each pizza round.
Credits
Ottimo, Ottimocafe.com,732-367-0009
Next Level Taste, Nltaste.com, 848-240-8266
Waterdale, Waterdalecollection.com
(Originally featured in Family Table, Issue 794)
Oops! We could not locate your form.
>