| Recipes |
Flounder Fillets with Herb-Lime Vegan Butter Sauce
| September 26, 2023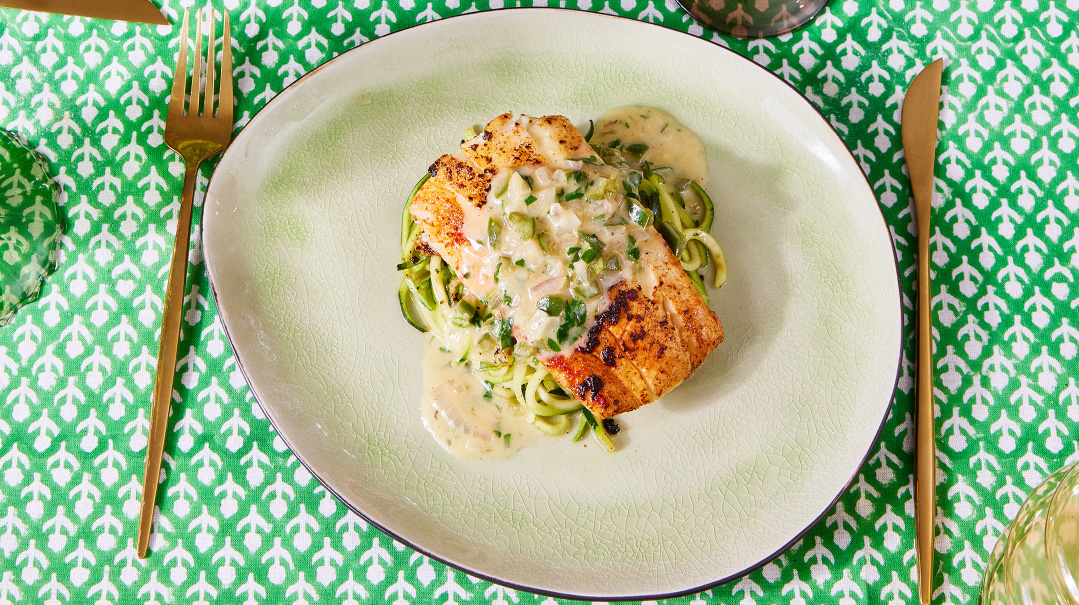 Food and Prop Styling by Shiri Feldman
Food Prep by Chef Suzie Gornish
Photography by Felicia Perretti
With thanks to Elegant Linen for the beautiful tablecloth used in these photos.
If it's your family's minhag to eat a fish course at each Yom Tov or Shabbos meal, by the time Succos comes around, you've probably exhausted all your tried-and-true recipes and are searching for something new to wow your family. This recipe is easy and light, with a burst of citrus flavor. Serve it on a bed of veggies to make a gourmet appetizer.
SERVES 8
4 flounder fillets, cut in half (total of 1½ lb/680 g)
½ cup lemon juice
¼ cup olive oil, plus more for greasing
2 tsp chili-lime spice
Sauce
½ cup (1 stick) vegan butter or Mehadrin Margarine
2 shallots, very finely diced
1 jalapeño, very finely diced
6 cubes frozen garlic
10 cubes frozen cilantro or parsley
⅓ cup white cooking wine (I use Tuscanini)
1 cup chicken broth
¼ cup coconut cream
juice from 1 lime
½ tsp pepper
7 fancy zucchini, julienned, or
2 bunches asparagus
1 lime, sliced, for garnish
fresh herbs, for garnish
Fill a large bowl or a 9x13-inch (23x33-cm) baking pan with cold water. Add lemon juice, then put the fish in the water and allow it to sit for 15 minutes.
Meanwhile, preheat oven to 350°F (175°C). Line a baking sheet with Palisades Parchment Paper; brush with olive oil.
Remove fish, dab dry, and place on the baking sheet. Brush each fillet with olive oil and sprinkle 1⁄4 tsp chili-lime spice per fillet.
Bake for 15–20 minutes.
Prepare the sauce: In a saucepan, melt vegan butter; add shallots and sauté until they start turning golden. Add jalapeño and sauté for 2 minutes, stirring constantly. Add garlic and sauté another 2 minutes, then add remaining ingredients except zucchini/asparagus. Once the sauce comes to a boil, reduce heat and simmer for approximately 10–15 minutes, or until it thickens a bit.
Remove sauce from the pan. In the same pan (without washing), place julienned zucchini or asparagus and sauté for 3–5 minutes. Add 1 Tbsp of the sauce to the vegetables, mix, and remove from the pan (you want the vegetables to stay a bit crisp).
To serve, place a mound of vegetables in the middle of the plate, drizzle with 1 tsp sauce, and top with a piece of flounder. Drizzle 1–2 Tbsp sauce onto the fish, then garnish with a slice of lime and some fresh herbs.
(Originally featured in Family Table, Issue 862)
Oops! We could not locate your form.
>