| Recipes |
Feast on Fresh
| July 8, 2020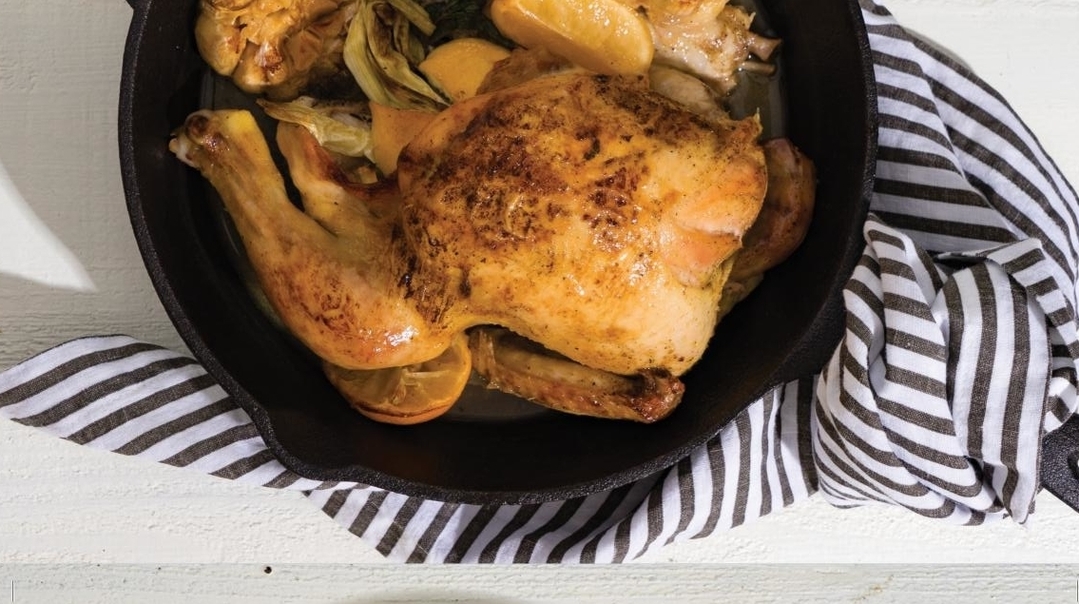 Styling by Renee Muller
Photography by Chavi Feldman
Hi! My name is Bassie Parnes, and I'm a stay-at-home mom with one-year-old twins to keep me occupied. I must admit, I'm not your traditional home cook. I like to explore different cuisines and techniques on a daily basis. Whether it's Korean marinades, Japanese ramen, or fresh Italian pasta, it's always something new.
I love being able to whip up a quick and delicious dinner, but I also think it's worthwhile to experiment with intricate flavors and techniques. The following recipes are some of my favorites. They're versatile and have enormous depth of flavor in each bite, and they're perfect for a summertime meal. Enjoy!
Bassie
I love using a cast-iron skillet for this recipe because it helps crisp the bottom of the chicken and absorbs some of the flavor for my next use. If you don't have one (though I highly suggest investing in one), a roasting pan will do just fine. I like serving this chicken over wild rice and pouring some of the sauce over it for a delicious and comforting dinner.
SERVES 4
1 21⁄2–3-lb (11⁄4–11⁄2-kg) whole chicken
salt and pepper, to taste
2 Tbsp vegan butter
11⁄2 cups white wine
5 Tbsp extra-virgin olive oil
1 bunch fresh parsley, ramps, or green garlic
2 heads garlic, cut crosswise
2 lemons, one cut in wedges and one cut in half
1 bunch fresh thyme
1 cup wild rice, cooked according to pkg instructions
Preheat oven to 420ºF (215°C). Place the chicken in the cast iron or roasting pan and pat it dry. Liberally salt the whole chicken, including inside the cavity, and keep in the fridge until ready to use.
Meanwhile, in a small saucepan, melt the vegan butter over a medium-high flame. Add the olive oil and the white wine. Bring to a boil and remove from heat. Remove the chicken from the fridge and sprinkle all over with pepper.
Stuff the cavity with the parsley, ramps, or green garlic and add as much garlic and lemon as you can. Place the rest of the garlic and lemons around the chicken, along with the thyme. Pour the sauce over the whole thing. Bake uncovered for an hour, or until the juice runs clear when pierced with a fork or knife. Serve with wild rice.
Salting in advance is a foolproof way to get unbelievably juicy chicken, no matter how long it cooks. Called a dry brine, this is a great alternative to a wet one because water prevents chicken skin from crisping. Pat the chicken dry and salt it liberally all over, especially inside the cavity. Do this in the morning and leave it in the fridge uncovered until you're ready to cook it for dinner. I guarantee excellent results.
(Originally featured in Family Table, Issue 700)
Oops! We could not locate your form.
>