| Recipes |
Easy Tomato Soup with Grilled Cheese
| January 13, 2021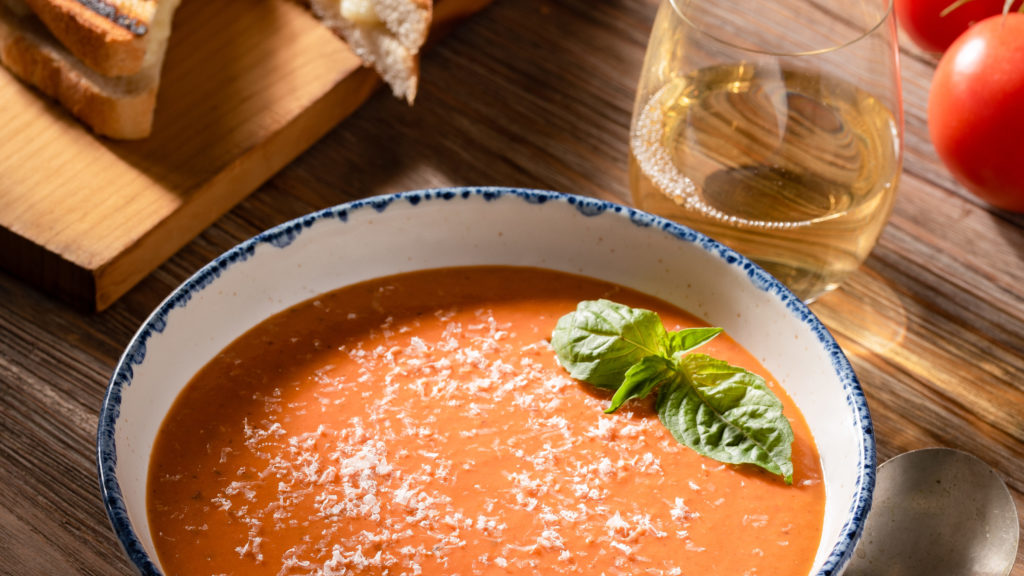 Easy Tomato Soup with Grilled Cheese
I love this recipe because it doesn't really require measurements. You can adjust it based on your personal preferences. I don't like a lot of onion, but I love the tomatoes so I add a bit more. You can also adjust seasoning when you blend it. If you like a thinner soup, add more broth, and if you like it creamier, add more cream.
Serves 3
olive oil, for drizzling
½ yellow onion, thickly sliced
1 head garlic, cut crosswise
20 oz (570 g) cherry tomatoes (2–3 packs)
a few sprigs fresh thyme
1 fresno chili, cut in half (optional)
salt and pepper, to taste
2 sprigs fresh basil
¼ cup chicken broth or vegetable broth
¼ cup coconut milk or heavy cream
freshly grated Parmesan (optional)
Grilled Cheese Sandwiches
6 slices rye bread
3 slices low-moisture mozzarella cheese
3 slices low-moisture gouda cheese
mayonnaise, for spreading
Preheat oven to 460°F (240°C). Line a baking sheet with parchment paper, making sure it comes up the sides a bit. Drizzle the pan with some olive oil and add the onion, garlic, tomatoes, a few sprigs thyme, and chili (if using). Sprinkle with salt and pepper. Drizzle some more oil on top. Place the pan in the oven and roast for 25 minutes or until everything is cooked through and a bit charred on top to give the soup a deep flavor.
Squeeze out the garlic into a food processor or blender and add all other ingredients, including the basil, broth, and cream. Blend until smooth and heat in a small pot. Serve with some fresh grated Parmesan on top, if desired.
To assemble the sandwiches: Place one slice of each type of cheese inside the bread (or more if you dare) and spread some mayonnaise on the outside. (This will create a golden brown exterior and adds delicious flavor to the bread.)
Heat a pan over medium heat and spray with cooking spray. Sear the sandwich on both sides until golden brown. If the cheese isn't quite melted yet, pour a small amount of water into the pan and cover it quickly with a pot lid to create steam.
Cut the sandwiches on the diagonal and serve hot with the soup.
Tip: You can make this soup pareve, depending on what kind of cream you use and whether or not you include the cheese. I find the pareve version to be a good option for a fleishig Yom Tov meal or just a regular dinner starter.
(Originally featured in Family Table, Issue 724)
Oops! We could not locate your form.
>