| Recipes |
Delectable Wiener Schnitzel
| November 29, 2022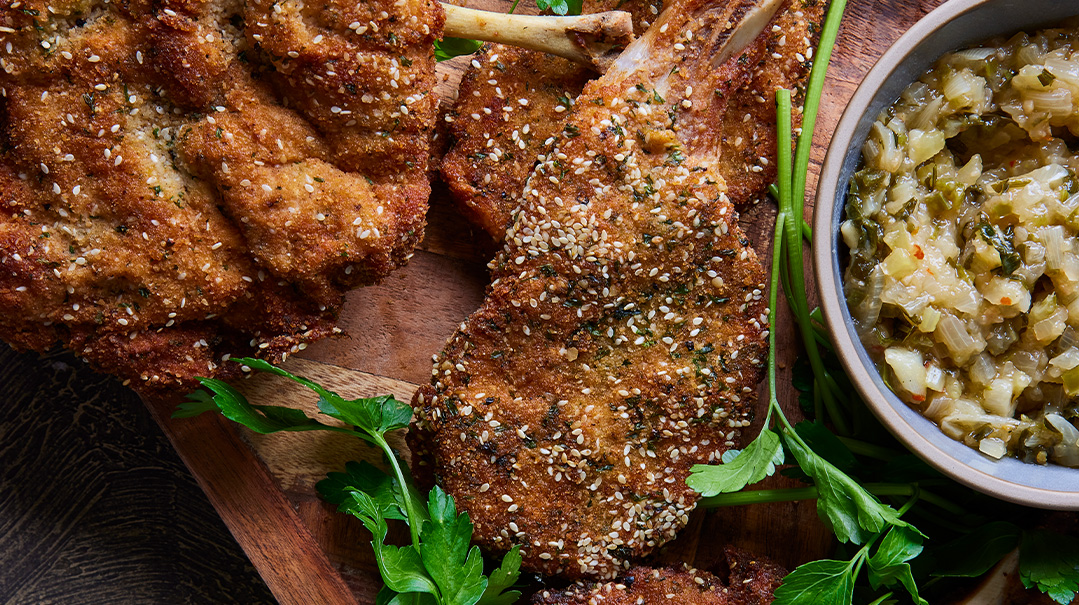 Food and prop styling by Goldie Stern
Photography by Felicia Perretti
In my home, every Yom Tov comes along with some family-favorite special dish. Of course, for Chanukah it's something fried. On one of the nights of Chanukah, I prepare a very elegant meal just for my immediate family. They all know what the main dish will be and wait for these fried veal cutlets, aka Wiener schnitzel, with cooked chimichurri sauce.
SERVES 6
6 veal chops
1 cup flour
2 tsp garlic powder
½ tsp salt
6 eggs, lightly beaten
1 tsp Lawry salt (or any seasoned salt)
2 cups plain bread crumbs
1 cup matzah meal
¼ cup sesame seeds
1 tsp cracked black pepper
1 tsp chili powder
½ cup parsley flakes
canola oil, for frying
Cooked Chimichurri Sauce
3 Tbsp olive oil
2 medium onions, finely diced
5 stalks celery, finely diced
3 jalapeños, finely diced
2 cloves garlic, minced
2 Tbsp onion soup mix
2 cups water
½ tsp salt
½ tsp crushed red pepper flakes
splash of lime juice
½ cup chopped fresh parsley
2 Tbsp cornstarch, dissolved in 3 Tbsp cold water
Prepare your dipping station: In one bowl, mix the flour with garlic powder and salt. In a second bowl, beat the eggs with Lawry salt. In the third bowl, combine the bread crumbs, matzah meal, sesame seeds, black pepper, chili powder, and parsley flakes.
Pat each cutlet dry with a paper towel. Dip into the flour mixture, then into the egg mixture, then into the crumbs, then back into the egg mixture and then into the crumbs again. Try not to get any breading onto the bottom of the bone so it will look nicer when serving.
Heat canola oil in a large frying pan. There should be at least 11⁄2 inches (3.8 cm) of oil in the pan. Make sure your oil is nice and hot before you start frying. Working with 1–2 cutlets at a time, fry each cutlet for 2 minutes per side. Don't overcrowd your pan so they'll fry evenly.
Preheat oven to 200°F (90°C).
For best results, place all the fried cutlets onto a footed baking grate that fits into a sheet pan. The rack allows the excess oil to drip off, making the cutlets crispier. If you don't have a baking grate, just place the cutlets directly on the sheet pan.
Bake the cutlets for half an hour, uncovered. Serve immediately.
To make the sauce: Sauté the onions in olive oil until transparent. Add the celery and jalapeños. Sauté for another 2 minutes. Add the garlic and sauté another 2 minutes. Add the onion soup mix and mix until combined. Add the water and let the sauce cook over medium heat until it comes to a boil. Add the salt, red pepper flakes, lime juice, and parsley leaves.
Make the cornstarch slurry and add it to the sauce. Continue to cook until the sauce thickens.
To serve, pour the sauce over each cutlet.
Note: This recipe works very well with chicken steak and rib steaks. The cook time and method are exactly the same, but if you like your steak or chicken well done, leave it in the oven for an additional 15 minutes.
Tip: If you're cooking when family is around and they're looking to nibble but you don't want to give them a piece of meat, this is a perfect taster: Combine the extra crumb mixture with the extra egg mixture. Add some seltzer to form a thick batter, similar to matzah ball batter. When you're done frying the cutlets, drop this mixture by the tablespoon into the hot oil. Fry on both sides until golden brown. Dip these balls into the chimichurri sauce and your family members will get a small taste of what's to come!
(Originally featured in Family Table, Issue 820)
Oops! We could not locate your form.
>