| Close Call |
Close Call: Chapter 15 | July 31, 2019
The more time passed, the more clarity I gained about what the problem had been with this friendship in the first place. And in one word, the answer was, "extreme"
I
barely spoke to Ahuva after my wedding. It wasn't a conscious decision; I was simply caught up in my own life, being newly married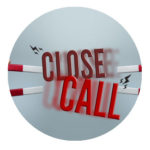 and busy with various work projects. I didn't have time to engage in endless conversation.
It's not like I'd forgotten about her. Ahuva was on my mind, and I was consumed by feelings of guilt, that I'd dropped her, rudely cut her out of my life. To assuage this guilt, I made an effort to keep in touch with her, calling her from time to time to catch up.
But even those phone calls weren't the same. I couldn't help feeling like our conversations were forced, almost obligatory. I didn't feel a need to talk to her.
Ahuva wasn't dumb and she called my bluff. "I'm not interested in games. Do you want to keep up this friendship or is it over?"
"Ahuva! What are you saying?"

But my reaction was staged. I didn't feel anywhere as horrified as I pretended to be. And that made me feel a thousand times more guilty. At that point, any thought of Ahuva was accompanied by waves of self-blame. How could I allow this friendship that had been so dear to me to simply fall apart? Where did I go wrong?
Still, guilt didn't change the situation. I was leading a busy life, and no matter how awful I felt about it, Ahuva and I were slowly drifting apart.
Deep down, I knew that being busy wasn't a reason to end a friendship. I wasn't too busy for Miriam or for my many other friends. I kept up with them and enjoyed spending time with them. So, what was it about my friendship with Ahuva that I felt myself just watching impassively as it dissolved before my eyes? We went from speaking all day, every day, to occasionally catching up, until eventually, even the occasional calls stopped. It was as though an era had ended. Not with a war, but with a gradual fading, like the noon sun dipping lower and lower until the day was gone and a peaceful night took over.
It took a while for me to realize this was happening. When the fact registered, that Ahuva and I had essentially become strangers, I pondered what had happened, how something as strong as our friendship had simply expired.
I couldn't say it was never a real friendship and therefore couldn't last. Because it was a real friendship. We cared about each other; we enjoyed each other's company.
The answer was something else, and slowly, I was able to dig deeply to discover what it was. The more time passed, the more clarity I gained about what the problem had been with this friendship in the first place. And in one word, the answer was, "extreme."
(Excerpted from Mishpacha Jr., Issue 771)
Oops! We could not locate your form.
>