| Turning Tides |
Class Action | April 18, 2018
As told to Leah Gebber by Elana Ginz
I almost fainted at this blatant anti-Semitism. I quickly ran through appropriate responses in my head, and rejected them all. It would be a waste of breath to even respond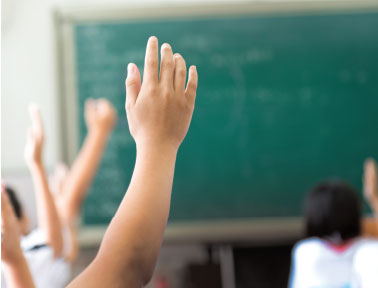 I
t was Friday afternoon. I was packing up my books and papers, handing out final assignments to my students, and calculating how long it would take me to get home to put up the chicken soup before Shabbos.
A student approached my desk. Mohammed was a tall boy, originally from Saudi Arabia, and making excellent progress in learning English. He slipped me a book and recommended I read it over the weekend. I glimpsed at the title: Introduction to Islam 101. Glancing at Mohammed, I saw that his expression was serious, and that he had a definite agenda. He wants to convert me!
I taught in a multicultural school in downtown Toronto. If I didn't say the politically correct statement, I could get into serious trouble — even get fired. I did the only thing I could think of: I sprinted to the principal's office and blurted out, "Mr. Buhler, please handle this."
"I trust you can handle this yourself," the principal calmly replied. "You must simply tell your student that the Toronto District School Board is nonsectarian, and one isn't allowed to proselytize on school premises."
I spent an uneasy Shabbos with my unwanted acquisition, and on Monday morning, I found Mohammed and gently explained that it was very kind of him to lend me the book. However, distributing the book was against school regulations. He didn't know much English, but he got the message. At least no more books about Islam were passed in my direction.
I spent 19 years as a guidance counselor and English teacher for immigrants to Canada, mostly from Southeast Asia, but also from South America, Eastern Europe, and many Muslim countries. It would have been easier and more comfortable to teach in a Jewish school, but there were no vacancies at the time. When I was offered a job in the public school system, I took on the challenge.
While I was there, I learned so much about what it means to be an ambassador for the Jewish People. After all, I was probably the first Orthodox Jew these people had ever encountered. I learned to measure every word, to keep tight rein on how I acted and interacted — and to have a good laugh along the way. It was fascinating to meet people from so many countries: Brazil and Argentina, Ethiopia and Nigeria, Poland, and Romania… not to mention the influx of Muslim students from Saudi Arabia, Syria, Iraq, Iran, Turkey, and Lebanon.
In short, it was an adventure. At least, most of the time.
(Excerpted from Family First, Issue 588)
>