| Recipes |
Chol Hamoed Crock-Pot Brisket
| April 11, 2022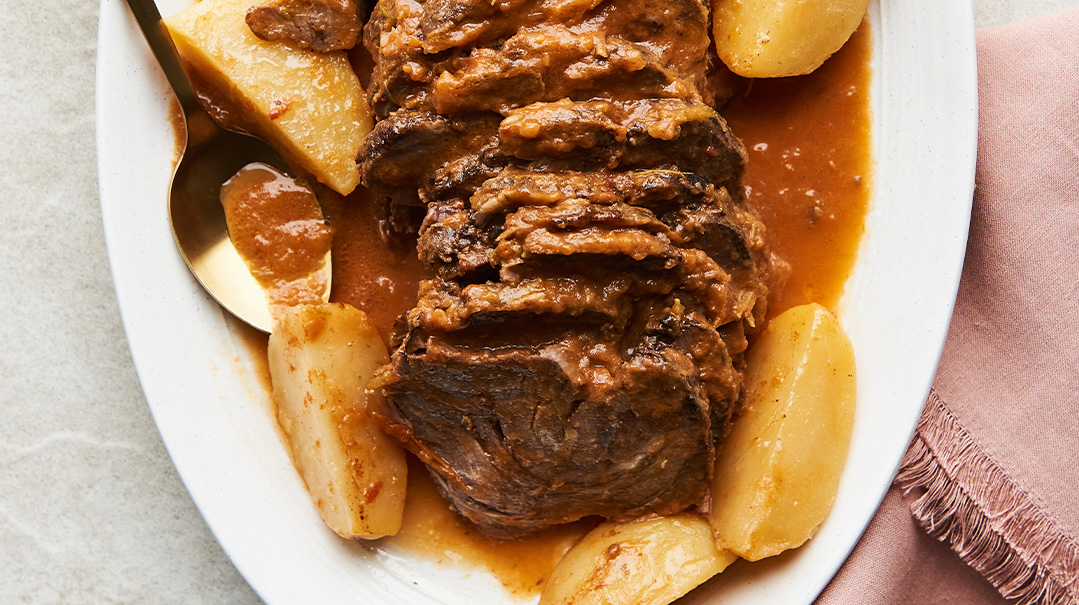 Styling and photography by Sina Mizrahi
Put this up in the morning in your Crock-Pot, go out for your Chol Hamoed trip, and dinner will be ready for you when you come home!
SERVES 8
3 tomatoes, halved
3 stalks celery, chunked
8 Yukon gold potatoes, peeled and quartered
garlic powder, onion powder, paprika, and salt, to taste
1 3–4-lb (1.36–1.8-kg) second-cut brisket
1 cup red wine
1 cup Tuscanini Ketchup
Place all the vegetables in the bottom of a large Crock-Pot and season with spices. Season brisket on all sides with spices and place on top of vegetables.
Mix wine and ketchup in a bowl and pour over meat and vegetables. Set Crock-Pot to high and cook for 6–7 hours.
Remove meat from the Crock-Pot and slice. If it's very soft, you can just pull it apart with two forks.
To serve: Place meat on platter and place potatoes around the meat. If you have a fleishig immersion blender, blend the remaining vegetables in the Crock-Pot to make gravy and pour it over the meat.
(Originally featured in Family Table, Issue 789)
Oops! We could not locate your form.
>