| Recipes |
Cassata Ice Cream Pie | March 8, 2022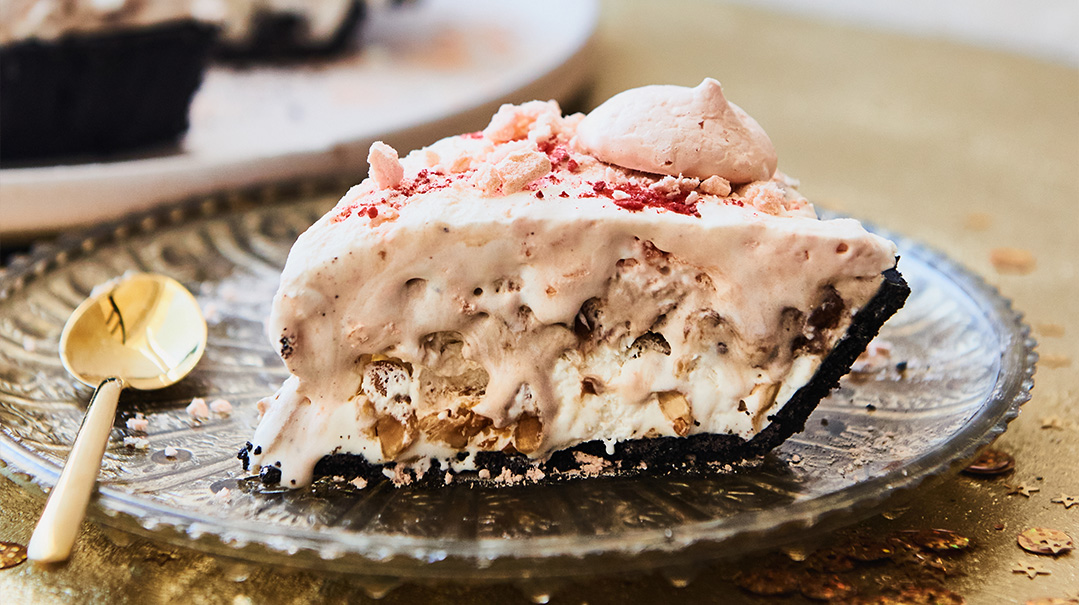 Styling and Photography by Sina Mizrahi
A spectacular dessert that everyone will appreciate.
YIELDS 2 PIES (18–20 PORTIONS)
2 chocolate cookie pie crusts
5 eggs
½ cup confectioners' sugar
2 8-oz (225-g) containers pareve whipping cream
2 Tbsp vanilla sugar
3 Tbsp vanilla pudding mix
¼ cup chocolate cream, nougat cream, or Ferrero Rocher cream (see note)
⅓ cup honey-roasted almond sticks, crushed
1 tsp amaretto liqueur, or to taste
4 large pink meringues (approx. 3 oz/75 g), crushed
chocolate syrup or raspberry sauce, for garnish
Beat eggs for 5 minutes until light and lemony. Add the confectioners' sugar during the last minute and beat until incorporated. Add pareve whipping cream, vanilla sugar, and pudding mix and mix together well.
Divide mixture among 3 separate bowls (each will have approximately 3 cups). To the first bowl add the chocolate cream of your choice, to the second one add the almonds and amaretto, and to the third one add the crushed meringues.
Option 1: Pour half of each mixture separately onto a pie crust, piling one mixture on top of the next. Gently swirl together, as you would a marble cake.
Option 2: Pour an even layer of each flavor onto a pie crust, starting with the almond flavor, followed by the chocolate, and finally the meringue one. Carefully spread each layer over the one before it.
Repeat with the second pie. Freeze both pies until ready to serve. For optimum taste and texture, remove from freezer half an hour before serving. Garnish with sauce of your choice, if desired.
Tip: You can use any color meringues for these pies. I like pink ones because they look festive and add to the fun.
Note: Ferrero Rocher cream is sold in many baking supplies stores in Israel. It sometimes has little lumps in it, which only adds a lot to the texture of the ice cream. If unavailable, chocolate or nougat cream or grated chocolate will be fine too. You can also add another tablespoon of cream if you prefer a richer flavor.
(Originally featured in Family Table, Issue 784)
Oops! We could not locate your form.
>