| Recipes |
Carrot-Cheese Crumble Bars
| June 7, 2022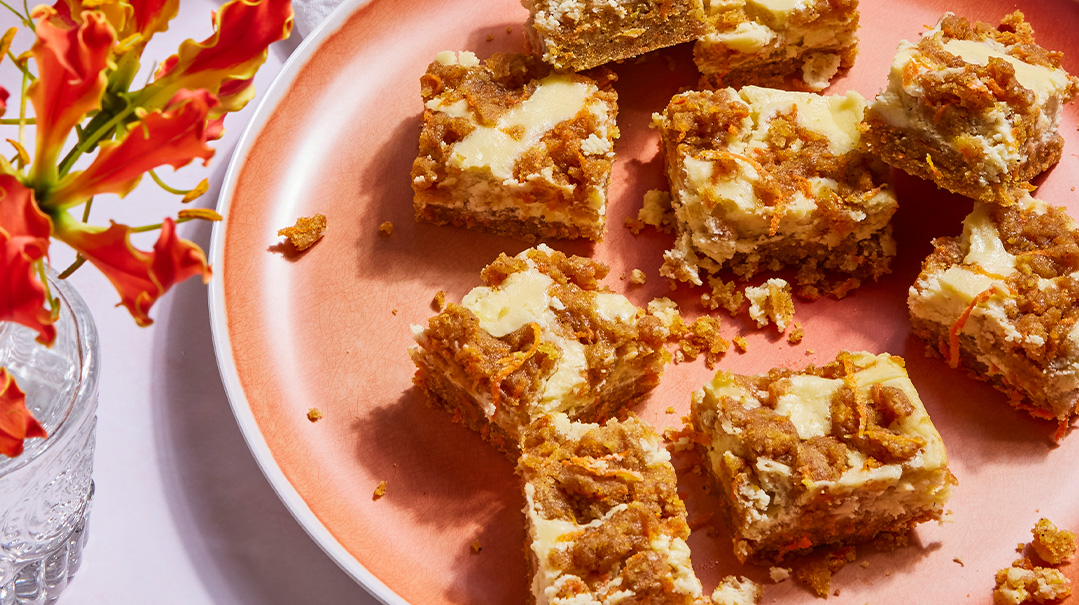 Prop and Food Styling by Goldie Stern
Photography by Felicia Perretti
Come 3:00 Shabbos afternoon and I'm already thinking of my Shalosh Seudos moment with my coffee and cake. This carrot cheesecake does not disappoint. If you're of the camp of people who can't drink coffee past 10:00 a.m. (you amateurs with your healthy response to caffeine), rest assured that these bars can be enjoyed with a glass of milk or hot cup of tea. Decaffeinated, obviously
YIELDS 15 SQUARES
Carrot Cake Base
1½ cups flour
½ cup brown sugar
⅔ cup finely grated carrots
1 tsp cinnamon
¼–½ tsp ginger, to taste
½ tsp salt
¼ tsp nutmeg (optional)
¼ tsp allspice (optional)
1 tsp vanilla extract
½ cup canola oil
1 egg
Cheese Filling
8 oz (225 g) cream cheese
1 Tbsp vanilla sugar
¼ cup sugar
1 tsp lemon juice
1 tsp vanilla extract
1 egg
Preheat oven to 350°F (175°C). Line a 9x7-inch (23x17-cm) baking pan with parchment paper.
Mix all the carrot cake ingredients in a bowl; it should be very crumbly. Press down two-thirds of the mixture into the pan, resembling a crust.
Mix all the ingredients for the cheese filling until smooth. Pour the filling on top of the crust. Crumble the remaining carrot cake mixture on top of the cheese filling.
Bake for 35 minutes. Cut into bars when cooled off substantially. This can be served straight from the fridge.
(Originally featured in Family Table, Issue 796)
Oops! We could not locate your form.
>