| No Food Left Behind |
Carb-Free Soup
| October 21, 2020
Fall is here, and there's a chill in the air. It's the perfect time to cook up a cozy pot of soup. For many people on a no or low sodium diet, this one's a great soup option.
One of the most frequently asked questions I receive is how to "count" or categorize soups within the various food groups on a meal plan. Here's another reason that this fi ts into our "free" column, because it's, well, free. Since it's made from only non-starchy veggies and spices, you can enjoy this soup until you feel full.
Sodium-Free Soup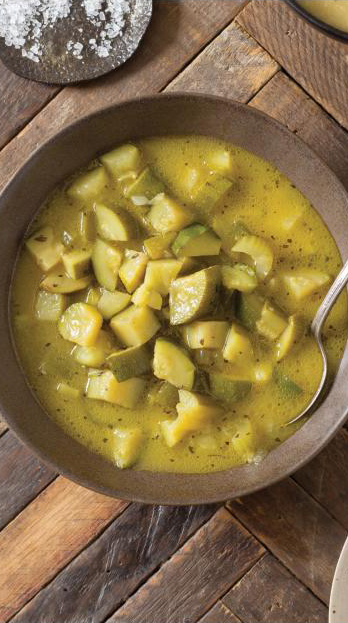 1 Tbsp extra-virgin olive oil
1 large onion, chopped
1⁄4 tsp dried thyme
1⁄4 tsp dried rosemary
1⁄2 tsp dried basil
1⁄4 tsp ground white pepper
sea salt, optional, to taste
8 small zucchinis, halved lengthwise and sliced
6 stalks celery, chopped
1 quart (4 cups) organic low-sodium no-chicken broth or vegetable broth (Trader Joe's brand has less sodium than Imagine brand)
water, as needed
Heat olive oil in a large pot over medium-high heat. Stir in the onion and cook until it's translucent. Add the thyme, rosemary, basil, white pepper, and salt. Stir in the zucchini and celery. Cook until tender, about 5 minutes. Pour in the broth. Bring to a boil, reduce heat, cover, and simmer 15–20 minutes. Remove the soup from heat.
Use an immersion blender, or transfer in batches to a blender, and blend until partly smooth, with some vegetable chunks left (or until your desired consistency is reached). Stir in some water if you'd like a thinner soup.

Beth Warren Nutrition is running fully virtual nutrition appointments during the COVID-19 social distancing restrictions. To schedule a nutrition appointment with Beth in the Brooklyn (Flatbush and Williamsburg), NYC, or Five Towns locations, or book an appearance, email beth@ bethwarrennutrition.com or call 347-292-1725. Most insurances accepted.
(Originally featured in Family Table, Issue 714)

Oops! We could not locate your form.
>