| No Food Left Behind |
Carb-Free "Chips"
| February 1, 2022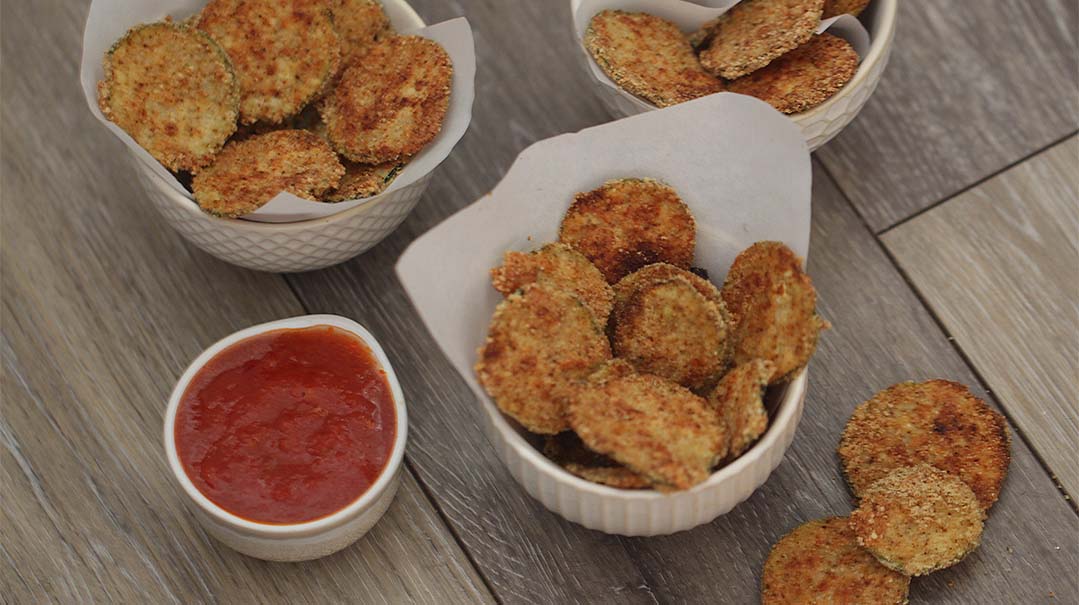 Photography by Beth Warren
Whether you're on a keto, paleo, Whole 30, a plant-based diet, or are allergic to gluten, these veggie-based and gluten-free zucchini chips are for you. A perfect option for a snack, as a side dish with a meal, or as an appetizer when having company, the effort is worth the reward of satisfyingly healthful goodness.
Buffalo Zucchini Chips
SERVES 4–6
1 cup almond flour
¾ cup Parmesan cheese, grated
2 tsp chili powder
¼ tsp cayenne pepper
½ tsp cumin
½ tsp onion powder
½ tsp garlic powder
1 tsp sea salt
¼ tsp black pepper, freshly ground
4 large egg whites, whisked
1 large zucchini, sliced evenly into ¼-inch (½-cm) rounds
Preheat oven to 450°F (230°C). Line two large baking sheets with parchment paper.
In a medium-size mixing bowl, stir together the almond flour, Parmesan cheese, chili powder, cayenne pepper, cumin, onion powder, garlic powder, salt, and pepper, taking care to break up any clumps.
Place whisked egg whites into another bowl.
Designating one hand "dry" and one hand "wet," dip the zucchini slices first in the egg whites, then in the almond flour mixture, pressing down on the mixture to coat and turning the zucchini slice to coat both sides. Place coated zucchini slices on the prepared baking sheet, leaving about 1 inch (2.5 cm) between slices.
Place baking sheets into the preheated oven. Bake for about 7–10 minutes or until the bottoms are golden brown. Flip over and bake for about 3–5 minutes more.
Serve with dressing or with tomato or marinara sauce for dipping, based on your preference.
Beth Warren Nutrition is running fully virtual nutrition appointments during the COVID-19 social distancing restrictions. To schedule a nutrition appointment with Beth in the Brooklyn (Flatbush and Williamsburg), NYC, or Five Towns locations, or book an appearance, email beth@bethwarrennutrition.com or call 347-292-1725. Most insurances accepted.
(Originally featured in Family Table, Issue 779)
Oops! We could not locate your form.
>