| 2.0 |
Can A Drone Be Used To Check An Eiruv?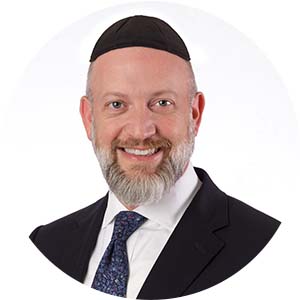 | July 17, 2019
Halacha hones in on the drone
C
hecking a community eiruv is time-consuming, complicated, and frequently dangerous — due to the need to climb tall ladders and occasionally stop traffic, among other situations. Using a small commercial drone, an unmanned aircraft system equipped with a high-resolution camera, the eiruv checker could remotely inspect complicated spaces up close with precision, convenience, and most importantly, with complete safety. But would it be halachically permissible?
FIRST, WHAT IS AN EIRUV? 
Among the creative labors prohibited on Shabbos by the Torah is carrying between a reshus hayachid, an enclosed space, and a reshus harabim, a public, unenclosed area. Additionally, carrying over a distance of four amos (approximately 6 feet or 1.8 m) is forbidden inside a reshus harabim. Carrying within a reshus hayachid is permissible..
An area is defined as a reshus hayachid if it is an enclosed space. It can be closed off with walls, fences, doors, buildings, hills, or canal banks. Two polls with a lintel that passes over them constitute a tzuras hapesach, a doorway. A "wall" can be formed by successive "doorways." Most community eiruvin rely, at least in part, on electric polls with wires passing over them. There are many intricate and complicated laws governing eiruvin, and one should only rely on an eiruv designed and supervised by a qualified expert.
KNOWLEDGE OR WITNESSING? 
Each week we rely on chazakah, the assumption of status quo, when we carry during Shabbos, based on the confidence that the eiruv was kosher when Shabbos began and nothing changed. How are we able to attain this knowledge? Some areas of halachah demand witnesses who watch an event or occurrence. For example, for a couple to be married, witnesses must directly observe the transmission of the ring from the groom to the bride. For a couple to get divorced, witnesses must watch the transfer of the get. The question of whether something observed via a camera is considered "witnessing" is debated among poskim, and due to the lack of consensus, it has not been put into practice.
Other areas of halachah require knowledge, not witnessing. For example, for milk to be kosher, an observant Jew must see the milking to confirm that the milk comes from a kosher animal (Shulchan Aruch Yoreh Dei'ah 115:1). Rav Moshe Feinstein ruled that this requirement is met in America by the government supervision of dairies (Igros Moshe YD 1:47-49). His argument is that to avoid the prohibition of chalav akum, we need knowledge of the origin of the milk. Strict U.S. regulations and enforcement provide us with that knowledge, which is at least as good as seeing the milking ourselves.
STATUS OF A DRONE CAMERA 
Does the status of an eiruv require witnesses or knowledge? In this regard, the eiruv is similar to tzitzis, sefer Torah, tefillin, or mezuzah. To be kosher, they don't need witnesses examining them; a qualified person confirming that the original kosher status remains intact would suffice. If they need to be fi xed or corrected, a qualified person could do so without needing anyone to watch or testify to that effect. Thus the halachic validity of the eiruv requires knowledge, not testimony.
Such confirmation is possible through visuals provided by a high-resolution drone camera. Indeed, one can argue that for eiruvin that include spaces that are difficult or dangerous to access, use of a drone is not only permissible but preferable, as it can provide a closer, more accurate picture. Using a drone can give the checker better, more precise knowledge that the kashrus of the eiruv is met. [1] Rav Zalman Nechemia Goldberg explains that when you bring something to a new place, it is as if you created it anew in that place. Since it has a new purpose in its new makom, it is as if you created it and you have done a creative labor. [2] In addition to boundaries to define the reshus hayachid, an eiruv chatzeiros must be created. It consists of jointly owned food by those who reside inside the eiruv, binding them together as one. [3] How much of the eiruv can be created out of doorways and how much must be constructed of real walls is beyond the scope of this article. [4] To qualify as a doorway, the lintel must pass directly over the posts and cannot be connected on the side. [5] See Rabbi Chaim Jachter's "Use of a Video Teleconference for a Get Procedure," Journal of Halachah and Contemporary Society, Vol. XXVIII.
Rabbi Efrem Goldberg is the senior rabbi of the Boca Raton Synagogue, a rapidly growing shul of over 850 families in Boca Raton, Florida. You can read and listen to more of his divrei Torah at www. rabbiefremgoldberg.org.
(Originally featured in 2.0, Issue 4)
Oops! We could not locate your form.
>