| TableScapes |
Bringing the Outside In
| September 9, 2020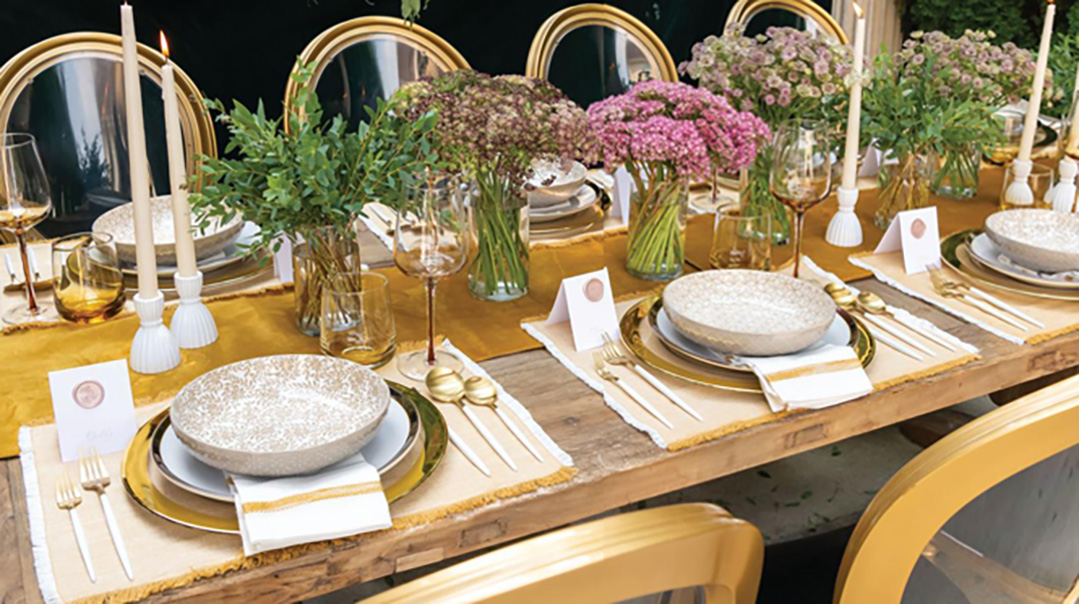 Styling by Shevy Shanik
Photography by Hudi Greenberger
Before I come up with a concept or a color palette for an event or tablescape, I first assess the space. This way, I can embrace the style and elements that are already present rather than fighting them. For this succah, I chose to embrace the elements of the outdoors — bringing the outside in — so I could create a vision that mimics the beauty and colors of nature unique to this time of year.
Embracing the Outdoors
The easiest way to bring the outside in is by decorating with greenery and florals. Instead of using one large flower arrangement, I chose vases in different sizes and shapes, with one type of flower in each. Singlebloom arrangements are always classic and chic, especially when they're comprised of eucalyptus, flowering mint, and wildflowers. I kept the stems long and used a simple, clear vase for a clean, streamlined look.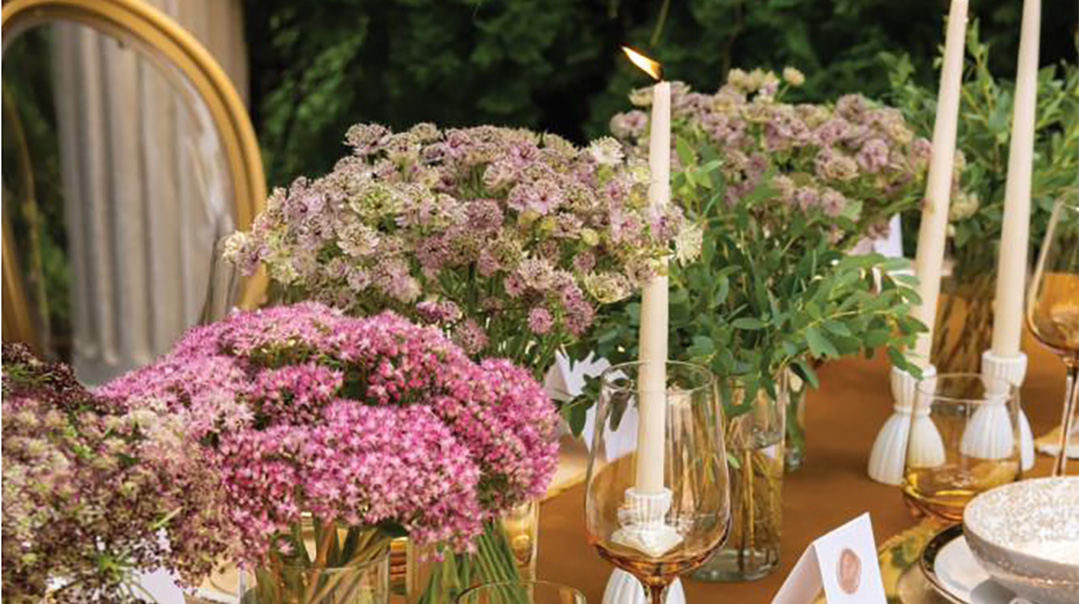 Pattern, Texture, and Color
With its richness and wintery feel, velvet is an ideal fabric to awaken the feelings of the changing weather. What could be prettier than a marigold-toned velvet runner? This set the mood for the table and gave me a beautiful color to work with. Next I paired natural wood with vibrant autumn shades like marigold and green to bring the feeling of the outside in. The gold-backed chairs, gold-trimmed chargers, amber glasses, and golden linens all complement the beautiful fall colors.
Adding Layers
I chose woven placemats and coordinating embroidered napkins to create an organic look. I love the color and feel of these placemats. What a gorgeous way to add visual depth!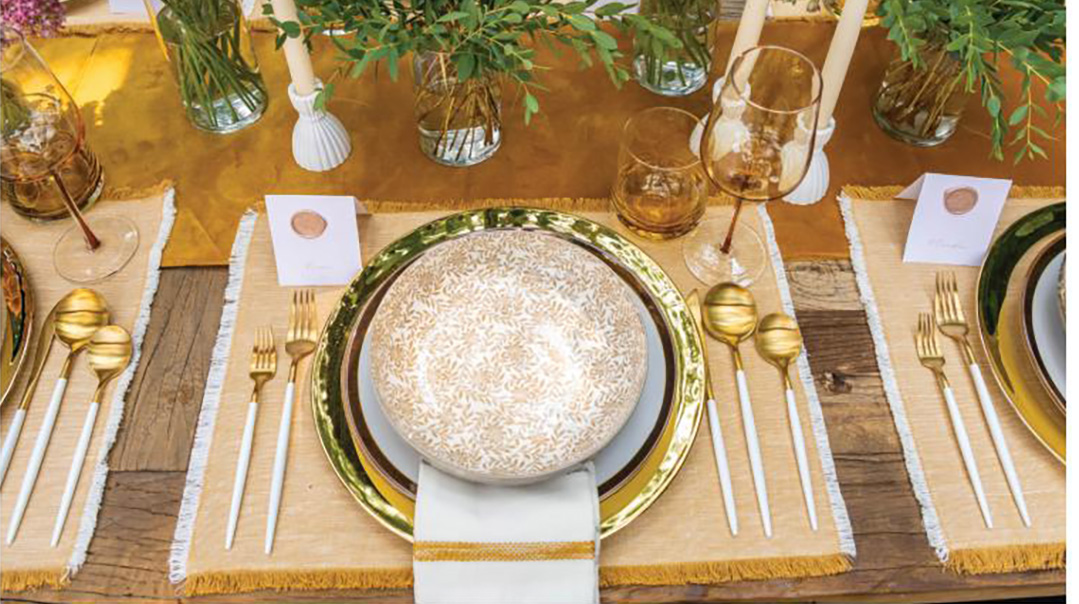 Airy and Whimsical
Many people like to get creative when decorating their succah. I find that when you have a cluster of one item, it creates a beautiful and impressive effect. The clean simplicity of the hanging lanterns adorned with passion fruit vines creates an airy and whimsical feel.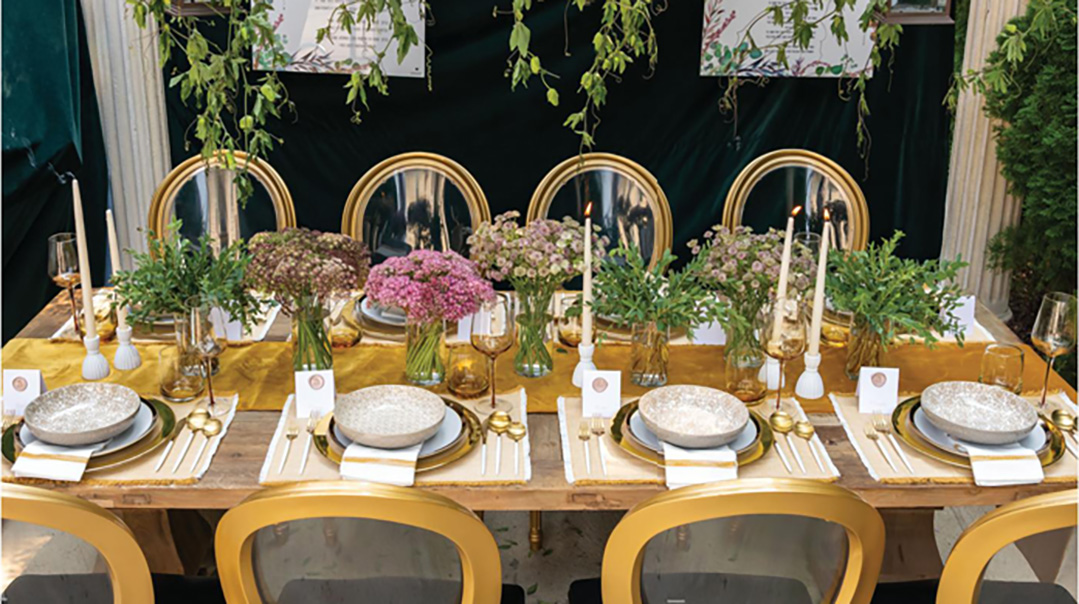 Acrylic Signs
These Ushpizin and lulav signs take succah decorating to a new level. The floral motif enhances the color palette, and the acrylic material is so versatile and lightweight.
DISCLAIMER: PHOTOS ARE FOR ILLUSTRATIVE PURPOSES ONLY AND SHOULD NOT BE CONSIDERED A GUIDE ON HILCHOS SUCCAH
Updated Look
You don't need a whole set of new dishes to get an updated look for your table. I refreshed a set of dishes I already had with a printed ceramic bowl in subtle oatmeal tones. The plate enhances the table with its textured tonal touches.
Dark, Glowing, and Natural
Along with the dark wood and natural fibers, I mixed in a few white elements, which formed a striking contrast with the amber-colored linens. And of course, I used candles for an added glow!
Oops! We could not locate your form.
>