| Recipes |
Best Bold Grilled Chicken Cutlets | August 8, 2023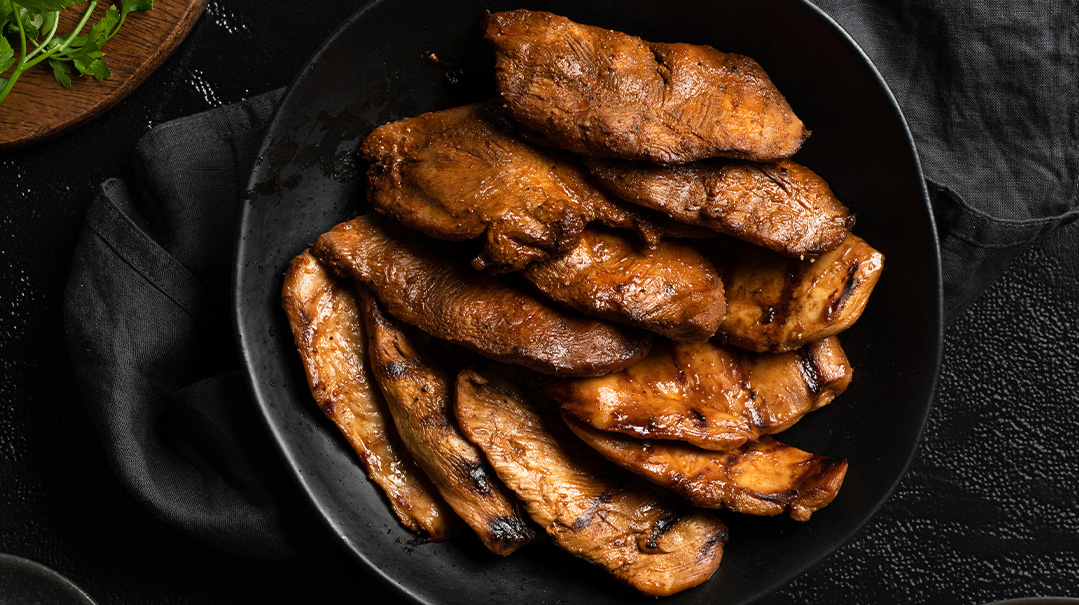 Styling and photography by Devorah Applegrad
This marinade combines just the right amount of each ingredient to produce the juiciest, most tender cutlets. It's seasoned to perfection, with just the right balance of sweet and savory!
SERVES 6–7
1½ lbs (680 g) chicken cutlets (9 cutlets, pounded thin)
Marinade
¼ cup avocado oil (or other mildly flavored oil, such as sunflower oil)
2 Tbsp balsamic vinegar
1 Tbsp regular vinegar
2 Tbsp soy sauce
2 Tbsp teriyaki sauce
⅓ cup brown sugar
1 Tbsp honey
1 Tbsp fresh lemon juice
½ tsp paprika (preferably in oil)
½ tsp onion powder
pinch oregano
1 Tbsp mustard, preferably Dijon
½ tsp kosher salt
pinch black pepper, or to taste
1 clove garlic, crushed
Combine all marinade ingredients in a large bag or bowl. Remove 1⁄2–3⁄4 cup of the marinade and set aside. Add cutlets to the bag or bowl and marinate in the fridge for an hour (up to 4 hours).
Preheat oven to 400°F (200°C).
Place chicken cutlets on a Palisades Parchment Paper-lined pan sprayed with cooking spray. Bake for 12–15 minutes on one side, then flip over and bake a few minutes on the other side. (It should be a total of about 18 minutes. Since every oven works differently, be sure to test for doneness before the time is up.) Cover loosely with parchment paper when removing from the oven.
Alternatively, preheat a grill pan. Spray with cooking spray and drizzle with a little oil. Grill each cutlet for approximately 5 minutes on each side or until done.
The reserved marinade can be used as is, or brought to a boil in a small pot and simmered until slightly reduced and thickened. Pour over cutlets for extra flavor, or over a side dish like rice, bulgur, or quinoa.
Tip: Once the cutlets are cooked, you can slice them into strips and add to a lettuce salad for added protein. Dress with a Caesar or garlic lemon dressing.
(Originally featured in Family Table, Issue 855)
Oops! We could not locate your form.
>