| Recipes |
Beef and Gnocchi | August 21, 2019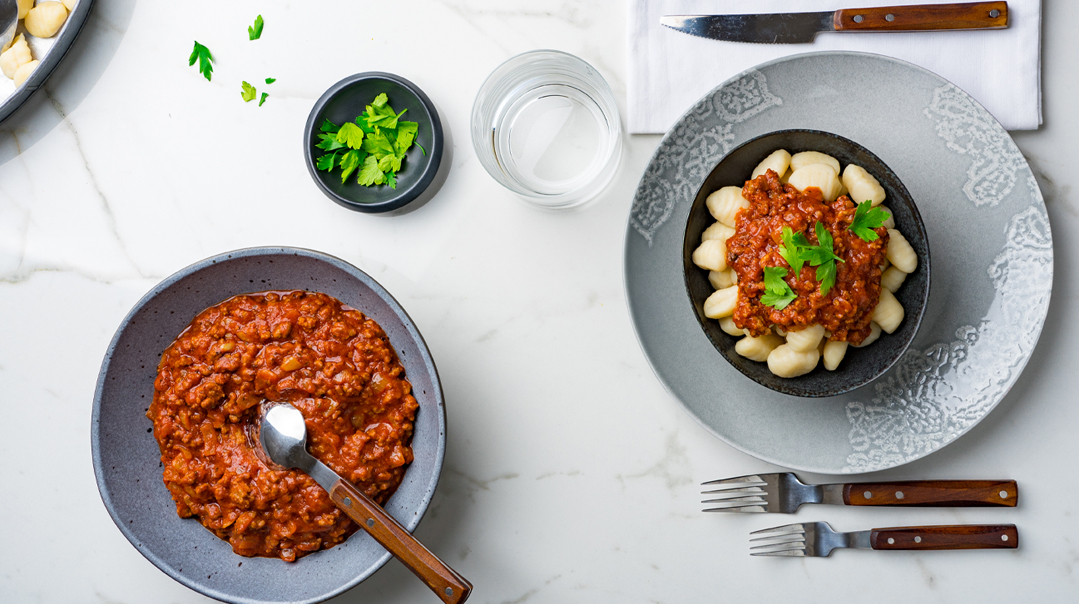 Food And Prop Styling By Renee Muller Photography By Chavi Feldman 
Beef and Gnocchi 
This is a simple supper, but it will have adults and kids begging for more. 
SERVES 6–8 
1 lb (0.5 kg) ground beef
2 Tbsp olive oil
1 small Vidalia onion, diced
3 cloves garlic, crushed
1–2 Tbsp tomato paste
1 28-oz (790-g) can crushed tomatoes
1 Tbsp brown sugar
1 tsp yellow mustard
1 tsp dried basil
½ tsp dried parsley
1 tsp chili powder
1. Tbsp balsamic vinegar
½ tsp kosher salt
¼ tsp black pepper
1 tsp salt or sea salt
1 16-oz (450-g) pkg gnocchi
Heat oil in a large frying pan over medium high heat. Add onion and saute י 2–3 minutes until soft. Add garlic and stir for 30 seconds, until fragrant. Add in ground beef and cook for about five minutes, while mashing into small pieces with a fork or spoon.
Add in tomato paste, and stir well. Add in crushed tomatoes, brown sugar, mustard, basil, parsley, chili powder, balsamic vinegar, kosher salt, and pepper. Stir well. Cook over medium heat for 15–20 minutes until mixture is cooked through and thickened.

While beef mixture is cooking, place salt or sea salt into a medium pot of water, and bring to a rolling boil. Add gnocchi to water, and boil 2–3 minutes. Remove gnocchi with a slotted spoon, transfer to cooked beef mixture, and stir in. Serve warm.
A 10/10 Dinner in 10: I recommend that you make double the amount of the beef, and freeze half of it. When you're ready to serve, warm up the beef, and prep the gnocchi. Mix it together — and there's your dinner in 10!
(Originally featured in FamilyTable, Issue 656)
>