| Recipes |
Asian Wontons with Vegetable Medley
| September 26, 2023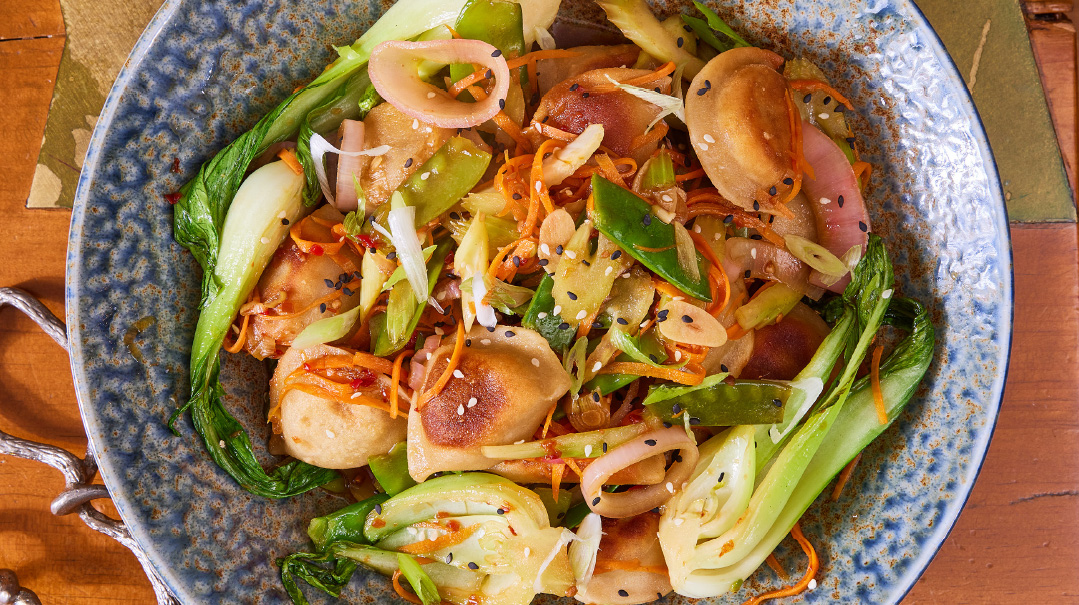 Food and Prop Styling by Shiri Feldman
Food Prep by Chef Suzie Gornish
Photography by Felicia Perretti
Have you overbought on kreplach? Instead of leaving them in your freezer to get freezer-burned, turn them into a delectable appetizer. With this flavorful Asian sauce and medley of vegetables, no one will ever know your little secret!
SERVES 6
1 14-oz (400-g) bag frozen beef or chicken kreplach (wontons), defrosted
1 cup oil, for frying
Asian Sauce
½ cup soy sauce
2 cubes frozen ginger
2 cubes frozen garlic
1 Tbsp rice vinegar
2 Tbsp honey
2 Tbsp garlic chili sauce
¼ cup chicken broth
1 cup water
1 bunch scallions, sliced
Vegetable Mixture
3 Tbsp olive oil
2 large carrots, julienned
1 bunch celery, thinly sliced at an angle
1 shallot, cut into rounds
1 cup snow peas
6 mini bunches checked bok choy, leaves separated (optional)
Garnish
4 scallions, sliced
sesame seeds
In a small saucepan, heat oil and deep-fry the wontons until golden.
Prepare the sauce: Place all the ingredients except the scallions in a medium saucepan and bring to a boil. Lower heat, add scallions, and simmer for 15 minutes.
Put the fried wontons into the sauce and mix, making sure they're coated in sauce. Simmer for 5 minutes, then remove the wontons from the sauce.
Prepare the vegetables: Heat olive oil in a large frying pan, then add all vegetables except the bok choy. Sauté for 10 minutes, mixing constantly, then remove from the pan. If using the bok choy, add it to the same pan and sauté for 3–5 minutes, just until it starts to wilt.
To serve, place the bok choy on a plate, then add the vegetables and 3–4 wontons. Drizzle some sauce over the wontons and vegetables and garnish with sliced scallions and sesame seeds.
(Originally featured in Family Table, Issue 862)
Oops! We could not locate your form.
>