| tastes like shabbos |
An Open Home in Shanghai
| November 30, 2021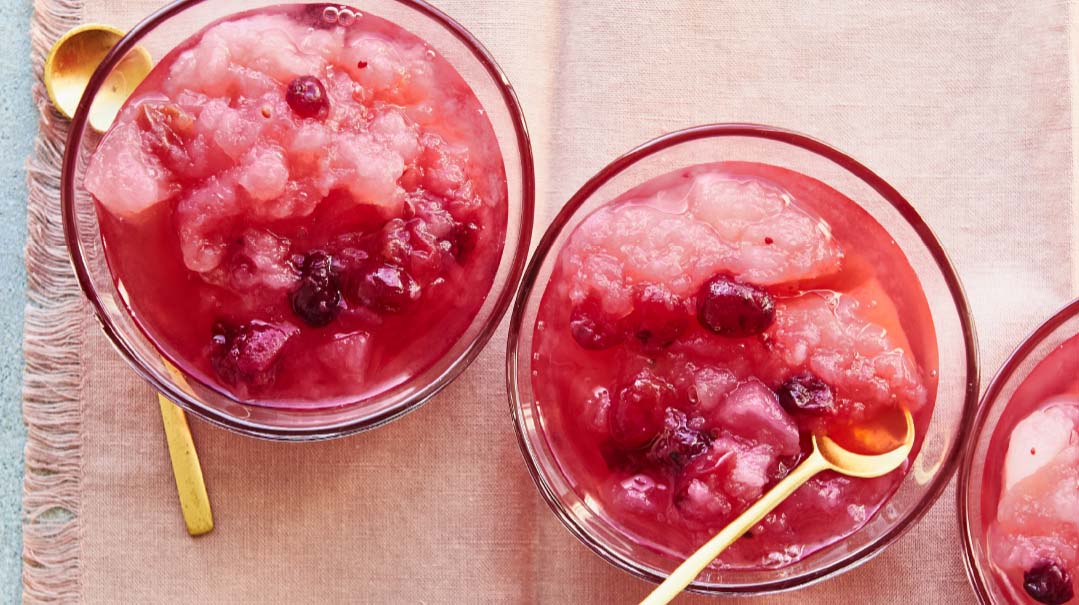 Styling and photography by Sina Mizrahi
Rebbetzin Tzivia Walkin, wife of HaRav Shmuel Dovid Walkin, was born in Radin, where her grandfather was Rav Moshe Landinski, the rosh yeshivah of Radin. Her family later moved to Trabe, where her father served as a rav, but Tzivia spent several childhood years in Radin, developing a close friendship with the Chofetz Chaim's youngest daughter, Faigele.
Her daughter, Rebbetzin Chaya Leah Small, recalls that when war broke out in Poland, Rebbetzin Tzivia took the children to their grandparents in Trabe, while Rav Walkin investigated ways to escape. He managed to obtain the coveted visas from Japanese diplomat Chiune Sugihara, and when Chaya was just six years old the family made the harrowing journey to Kobe, Japan, along with hundreds of others, among them the students of the Mir Yeshiva.
The Walkin family lived in Kobe for one year, and then made the 800-mile journey to Shanghai, where they lived for four more years before they were finally able to emigrate to America.
"When we arrived in Shanghai, we were warmly welcomed by the Sephardic Jews who had been there since the 1800s," recalls Rebbetzin Small. "It was such a joy for them to have us — the honor and respect they gave to the yeshivah world was overwhelming."
Despite the travails of war, Rebbetzin Small notes that their home was both a happy and healthy one. "We children were cared for, we were nurtured. My mother was very protective of us."
This was not an easy feat for Rebbetzin Walkin, with poverty and starvation rampant in Shanghai, and people dying on the streets each day. There were 16,000 Jewish refugees living in one square mile, many of them from Germany.
The Mir Yeshiva boys — 200 of them — were all single, some of them as young as 16. Rav Walkin took care of them, and the Walkin home was always filled to the brim with people. "I remember sleeping on the floor in the tiny room that was our home," Rebbetzin Small says. "Those years of mesirus nefesh are imprinted on my mind."
Shabbos in Shanghai
There wasn't a large variety of food available for the Jewish community in Shanghai. During the week the family ate oatmeal for breakfast, and lots of rice and vegetables for the other meals. "If we had money for chicken and fish for Shabbos, we were happy. I don't remember any extras like candy or cake. Once in a while a Hershey bar would arrive from America, and it would be divided among so many people that we would each receive a tiny, delicious sliver," says Rebbetzin Small.
To prepare properly for Shabbos, Rebbetzin Walkin had to start early in the week, and everyone was involved. Chaya would get the chicken from the market on Wednesdays. Her mother would always remind her to choose a nice fat one. She remembers selecting a chicken from the cage, schlepping it to the shochet, and then bringing it home to her mother in all its freshly slaughtered glory.
At home, they cleaned, kashered, and flecked (de-feathered) it. Then they would set up the fire — an oil can that was given to them by a yeshivah bochur — and light it using animal fertilizer. Rebbetzin Walkin and the other refugee women in Shanghai would make the most out of everything they had. Every part of the chicken was used, and the meat was shared with their upstairs neighbors, the Naymans. A typical Shabbos menu was challah, chicken soup with a few vegetables, fish, and chicken — all in small amounts. "Dessert was a luxury we didn't have."
Even with all the poverty and difficulties, Rebbetzin Small speaks of those times fondly. "When you struggle to buy something, do you know how special it tastes? There was very little money, no hot water, no gourmet spices. But the taste of homemade cooking made with love was something we all treasured."
On Shabbos day, there was a kosher soup kitchen that served cholent to everyone — religious and nonreligious alike. The cholent was a simple stew of potatoes, onions, and water seasoned with salt and pepper, but it was hot and filling. There were tables and chairs set up, and people would come and get their bowl of cholent and eat it there with the rest of the community.
A Home in America
With World War II finally over, the Walkins were able to emigrate to America, where Rebbetzin Walkin helped many of the bochurim from the Mir acclimate. Her entire extended family had perished in the Holocaust, but that didn't stop her from serving as a loving mother both to her own five children (two sons and three daughters) and to the many orphaned bochurim who had reached American shores at the same time. She made shidduchim for dozens of the bochurim, who regarded her as their mother.
In the United States, the Walkins' Shabbos resembled that of many other European refugees. Rebbetzin Walkin would prepare tzimmes, compote, and other old-world Shabbos basics. She was a wonderful cook, but challah and cakes were store-bought. "Chicago also had slaughtered chickens — what a luxury!" Rebbetzin Small recalls. "The shochet would deliver the chicken to my school. I would bring it home, and we would kasher it."
Rebbetzin Walkin was known to treat everyone she met with special warmth and consideration. Imbuing her home with the atmosphere she had been imbibed as a girl in Radin, she hosted company often and made everyone feel comfortable.
Shabbos was always a special time in the Walkin home. "If we ever got something new, it was enjoyed for the first time on Shabbos," says Rebbetzin Small. "Even if we received it earlier in the week, we would save it l'kavod Shabbos."
Rebbetzin Walkin's children recall that she never raised her voice or displayed anger. She would say that she never spoke negatively about others not because she had grown up in the shadow of the Chofetz Chaim, but because she never saw anything bad in others and thus had no lashon hara to relate.
Passing on the Legacy
While Rebbetzin Walkin passed away over 20 years ago, on Chanukah 1999, her daughter, Rebbetzin Small, who still lives in Chicago today, says that even when she doesn't have to make Shabbos, she does it because she wants to. "I give of myself for the kedushah of Shabbos."
"With Shabbos," she says, "it's not about how fancy you make it, or how colorful. The main thing is to serve the food with love and joy and knowing you made it. The simple types of foods I grew up with, and that I still prepare, are heavenly after you've known deprivation."
She urges mothers to pass on this love and joy to their children as well. Kids remember when they help prepare for Shabbos, and when their efforts are appreciated and praised.
"Keep it simple, keep it nourishing, get the kids involved," she advises. "When you go shopping, say, 'Let's save this for Shabbos.' Make it the most important thing in life, not a chore that you dread. Then the Shabbos table and the Shechinah will be elevated, and you will enjoy a truly beautiful heilige Shabbos."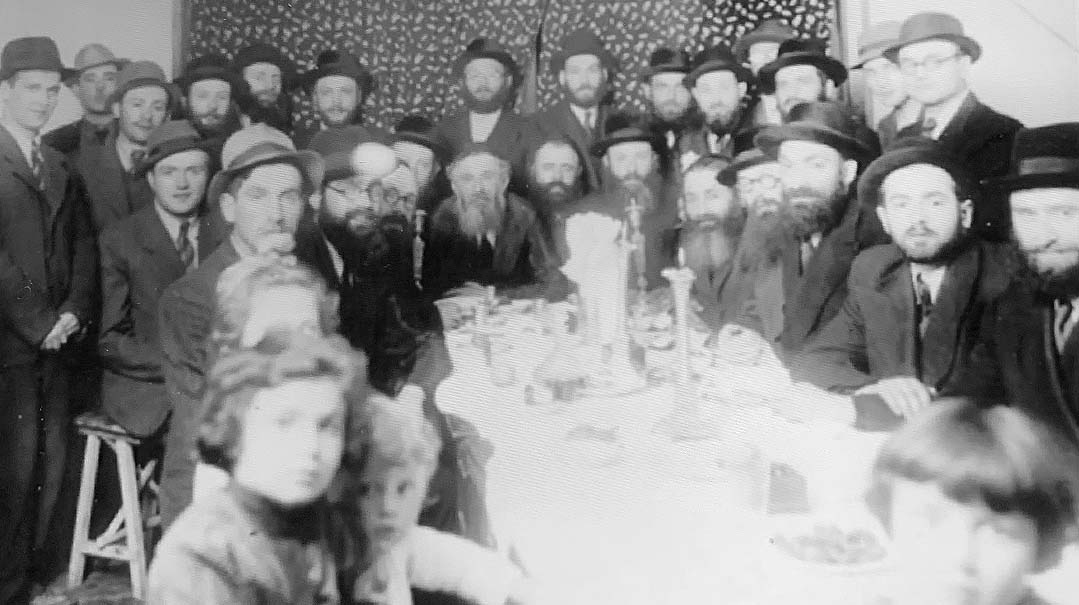 The Walkin home in Shanghai, with a table full of bochurim. Chaya is in the front. the curtain covers the second room occupied by another family.
Rebbetzin Walkin's Tzimmes
a bunch of carrots (preferably thin ones)
water, to almost cover the carrots
a pinch salt
2 Tbsp oil
¼ cup sugar
juice of ½ lemon
Peel the carrots and cut into circles. It's best to do this by hand, as it will not taste the same if it's done in a food processor. The circles should be not too thin and not too thick. Place the carrots into a pot with enough water to almost cover the carrots, but do not cover them completely.
Add salt, oil, and sugar. Cover and boil until soft.
Add lemon juice to the carrots towards the end of the cooking time.
Rebbetzin Walkin's Compote
8 Cortland apples, peeled and sliced into thin half-moons
a handful of fresh, frozen, or dried cranberries (approximately ¾ cup if fresh or frozen, mand ½ cup if dried)
½ cup sugar, or to taste
water, until almost covering the apples
Place all ingredients in a pot. Don't cover the apples with the water. Bring to a boil, then lower heat and cook an additional 15 minutes.
As the mixture cools, the apples will absorb a pretty pink color from the cranberries.
(Originally featured in Family Table, Issue 770)
Oops! We could not locate your form.
>