| Sidekick |
All in Good Time | January 24, 2023
Anyone who tells you that timing is negotiable has never missed a plane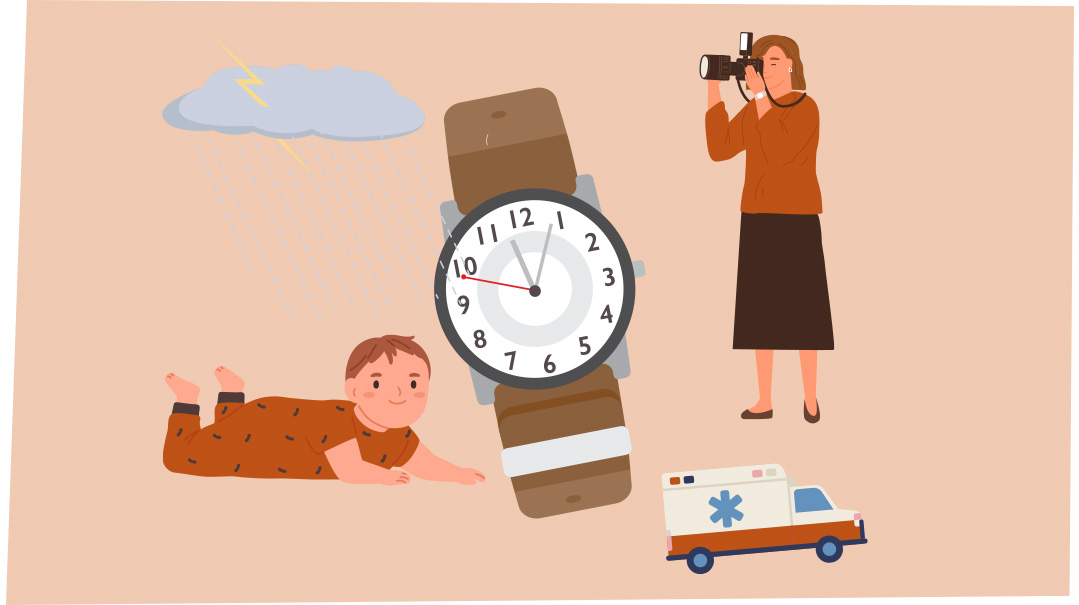 Timing dictates the rhythm of our lives and schedules. And while members of the tribe have related to the listed start times for weddings, lectures, and dinner events as merely suggestions since time immemorial, anyone who tells you that timing is negotiable has never missed a plane or used an egg timer for a contraction.
There's a time to be born…
I personally preferred going into labor after a solid month of nesting, a good night's rest, a freezer full of prepared foods marked, sealed, and labeled appropriately, and the laundry folded and put away. Although they did let me take the baby home anyway even if I may or may not have left dirty dishes in the sink.
Then there's the order of birth…. The oldest enjoys the special status of his oft-times firsts recorded for posterity: first smile, first tooth, first step. By the time the third comes along, he's already wearing hand-me-downs on the way home from the hospital while mom is on a phone call with the principal of the nursery school of Prince Number One. She wrote the new arrival's birth date and weight on the inside of her hand so she wouldn't forget it on the way.
Try to have a firstborn girl. It helps. Having two is even better.
A time to laugh…
You've just completed a major diet and fitness program, and you finally fit into something you haven't worn in a decade. Just whisper your plans out loud and let's see who laughs first.
Scheduling the photographer for family pictures when everyone is looking their absolute best is dangerous and may or may not invite broken noses, post-baby weight, unbleached teeth, missing eyeglasses, stitched and bandaged chins, chipped front cap, or assorted ten-year-old children's antics. Your teen's slouch and surly attitude cannot be remedied with Photoshop. Not that I would know....
Asking everyone to smile in unison or at least begging the oldest kid to stop pinching his brother? Give it up.
A time to dance…
We're flooded with invitations to wonderful joyous occasions that fill our homes, our calendars, and our lives. Here are some important rules to remember:
If you can — go! If you can't, then go anyway, especially if it's the mechutanim. We rarely remember the events we attend. We always remember the ones we should have gone to and didn't. Friendship isn't about taking attendance, and it isn't about geography. Make every effort to share someone's simchah, especially in your heart.
In some communities, if you play your cards right, you can eat dinner at a different friend's grandchld's wedding every night. You might have to release a seam or two — but your kitchen stays spotless.
Do not alter the bar mitzvah boy's suit until ten minutes before Shabbos. On the way back from his voice-cracking, off-key aliyah l'Torah the next morning, it will no longer fit.
There's nothing more important to a 14-year-old than how her updo looks at her brother's bar mitzvah. That trip to the hairdresser alone has cost you a mortgage payment so please remember to schedule any simchah date for when her hair is long enough. Extensions can do only so much, and the rest of her class has to see her hair the day after while it's still at its almost-best.
Order good weather, sunny and 70s, for children's or grandchildren's weddings. They should not take place on frigid, gusty, soggy days that end in rain-soaked evenings that would make Noah wince. Velvet and broken rainspouts are not a good combination.
Showered in blessings anyway? Pray for a little less shower and a lot more blessing. You'll have to cover those coifs before leaving the house. If not, well… think wet cat with product. Tiptoe between the torrents so that you arrive without stepping into puddles that tickle your ankles. It doesn't look too attractive on the matching velvet shoes.
Planning a Shabbos simchah weekend? Choose the various and sundry speakers with caution and care. Remember that cholent is best served with a pillow, and don't schedule dear Uncle Bernard from London in said time slot.
Professional makeup is meant to last. When the eyelashes start falling into the soup, you know the party's over, and it's time to wash your face.
A time to watch…
Keep an eye on the clock. Fridays from late November until mid-January give you time to: wake up — brush teeth — light candles. On the Friday of Shabbos Chanukah you might even have to skip Step 2. Now that we have been blessed with Internet shopping and Black Friday, plan accordingly.
A time to heal… 
It's never a good time for a root canal. Period.
Do not catch the flu the day before your daughter's wedding. Or your granddaughter's. The day after isn't great either. If you absolutely must, try for a week or two later.
Warning children not to split a lip too close to Shabbos (especially if he is the star of the show) is something that is hinted to in one of the holy books — somewhere.
Emergency moments are meant to be celebrated when the house is neat and the Hatzalah members can note that all the furniture matches. Do not call them unless the beds are made, the counters are clear, and the furniture is polished.
A time to keep and a time to discard…
You haven't moved lately, have you?
A time to embrace…
The holidays of Succos and Pesach are meant to be shared with family, and they are always either early or late. This only affects you if you are traveling with children to visit the in-laws in Cleveland. There's been snow in the succah and snow at the Seder. Pack the shorts and the boots.
A time to be silent and a time to speak…
I'm a mother and a mother-in-law. I've said too much already.
A time to celebrate…
Filled and grateful hearts? Those are timeless.
Capture the sentiment and… enjoy!
(Originally featured in Family First, Issue 828)
Oops! We could not locate your form.
>